Most Popular Aviation Pieces in 2014
Long dark nights are slowly receding as we pass the winter solstice and head back towards Spring. I can tell you, I'm seriously looking forward to 2015: I have great expectation of fun projects and lots of writing and hopefully even a bit of flying.
This year's most popular posts are an interesting mix as quite a few of them were not posted this year. They gained belated attention through posts on aviation message boards, Reddit and searches for information, which means some unexpected posts like those in the history category did especially well.
I made one change: I didn't count posts to do with MH370 and MH17. I feel these were high at the time as we all tried to make sense of the mystery of the disappearing aircraft but they have not been updated since the initial posts and may now hold information that has since been corrected. None of them appears in the top posts of the last few months, that is, there was a spike of interest which has now receded.
(Obligatory pitch: if you are interested in reading more about MH370, then take a look at my book, The Mystery of Malaysia Airlines Flight 370. It does not cover the last few months of search news but the details of the flight and the list of theories regarding the aircraft's disappearance are completely up-to-date.)
So, here are the posts which were the most popular in 2014!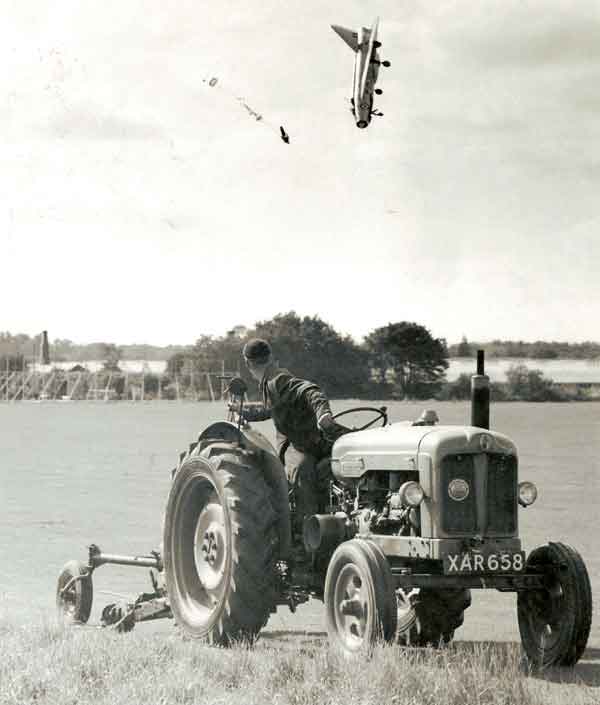 I wrote this November 2013 because I loved the photograph and wanted to know how it happened. Clearly, a lot of people have the same question: it has turned out to be my most popular post ever.
---
Air Traffic Controller John Melecio, also known as "Boston John," is one of the most famous ATC controllers today. When he was controlling from Boston Tower, he was always lively and humorous, gathering a following all over the world. Listeners on LiveATC.net posted to the forums whenever he was on air so fans could tune in and hear him live.
When I wrote about John Melecio, I didn't realise he was quite that famous but two years later, this post is one of the most often linked to from avation groups talking about ATC.
---
I found this on an aviation forum and I just can't stop staring at the photographs.
This is the sixth year in a row that this series of photographs is in my top five posts. I have to admit, I never get tired of looking at his repairs.
---
The situation started quietly: a Boeing 757 inbound to Newcastle International Airport (NCL) was asked to do a go around: break off the approach and try again.

The Thomas Cook aircraft was a Boeing 757-237 registration G-TCBC. There were seven crew on board and 235 passengers. The crew was scheduled for an early morning flight from Newcastle to the Canary Islands, landing at Fuerteventura and returning to Newcastle that afternoon. They could expect to be home for suppertime.
At less than a month old, I'm surprised to see this accident report in the top ten, but it is a hard-to-believe incident in which a relatively standard sequence of events almost turned into disaster.
---
"Have You Ever Done a Barrel Roll in the Dark?"
This was a selection of six accidents with wince-worthy cockpit conversations shortly before things went pear-shaped. Most of these are accidents I covered on the site and I thought I'd try a different way of doing a round-up of interesting accidents. It seems to have worked.
---
On the 5th of October in 1989, a B-1B Lancer departed Dyess Air Force Base with four crew on a routine training flight. Three hours later, the flight crew discovered that the aircraft had a hydraulics fault. As they came in to land at Dyess Air Force Base in Texas, the front landing gear failed to lower. They circled the airfield for four hours, twice being refuelled by an airborne tanker, as they struggled to lower the nose wheel. Supporting the crew on the ground were military personal and mechanics for the aircraft manufacturer; however they were unable to resolve the issue.
The video of this landing was released last year and clearly you all found it as fascinating as I did.
---
These are all good-hearted aviation videos which are being passed around that I thought you might enjoy. Surely you can't have already seen them all!
All I can say is you all must have been seriously bored that weekend…
---
One of the claims by Ewan Wilson which is making headlines is that he "found" five flights which he believes were also caused by suicidal pilots.

To clarify, to "find" these cases, you just need to go to the Aviation Safety Network, where there is a list of aircraft accidents caused by pilot suicide. ASN lists nine cases there but Wilson is clearly talking about commercial pilots carrying passengers. That leaves us with five cases, all totally documented.

Each of these five commercial pilots flying a scheduled passenger service is believed (by some investigating bodies, although not all) to have committed suicide, taking their aircraft and their passengers with them: an especially horrifying type of mass murder.
A straight-forward look at five possible pilot suicides in commercial aircraft, in the context of what might have happened to Malaysia Airlines flight 370. The hardest part of writing this piece was keeping it short; I could have written so much more detail on any one of the five flights.
---
Another relevant point is that the Captain had been watching the approach on the Heads Up Display. The Jeppesen approach plate (11-1) for ILS Runway 4, states that the VGSI [PAPI] and ILS glidepath are not coincident. This means that even coming down perfectly on the PAPI, the aircraft could show as high on the ILS glideslope. The NTSB have so far makes no comment as to whether this may have led the Captain to overreact as the approach appeared higher than it was.
This is an unusual case where the Captain took control of the aircraft at the very last moment and caused the aircraft to land hard on the nose wheel. I wrote this up based on the preliminary reports and am interested to see if the final report offers any further information.
---
Last week, a plane spotter named Miguel Angel was filming flights coming into Barcelona airport when he captured this video. Five days later, that video has had over 20 million views.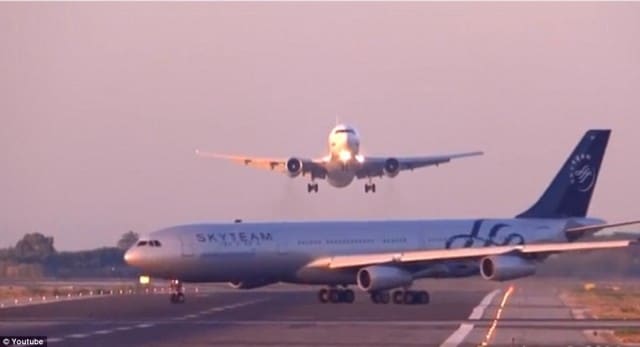 The final report on this incident is still not out, which is a shame. I'd love to know how it happened.
---
And that's the top ten posts that you all enjoyed en masse in 2014. If you have a personal favourite post, please tell me in the comments!
Meanwhile, Anna's busy putting together a set of her favourite aviation pieces from 2014 on Facebook. Keep an eye out for that here: Fear of Landing on Facebook
I hope we have a lot more interesting aviation news and analysis for you in 2015!