Flight 19: The Point of No Return
I was interviewed about Flight 19 for a documentary recently and although I've limited the details of the experience to supporters of my personal Patreon (for travel writing and essays), there was one question in the pre-interview that I wanted to share more widely.
We were talking about the fact that radio stations triangulated their position but somehow no one managed to get that information to the squadron. The researcher was quiet for a moment and said, "So, if they had turned around at that point, would they have made it back to Fort Lauderdale?"
I'd never thought about that before and after a quick search on the internet, it didn't seem like anyone else had either.
Now, the easy answer is that regardless, they would have been closer to the coast of Florida and thus much more likely to get rescued. But it seemed to me like there was enough information available about this flight that I might be able to work it out.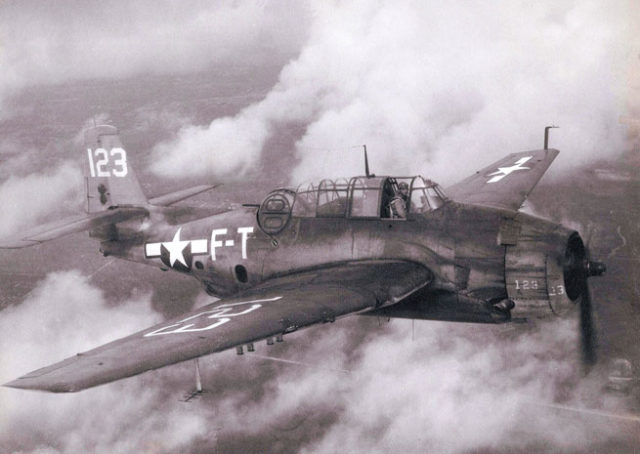 Flight 19 was a squadron of five TBM Avengers: a single engine aircraft manned by three crew (pilot, turret gunner and radioman/bombardier). The Avenger was designed by General Motors for strikes on ships, using aerial torpedoes. Enemy ships were able to avoid ship-to-ship torpedoes which only travelled at about 32 knots (59 km/h) underwater. In contrast, a torpedo launched from the Avenger could reach 260 knots (481 km/h).
On the 5th of December in 1945, Flight 19 was booked for a routine navigation exercise. Flight 19 consisted of five aircraft: FT-28, FT-36, FT-81, FT-3 and FT-117.
FT-28 was flown by the instructor and was an Avenger TBM-3D, the other four were all Avenger TBM-1Cs, the difference being that the 3D had increased fuel capacity and centimetric radar in the radar dome on the starboard wing leading edge.
Flight leader and training pilot Lieutenant Charles C. Taylor was leading the navigation exercise with four trainee pilots. He had just transferred from Miami and this was his first time flying this route.
For the rest of the crew, this was the third of a set of three navigational exercises, the last that the pilots needed before graduating. For the gunners and radiomen, it was advanced combat aircrew training. There were fourteen flight crew spread across the five bombers. The fifteenth crew member asked to be excused, as he already had the required number of hours, which meant that one of the aircraft was short a gunner.
The training flight was booked for 13:45 local time but Taylor was late that day, apparently having asked if he could be relieved of the training flight. There were no other instructors available to take his place, so he carried on to the briefing room to speak to the crew.
Taylor briefed the trainees with the weather, described as "favorable, sea state moderate to rough" with scattered clouds and a forecast of rain. Then he briefed them on the flight: a three-hour exercise known as "Navigation Problem No. 1". This was a dead-reckoning exercise for a triangular flight plan.
A different pilot was to be the leader for each leg of the flight, with Lt Taylor flying at the rear so that he could grade the pilots on their performance. The first leg was to depart the Florida coast heading east to practise bombing runs over a shallow coral reef in the Florida Keys. Then, they were to continue on the same heading for 67 miles before turning north. On this heading, they would cross over Grand Bahama, the northernmost island of the Bahamas. From there, it was a direct flight south-west back towards Florida before crossing the coastline and heading south to return to Fort Lauderdale.
As far as I can see, the actual departure was between 14:00 and 14:10.
The navigational exercise, if flown correctly, was 583 kilometres. The first leg was 228 kilometres, the second 135 kilometres and the third leg 220 kilometres, after which they would need less than 20 kilometres to make it home. Let's call it 17 kilometres to keep the maths easy; that's a total of 600 kilometres for the flight.
The estimated time for the exercise was 3.5 hours, which means if they departed at 14:00-14:10, their arrival time back at Fort Lauderdale would have been 17:30-17:40. The Navy report estimates that they ran out of fuel between 19:00-19:30 which gives us something to work with in terms of endurance.
The weather was not great but certainly good enough for the exercises: surface winds 20 knots gusting to 31, sea moderate to rough, scattered rain showers, clouds as low as 2,500 feet. Outside of the showers, the conditions were considered to be average.
At 15:00, the captain of a fishing boat says that he was in that general area when he looked up and saw the aircraft overhead, heading east. This is the last confirmed sighting of the squadron. If they departed at 14:00 and we allow for an hour to fly 56 nm (103 km), then that fits in nicely.
By 15:40 they should have been in view of Great Sale Cay. At about this time, a senior flight instructor with call sign FT-74 was taking his students out on the same navigation exercise when he heard an unidentified transmission. An unidentified man was transmitting on the same frequency and asking someone named Powers what his compass read. He repeated the question a few times and then someone, presumably Powers, responded with "I don't know where we are. We must have got lost after that last turn."
The senior flight instructor tried again and this time, the voice identified himself as FT-28, the aircraft flown by Taylor, the instructor of Flight 19. The senior flight instructor asked what the trouble was.
At 16:11 Taylor explained: "Both my compasses are out and I'm trying to find Fort Lauderdale, Florida. I am over land but it's broken. I am sure I'm in the Keys but I don't know how far down and I don't know how to get to Fort Lauderdale."
It's always seemed odd to me that it was considered that both compasses might have failed. Based on the weather and the direction of the navigational exercise, it seems likely to me that they had a 30-35 knot headwind or crosswind.
He was almost certainly not over the Keys. It was Taylor's first time on this navigation exercise and he was used to flying out of Miami. He could easily have thought he recognised the area he knew well.
The senior flight instructor gave FT-28 instructions to fly to Fort Lauderdale from the Keys: . "Put the sun on your port wing if you are in the Keys and fly up the coast until you get to Miami. Fort Lauderdale is 20 miles further, your first port after Miami. The air station is directly on your left from the port. What's your present altitude? I will fly south and meet you."
It must have been embarrassing to have to ask for help, let alone have another aircraft lead him home. In any event, he is said to have sounded more confident when he responded. "I know where I am now. I'm at 2,300 feet. Don't come after me."
At 16:28, Taylor called again. "We have just passed over a small island. We have no other land in sight." This meant that they couldn't possibly be over the Keys as he would have hit the peninsula of Florida. Taylor must have realised this. "Can you have Miami or someone turn on their radar gear and pick us up? We don't seem to be getting far. We were out on a navigation hop and on the second leg I thought they were going wrong, so I took over and was flying them back to the right position. But I'm sure, now, that neither one of my compasses is working."
Air-Sea Rescue Task Unit Four at Fort Everglades heard the interaction; however, they did not have direction-finding gear. They contacted Fort Lauderdale for help but they couldn't see FT-28 on radar although the IFF transmitter should have made the aircraft much more visible. They contacted Naval Air Station Miami to see if they had FT-28 on radar but they, too, could not see the aircraft. Word spread. Eventually, over twenty land facilities were contacted to attempt to pick up the lost flight on radar or with direction finders.
A different aircraft in the flight, FT-117, radioed saying, "We're not sure where we are. We think we must be 225 miles east of base. It looks like we are entering white water."
Another voice said "We're completely lost."
The senior flight instructor, FT-74, was struggling to maintain contact. "Your transmissions are fading. Something is wrong. What is your altitude?" A weak transmission came back from FT-28. "I'm at 4,500 feet." That was the last message that FT-74 picked up as a relay burned out in his radio. He heard only silence on all frequencies. Frustrated, he returned back to base.
As FT-28's transmissions were fading, the senior flight instructor believed that he must have been heading away from him, so FT-28 was flying north while FT-74 was heading south. "I believe at the time of his first transmission, he was either over the Biminis or Bahamas. I was about 40 miles south of Fort Lauderdale and couldn't hear him any longer."
The flight officer denied the senior flight instructor's request to go out and lead Flight 19 back to safety. He contacted Air Sea Rescue Task Unit 4 and told them to instruct Flight 19 to fly 270 degrees (west) and then, on the basis that there was a problem with the compasses, told him to fly towards the sun, which must have been low in the western sky by then.
But Taylor disagreed. At 16:45, he transmitted: "We are heading 030 degrees for 45 minutes, then we will fly north to make sure we are not over the Gulf of Mexico."
At 17:03, he decided to change course to 090 degrees for ten minutes. Air Sea Rescue Task Unit 4 heard Taylor transmit to the other Avengers. "All planes in this flight join up in close formation. Let's turn and fly east. We are going too far north instead of east."
Clearly not everyone was convinced. The responses were frustrated.
"If we'd just fly west, we would get home."
"Head west, dammit!"
At 17:16 he changed course again. "We'll fly 270° west until landfall or running out of gas". By now they must have been halfway through their fuel and it was starting to get dark: sunset in December in Fort Lauderdale is at 17:30, the same time as they would have been expected to be back from their navigation exercise. In addition, they are losing contact over radio.
FT-28: "I receive you very weak. How is weather over Lauderdale?"
Air Sea Rescue Task Unit 4: "Weather over Lauderdale clear. Over Key West CAVU. Over the Bahamas cloudy rather low ceiling, poor visibility."
FT-28: "Can you hear me?"
At 17:50, several land-based radio stations triangulated FT-28's position (HF/DF fix) as being north-north-east of Fort Lauderdale.
FT-28 was confirmed to be within a 100 nm (185 km) radius of 29°N, 79°W which I found on Google maps. Then I chose a spot 185 due east of that location, as a worst case scenario if they continued east throughout. I think we can agree that there was no chance of them making it back to Fort Lauderdale. However, there was another air force base in the area, Patrick Air Force Base. So drew a line back to Patrick AFB which came out to a distance of 350 km if they flew directly there.
Now you'll need to put up with my maths; I'm sure there's a better way to figure this out but here's what I came up with.
From 17:50 to 19:00 (the earliest point they might have run out of fuel) means that when they were triangulated, they had at least one hour and ten minutes of fuel left. They were expected to be able to fly 600 km in 3½ hours, which meant they could fly 300km in an hour and 45 minutes. No way could they manage 350 km in an hour and ten.
Now I concede that that is worst case scenario, especially as the squadron was flying west at the time when the location was triangulated.
At 18:04, Taylor was heard again on the radio. "Holding 270°, didn't fly far enough east, we may as well just turn around and fly east again." So if we presume that they flew west (270°) for 15 minutes, that would get them almost 50 km closer to the Florida coast and Patrick AFB was only 300km away. But with only an hour's worth of fuel endurance, they still couldn't make it.
However, if at 17:50 (when their location was estimated) they happened to be at 29°N,79°W precisely, then it was only 178 km to get to Patrick Air Force Base. That's an hour and ten minutes, which means if they were going west and someone actually told them to keep going west, they would have made it on fumes. If just once on that day they were lucky and they were actually west of those coordinates, they would have made it to the coast with enough fuel to find Patrick Air Force Base and land safely.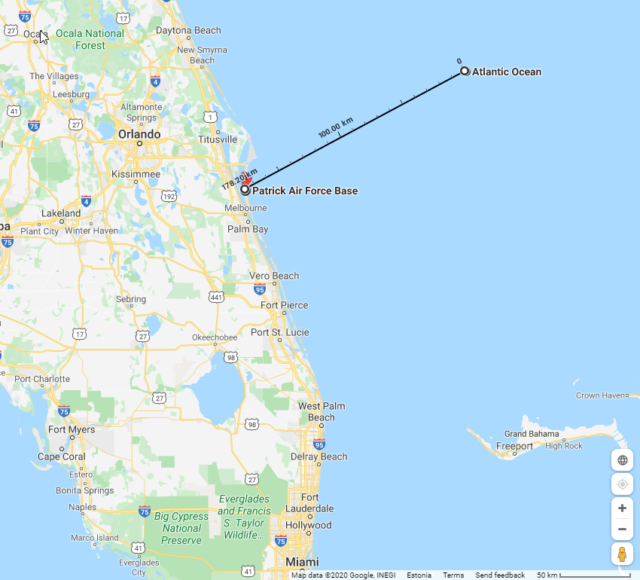 But they didn't. No one told the squadron that their location had been triangulated and that they were definitely north-north-east of Fort Lauderdale. As the darkness fell, they turned back and flew east again.
At 18:20 garbled messages were received from the squadron. "All planes close up tight . . . we'll have to ditch unless landfall . . . when the first plane drops below 10 gallons, we all go down together."
At 18:30, the Navy estimated that they had twenty minutes of fuel left. There were no further transmissions and the report concludes that they ran out of fuel somewhere over the ocean between 19:00 and 19:30.
There's a lot I don't know here, for example how likely is the full radius around the coordinates resulting from the triangulation. Still, I suppose the reason that no one has written about whether they would have made it back if they'd received that information is because it is such a close thing. It seems to me that it's impossible to guess without knowing exactly they were.
Or can you think of a way to answer the question? Tell me in the comments.