Landing on the Beach – Destination Barra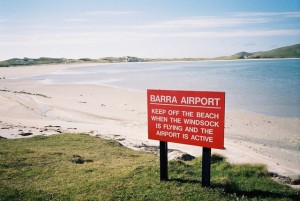 One of my Things to Do Before I Die is to fly to every possible island in the British Isles. I have identified 38 islands with usable runways within the geographical British Isles, from Jersey off the coast of France to the icy Faroes, located halfway between Iceland and Norway. Ireland and the Aran Islands lie to the West and the Scottish Shetlands are my unexpected Eastern boundary.
It's not had cause to be updated in quite some time, but here's my working list: All the Islands.
When I mention my plan, almost everyone asks about Barra. Barra is a small island in the Outer Hebrides with a unique runway only available at low tide on Traigh Mhor beach. It is the only beach runway in the world to accept scheduled flights. Barra airport doubles as a favourite destination for cockle pickers and when the runways aren't in use, it is a popular location for kite surfers.
The Air Ministry officially licensed Traigh Mhor as an airfield on 7th August 1936 and a daily service was promoted in the Oban Times from early July that year. The single fare from Barra to Glasgow in the winter of 1936 was £4, while a 90 day return was available for £7 17s 6d. By the winter of 1983, the cost of a single fare had risen to £40.
The beach is set out with three runways, marked by wooden poles at their ends. This allows the Twin Otters that serve the airport to almost land into the wind. At high tide, these runways are under the sea – flight times vary with the tide. Emergency flights occasionally operate at night from the airport, with vehicle lights indicating the centre line of the runway and reflective strips laid on the beach.
Barra Airport (EGPR)
Location: Traigh Mhor, Barra
Airfield: EGPR
Website: Barra Airport
Phone Number: 01871-890212
Hours: ATZ/AFIS Mon-Fri hours of service regularly change due to tidal variation, consult FIS Barra for information.
Aerodrome is strictly 24 hours PPR due to tidal variation.
Frequencies:
Barra AFIS: 118.075
Runways: 07/25 Sand 799×60
11/29: Sand 680×46
15/33: Sand 846×46
Main Apron: concreate/asphalt
Main Taxiway: Sand
Airfield Height: 77 feet AMSL
Approach and Runway Lighting: Not applicable
Other Lighting and Secondary Power Supply: Not applicable
Fuel: None
Navigation Aids: NDB BRR 316 kHz range 15 nm.
Warnings:
a. The landing and take-off areas may be considerably ridged by hard sand and contain pools of standing water. These are potential hazards to aircraft.
b. The bearing strength, braking action and contamination of the beach is unknown, variable and unpredictable.
c. Some downdraughts may be experienced at the western end of Runway 07/25 in strong wind from the west through south.
d. Pilots should be aware that cockling activities frequently take place between the runway markers and the tide-line. Both pedestrian and vehicular
activity may occur and from the air may appear to infringe the runway thresholds during published aerodrome opening hours. This activity is
closely monitored by FIS. A flashing white light on top of the Control Tower advises the local Cocklers that an aircraft movement is imminent
and is in no way to be used as a navigational aid by aircrew.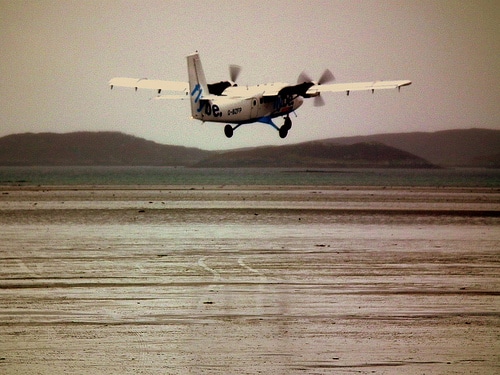 A commenter on The AVSIM Community wrote:
Originally used to be run by BA, then services to one of the most remote islands on the UK's Northern outposts was taken over by Loganair, who now run services to Barra Island, the southernmost of the Hebridean Isles chain, on behalf of FlyBe. First time I saw the BA Twin Otter's, I was utterly captivated to see an aircraft taking off from a beach. Being stationed at nearby RAF base at Benbecula, where Navy Buccaneers came for gunnery practice, I thought that was the most Northerly I'd ever seen aircraft land at, till I saw the beach landing and take-off.
And you can see it yourself, thanks to YouTube: here's a great video of a Flybe twin otter landing at Barra:
The scheduled flights also have to tie into the tides so the timetable changes from week to week: Flybe Timetable Glasgow Intl to Barra.
And finally, I'm not exactly sure why the pleasant Scottish tune turns into a porn soundtrack about halfway through but the video is excellent:
I sure hope I get to land on it for myself soon!