COVID-19 Effects on Aviation
It's hard to have a conversation about anything but the Coronavirus at the moment. There is so much information and misinformation being shared right now. It reminds me of the situation directly after a commercial crash, where everyone desperately wants to know what happened and why, even though not a lot of solid information is available.
As a result, I've cancelled today's post in favour of a discussion on what we know so far and how this is affecting the aviation industry as a whole.
First: let's look at some numbers.
This datapack from information is beautiful deals with the preliminary statistics and the numbers were last updated on the 11th of March. It's a good place to look for quick and easy information and includes links to all data sources and the Google spreadsheets used to generate the graphics, although it'll be out of date very quickly.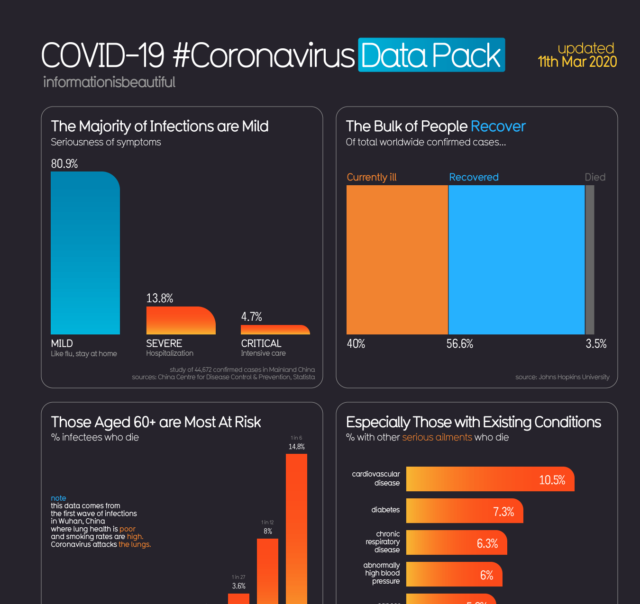 ---
The World Health Organisation reports that Europe is now the epicenter of the COVID19 pandemic. Today's media briefing underscores that countries must take a comprehensive approach, combining aggressive testing and contract tracing combined with social distancing measures and community mobilisation.
"More than 132,000 cases of #COVID19 have now been reported to WHO, from 123 countries and territories.

5,000 people have lost their lives, a tragic milestone"-@DrTedros #coronavirus

— World Health Organization (WHO) (@WHO) March 13, 2020
---
Today's daily update from the CAPA center for aviation reports that as of today:
The US has suspended travel from Europe's Schengen zone,
Lufthansa has suspended most routes to the US with the exception of four routes,
The Indian government has suspended all existing tourist visas,
Kuwait Airport has suspended all commercial aviation services,
Chinese civil aviation authority has reported a loss of CNY 24.6 billion (about three billion US dollars) in the aviation industry for February 2020, mostly by the country's airlines,
The Australian government has advised its citizens that they should reconsider any need to travel overseas at this time,
About 25% of the worldwide Airbus A380 fleet is being grounded in a response to the current crisis.
UK and Irish airlines may get an advantage as Europeans travelling to the US can still fly through those airports.
Quantas is increasing its Sunrise service offering non-stop flights from Perth to London to twice a day, which means travellers can reduce the risk of picking up the virus at layovers.
Other than that, the situation is pretty grim for the aviation industry.
This is a somewhat random selection but gives us a pretty good look at the immediate effects of the virus on the aviation industry and what a chaotic force it is. The US/Europe ban alone is going to impact a million seats per week.
---
The ICAO has published a Q&A for Member States, Air Transport Operators and the General Public to deal with the COVID-19 crisis, which attempts to strike a balance between safety from infection and the bankruptcy of airlines, airports and other aviation industries who are not equipped to deal with a sudden cessation of business.
What do ICAO standards require in terms of organization when States respond to communicable diseases of international concern such as COVID-19?

Answer:
A National Aviation Plan that references planning for an outbreak of communicable diseases must be in place. It should follow the guidance provided by ICAO and preparedness guidance available from the WHO.
A National Air Transport Facilitation Programme or similar body must also be in place that clarifies roles and responsibilities of all relevant government agencies and ministries and other stakeholders for the prevention of the spread of disease, as per ICAO Doc10042 Model National Air Transport Facilitation Programme.

ICAO requires that "Contracting States shall not prevent an aircraft from calling at any international airport for public health reasons" unless such action is taken in accordance with the International Health Regulations (2005) of the World Health Organization.

WHO evidence provides some support for short-term measures that might interfere with international traffic at the early containment phase of an outbreak. However, longer-term restrictions are normally not effective once appropriate containment measures are in place. Article 43 of the International Health Regulations precise that States must inform WHO about additional health measures that significantly interfere with international traffic.
The ICAO's COVID-19 page offers a lot of valuable information including whether (and how) to restrict international travel, procedures for aircraft disinfection, and how crew should report a suspect case of communicable diseases.
---
Last week's IATA study on investor concerns as the coronavirus spreads globally includes data from previous disease outbreaks.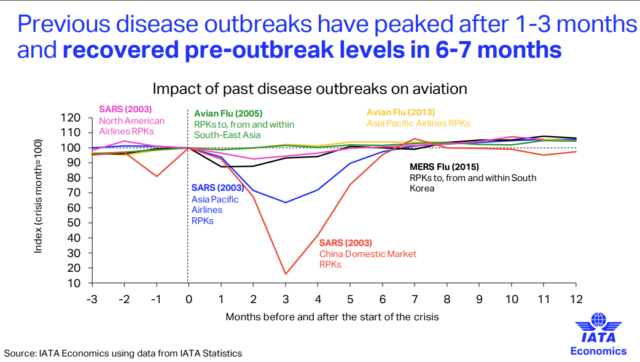 This report predicted that, in the case of an "extensive spread" where the virus spreads in all countries which reported ten or more confirmed cases, following the same pattern as the outbreak did in China, the aviation industry would suffer a $113 billion loss of passenger revenues world-wide with the questionable benefit of a fall in oil prices. However, their latest press release, IATA Reacts to Latest US Travel Restrictions puts these numbers into question, showing just how quickly the information is changing.
Airlines are already struggling with the severe impact that the COVID-19 crisis has had on their business. On 5 March 2020, IATA estimated that the crisis could wipe out some $113 billion of revenue. That scenario did not include such severe measures as the US and other governments (including Israel, Kuwait, and Spain) have since put in place.

The US measures will add to this financial pressure. The total value of the US-Schengen market in 2019 was $20.6 billion. The markets facing the heaviest impact are US-Germany ($4 billion), US-France ($3.5 billion) and US-Italy ($2.9 billion).
They call on governments to prepare for the economic impact and buffer the economic dislocation that travel restrictions will cause.
They quote the World Health Organisation's advice for international traffic in relation to the outbreak, published on the 29th of February.
WHO continues to advise against the application of travel or trade restrictions to countries experiencing COVID-19 outbreaks.

In general, evidence shows that restricting the movement of people and goods during public health emergencies is ineffective in most situations and may divert resources from other interventions. Furthermore, restrictions may interrupt needed aid and technical support, may disrupt businesses, and may have negative social and economic effects on the affected countries. However, in certain circumstances, measures that restrict the movement of people may prove temporarily useful, such as in settings with few international connections and limited response capacities.

Travel measures that significantly interfere with international traffic may only be justified at the beginning of an outbreak, as they may allow countries to gain time, even if only a few days, to rapidly implement effective preparedness measures. Such restrictions must be based on a careful risk assessment, be proportionate to the public health risk, be short in duration, and be reconsidered regularly as the situation evolves.

Travel bans to affected areas or denial of entry to passengers coming from affected areas are usually not effective in preventing the importation of cases but may have a significant economic and social impact.
---
In terms of practical responses, the report on the Response to COVID-19 in Taiwan, Big Data Analytics, New Technology, and Proactive Testing published on the JAMA network gets into detail of Taiwan's successful containment strategy.
COVID-19 occurred just before the Lunar New Year during which time millions of Chinese and Taiwanese were expected to travel for the holidays. Taiwan quickly mobilized and instituted specific approaches for case identification, containment, and resource allocation to protect the public health. Taiwan leveraged its national health insurance database and integrated it with its immigration and customs database to begin the creation of big data for analytics; it generated real-time alerts during a clinical visit based on travel history and clinical symptoms to aid case identification. It also used new technology, including QR code scanning and online reporting of travel history and health symptoms to classify travelers' infectious risks based on flight origin and travel history in the past 14 days. Persons with low risk (no travel to level 3 alert areas) were sent a health declaration border pass via SMS (short message service) messaging to their phones for faster immigration clearance; those with higher risk (recent travel to level 3 alert areas) were quarantined at home and tracked through their mobile phone to ensure that they remained at home during the incubation period.

Moreover, Taiwan enhanced COVID-19 case finding by proactively seeking out patients with severe respiratory symptoms (based on information from the National Health Insurance [NHI] database) who had tested negative for influenza and retested them for COVID-19; 1 was found of 113 cases. The toll-free number 1922 served as a hotline for citizens to report suspicious symptoms or cases in themselves or others; as the disease progressed, this hotline has reached full capacity, so each major city was asked to create its own hotline as an alternative. It is not known how often this hotline has been used. The government addressed the issue of disease stigma and compassion for those affected by providing food, frequent health checks, and encouragement for those under quarantine. This rapid response included hundreds of action items.
The result was that they were able to contain the virus much better than most other countries, especially in Europe. Despite a high amount of travel between the affected areas of China and Taiwan, as of today, Taiwan have fewer than 50 cases.
---
Finally, you can follow this up-to-date graphical representation of the COVID-19 situation based on the Wold Heath Organization's report of confirmed cases.
---
That's a lot of information and there's more being analysed and released every day. There are wide-ranging and expensive responses which may make a difference still but the economic damage already done can only be mitigated, not undone.
Having collected and written all this, I'm not sure it is actually helpful but I wanted to have some combination of facts with which to start a conversation while we are in a situation in which there are no easy answers and no obvious solution.
I expect a lengthy discussion in the comments and I would like to encourage everyone to leave more information and links to references.
I should say that I will be watching this page more closely than normal for moderation. Please remember not to insult people or make harsh judgemental comments unless you can back them up with science. Thank you :)