Mid-Air Collision in Marine Training Exercise
Last week, on the 29th of September 2020, two US Marine aircraft collided over the Naval Air Facility El Centro in California while taken part in a refuelling exercise as a part of a seven-week training event, the Weapons and Tactics Instructor course.
The fighter was an F-35B (Lockheed Martin F-35 Lightning II), a single-seater, single-engine, 5th-generation fighter aircraft which costs $122 million brand new. It collided with a KC-130J (Lockheed Martin KC-130 Hercules), a four engine turboprop military transport aircraft carrying eight personnel.
The Hercules was from the Marine Aerial Refueler Transport Squadron 352 (The Raiders) and was flying under the callsign RAIDER 50. The flight crew contacted ATC before crossing the military operations area over Kane West and were cleared to enter at 17,000 feet. The F-35B Joint Strike Fighter was callsign VOLT 93.
Directly after the collision, KC-130J contacted air traffic control. A cleaned-up version focusing on the incident was posted to the LiveATC.net forums by user JetScan1. The recording is from the frequency for Los Angeles Air Route Traffic Control Center, referred to as LA Center.The audio starts with American Airlines flight 237 receiving clearances.
| | |
| --- | --- |
| AA flight 237 | All right. We're going to report that there was some sort of flare, some sort of pyrotechnic device at our 2 o'clock position less than ten nautical miles, maybe five miles away, at an altitude of probably 25,000 feet? |
| LA Center | American flight 237, roger. How far away? About five miles, you said? |
| AA flight 237 | It's kind of hard to determine. It's right over the desert so yeah, we'll say five miles. |
| LA Center | Ok and you said it was pyrotechnics, so an explosion or something like that? Or…? |
| AA flight 237 | Yeah, I'm thinking it was probably like a rocket that you know, the kids send up. A sounding rocket or something like that. And then we also saw where it hit the ground too, the plume down there, so… |
| RAIDER 50 | LA Center LA Center, RAIDER 50 declaring an emergency. Mid-air collision with VOLT 93. We have two engines out, we're leaking fuel and might be on fire and in emergency descent at this time. RAIDER 50 |
| LA Center | RAIDER 50 you are in the Kane West right now? |
| LA Center | RAIDER 50, I think you got stepped on there. You said you are going down now? |
| RAIDER 50 | We declare an emergency. We still have partial control of the aircraft. Two engines out. We are aiming towards– |
| LA Center | RAIDER 50 You said you are heading to El Centro … I'm sorry, El Centro airport (Naval Air Facility) or Imperial (Imperial County Airport)? |
| LA Center | RAIDER 50, LA. RAIDER 50, LA. |
| Unknown | I believe they said they had a mid-air and two engines out. |
| N979CF | And Center, not to clog the frequency… 979CF . We got a plume of black smoke on the ground in that MOA (military operations area), that you know, happened at about the time he called for the emergency, so there's at least one aircraft down, it looks like. |
| LA Center | OK. Thank you |
| Unknown | Impact was prior to his last transmission though. |
| LA Center | RAIDER 50, Thank you. RAIDER 50, I'm sorry, you said you are going to Thermal (Jacqueline Cochran Regional Airport in Riverside county)) now? |
| LA Center | RAIDER 50, roger. |
| LA Center | RAIDER 50, I understand that you said you are about 20 miles away and …you are looking for the winds? Um, yeah let me get you the winds for you. |
| LA Center | RAIDER 50, the wind is 150 at 08 knots. |
| LA Center | And RAIDER 50, I just want to understand… Can you repeat the nature of the emergency. |
| LA Center | OK RAIDER 50, you said number four and number three? |
| LA Center | RAIDER 50 I just want to confirm you have the airport in sight? |
| LA Center | RAIDER 50… Do you have the airport in sight? It's at your 12 o'clock about one five miles. |
| LA Center | RAIDER 50 I think I stepped on you, can you repeat that. |
| LA Center | RAIDER 50 Can you call LA Center on the ground, can I give you a phone number |
| LA Center | And RAIDER 50, the Thermal unicom frequency 123.0 |
The pilots commenting on ATC were perhaps not as helpful as they thought they were being; however, they were correct that the explosion on the ground happened while the Hercules was still speaking. The pilot of the F-35B ejected and his jet crashed into the ground. A video has been posted by vlad vlad on Twitter showing the crash.
F-35B Crashing Ground After Mid-Air Collision With KC-130J pic.twitter.com/dPBdVjokJ9

— vlad vlad (@vladwlad777) September 30, 2020
The Hercules did not make it to Thermal Airport but landed about half a mile short of the runway in a carrot field. You can see the fuel pouring from the wing and additional damage, presumably done during landing. The KC-130 can carry up to 60,000 pounds of fuel.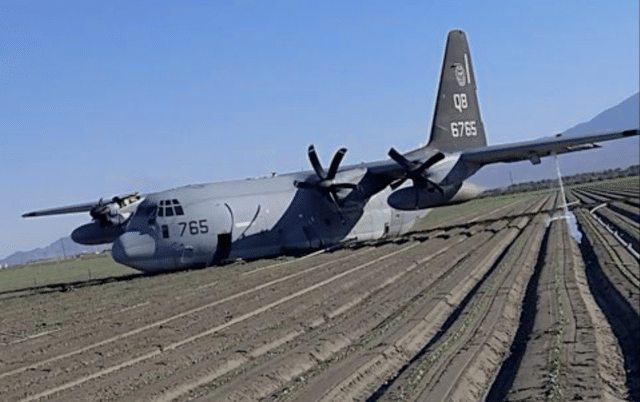 This close up was posted to PPRuNe with no attribution: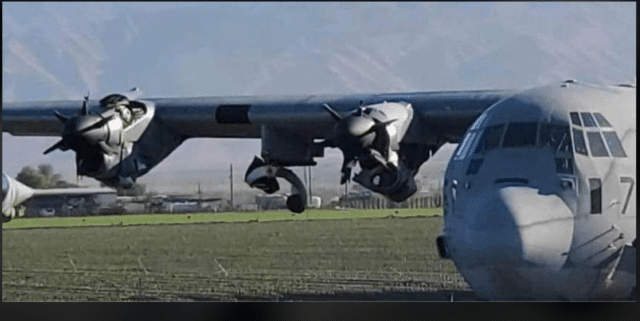 The Marine Corps Air Station at Yuma, Arizona made a statement a few hours later, which was quoted in U.S. Naval Institute News:
At approximately 1600 it was reported that an F-35B made contact with a KC-130J during an air-to-air refueling evolution, resulting in the crash of the F-35B. The pilot of the F-35B ejected successfully and is currently being treated.

The KC-130J is on deck in the vicinity of Thermal Airport. All crew members of the KC-130J have been reported safe.
The cause of the collision is under investigation. The seven-week training takes place in Yuma twice a year. It is not clear whether the personnel involved were students or instructors. The accident took place in daylight in clear conditions. Retired Marine Corps Col Pete Field told the Desert Sun that fighter pilots learn to these manoeuvres during their training. "It's a basic thing. This shouldn't have been done badly."
Most importantly, all personnel are safe with only minor injuries. The F-35B is clearly a write-off and I don't have much hope for the Hercules.