Clyde Cessna: Changing the World of Aviation
This week's post is an account of Clyde Cessna and the early days of the Cessna Aircraft Company which was written by Dana Rasmussen, a friend of mine who works for Jet Charters. It's a fascinating story which I'm sure you will enjoy.
---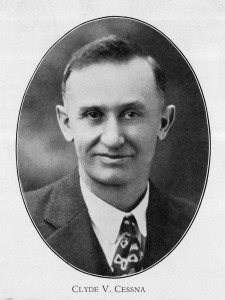 Before the turn of the 20th century, a young boy living on a Kansas farm never would have guessed that his passion for machinery would have the capacity to change the world. But it did; because that boy was Clyde Cessna, the founder of Cessna Aircraft Corporation.
In 1910, Clyde witnessed an air show that changed not only his career, but his life. At that time, Clyde was working in the booming auto industry in Oklahoma. He was so inspired by the air show that he went to New York to work for Queen Aeroplane Company. This is where Clyde learned about the aviation industry and aircraft construction.
Clyde stayed with Queen Aeroplane Company for only a short while. He wanted to build planes of his own and so he returned to Oklahoma. He built his first plane out of spruce and linen. It had a two-stroke four-cylinder engine with a maximum of 40 horsepower. Clyde tested this aircraft repeatedly, but failed more than a dozen times. It wasn't until he tried to fly again for the 13th time that he finally got his aircraft in the air – albeit only for a moment because he quickly crashed into a tree.
Locals took notice of what Clyde was doing. They didn't think he would ever amount to much of anything and considered his attempts at flight to be worthless. It wasn't until he finally flew five miles and had a successful landing that people began to realize that Clyde was onto something.
Over the next few years, Clyde continued pursuing his interests in aviation and in constructing monoplanes. In 1916, he purchased a vacant building where he was able to construct new aircraft to exhibit and provide flight training for future pilots, but this effort was short-lived.
For nearly 10 years, World War I and its aftermath prevented Clyde from continued exploration into aviation. It wasn't until 1925 that he really went headfirst back into the industry. That's when he, along with Walter Beech and Lloyd Stearman, started the Travel Air Manufacturing Company. It wasn't long before this Wichita-based company became a leader among aircraft manufacturing companies. It was known for constructing aircraft with quality craftsmanship and superior design concepts.
But Clyde left the Travel Air Manufacturing Company after two years when his partners did not agree with him over design issues. He started the Cessna Aircraft Corporation in 1927 in Wichita so he could pursue his passion his way.
The first product that Cessna made was the AW. This monoplane could cruise for up to seven hours at 145 mph. From there, Cessna began producing more aircraft, all of which were known for not only their safety and performance, but also their affordability.
Despite this success, Cessna was unable to stay open during the Great Depression. The company filed for bankruptcy and shut its doors in 1931. Clyde thought that the company would never see the light of day again, but just three years later, he reopened.
The Legacy Continues…
The company resumed its successful track record, and Clyde was happy with what he created. In 1936, he sold the company to his nephews and participated in business operations as a figurehead, but spent the rest of his life back on the family farm and flying his many planes.
Even without Clyde actively participating in the day-to-day functions of the company, Cessna became a world-leader in aircraft production.
In 1933, the Cessna CR-3, a propeller-powered racer, won the American Air Race in Chicago. Around this time, Cessna became known for producing planes that were the fastest in the industry. Aviation-enthusiasts swore by Cessna and the orders for the planes came in steadily.
In the 1940s, Cessna entered the big time when the United States Army and Royal Canadian Air Force both placed orders for Cessna T-50s. The combined order called for more than 200 planes, and Cessna ceased commercial production to work on the wartime production needs.
It wasn't until 1946 that Cessna got back into the game of commercial aviation with their release of the Model 120 and Model 140, the latter of which was deemed the Outstanding Plane of the Year by the US Flight Instructors Association.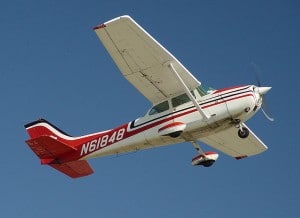 Cessna delivered its first big hit, the Skyhawk, in the mid 1950s. This plane was an overnight success and more than 1,400 models were built in its first year of existence. To this day, the Skyhawk remains the most widely produced light aircraft of all time.
By the end of the 1960s, Cessna had produced more than 50,000 aircraft. It also entered the business-jet market with the release of the FanJet500, which was the predecessor to the Cessna Citation.
Cessna Releases the Citation Line…
In 1971 the Citation made its debut. The release of the Citation was eventually a game-changer for Cessna, but it took a while before the line reached its maximum potential.
The Citation wasn't the first business jet on the market. It also wasn't nearly as fast or powerful as its direct competitor, the Learjet 25. In fact, it was often referred to as the "Slowtation" in the media. This was due in part to the jet's turbofan engines, which were not as powerful as the turbojet engines found in other business jets. It also had straight as opposed to swept rings, which contributed to its inability to keep up with the competition.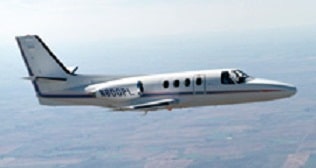 But Cessna engineers were determined to make the Citation a worth competitor. By 1976, the jet was retooled and given longer wings, a capacity to handle a higher gross weight, and it was still able to access shorter landing fields thanks to its thrust reversers. This upgraded jet was given the name "Citation I." From there, the Cessna Citation Jet corporate line was born, which catered to the burgeoning travel needs of the world's professional business men and women.
This new market benefitted the company in several ways throughout its history, but when the Citation Jet family was introduced it came right on the heels of a semi-recession which had caused production to slow considerably. Luckily, the corporate market was thriving and Cessna was eager to compete with rival aircraft manufacturing companies.
Cessna's Ground Force…
Ever since Clyde Cessna started the company it's always been headquartered in Wichita, which, thanks to Cessna, is nicknamed the "Air Capital of the World."
This nickname comes from the fact that Cessna has sold more aircraft (close to 200,000) than any other corporate jet manufacturer and the company contributes heavily to the Wichita economy.
Cessna's corporate headquarters occupy 1,400 acres of land in Wichita where all of its fleet is serviced. The majority of the fleet is also built in Wichita, aside from the Mustang, which is produced in Independence, KS.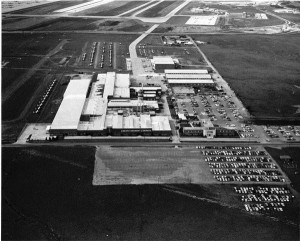 The independence facility builds and services the interiors of the fleet. It also acts as a delivery hub for Cessna's single engine pistons.
Cessna also has a facility in Columbus, GA where single engine pistons are produced and detail parts of business jets are assembled. McCauley Propeller Systems is also located at the facility and produces propellers used in Cessna's fleet.
Cessna's only international facility is in Chihuahua, Mexico. This facility opened in 2006 and produces wire harnesses and sheet metal assemblies for the Citation family of aircrafts. This facility also produces single engine piston aircraft.
In addition to the production facilities, Cessna operates Citation service centers all over the US and Europe. These service centers are open all day every day to meet the needs of Cessna's customers.
Cessna's Impact…
With all of its facilities and service centers, Cessna employees more than 8,500 individuals worldwide today. But throughout the company's 84-year history, countless of men and women have built lasting careers while working for Cessna.
It's one of the few companies that withstood the test of time and stayed strong throughout times of war, economic downfalls, change of ownership, and kept up with technological and industry demands.
---
You won't be surprised to hear that JetCharters offers a whole range of Cessna aircraft across the US: Citation CJ1, Citation XLS, Citation Sovereign and Cessna Grand Caravan. If you enjoyed this piece, be sure to visit the Jet Charter Blog.