Building a B-29 Piece by Piece
I'm in Austria this week, giving a presentation about the representation of old women in science fiction. So it seemed only right to celebrate a woman in aviation who might not otherwise have received the recognition that she deserved.
I'd like to introduce you to Matt's grandmother, Edna!
Edna lived in Detroit in 1945, the same city where William Boeing was born in 1885. So perhaps it is no coincidence that, in 1945, she ended up working on Boeing aircraft, specifically the assembly of the Boeing B-29 Superfortress.
The B-29 was the US's first long-range, heavy bomber and the single most expensive weapons project during World War 2. It entered combat service in 1944 and could travel almost 5,500 miles while carrying six tons of bombs. The B-29 innovations included a pressurized cabin, tricycle landing gear and a computer-controlled firing system which allowed a single gunner and fire-control officer to operate four machine gun turrets. The aircraft were also heavily used in the Korean War but were discontinued in 1960.
Boeing had four main-assembly factories but they were unable to keep up with demand. Initially Chrysler Corporation was given the job of producing 1,000 Cyclone powerplants per month, the amount needed to keep up with the production of the four-engined bombers.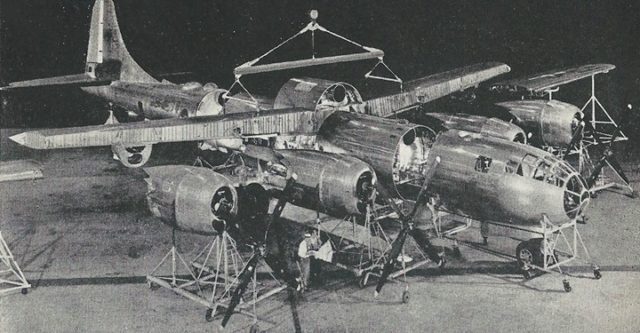 The US ended up relying heavily on the automobile industry to supply airframe components and engines at the speed required, which is where Detroit comes in. Chrysler workers in Detroit built the B-29 engine cowling sets and the front fuselage sections, installing 50,000 rivets, four miles of wiring and 8,000 different parts in the nose section at Chrysler's DeSoto Division. Meanwhile, the rear fuselage sections behind the wings (including the tail gunner's location) were also built in Detroit, by the Hudson Motor Car Company. Briggs Manufacturing had 31,000 employees in their Detroit plants, producing aft and forward bomb doors, nose wheel doors and outer wings. The Fisher Body Division of General Motors made the most complex component of the B-29, the engine nacelles, which consisted of 1,300 sub-assemblies. Although the parts were produced in Cleveland, they were assembled in Detroit. 
It's not clear where Edna worked but it could have been any of the above or possibly, having talked about assembling bombers, she was based at Willow Run, also known as Air Force Plant 31, which is not too far out of Detroit. The plant was set up by Ford Motor Company to built components but in 1941 Boeing gave them permission to assemble bomber planes.
This year, Edna turned 94 and it turned out she'd never actually seen one of the finished aircraft that she had helped to assemble. Seventy-three years after her job assembling B-29 components, she got the opportunity to get close up and personal with a completed operational B-29 Superfortress.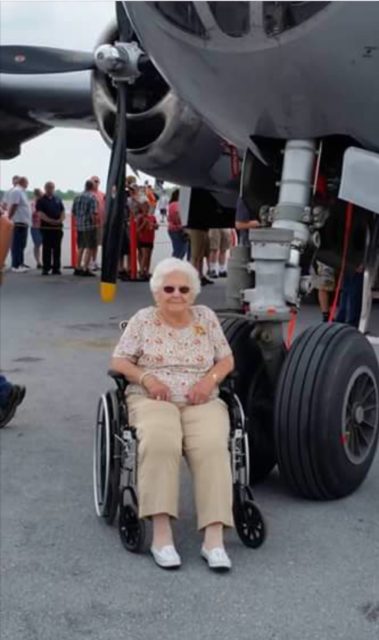 Matt gave me permission to share this photograph with you, which is Edna sitting next to Fifi, one of just two B-29s that are still operational. Sadly, they don't appear to have volunteered to take her up in it for a flight… it seems to me that would be the least they could do!
References:
Matt (Edna's proud grandson)