Crazy about Drones
I got a drone for Christmas after reading an Inspire 2 review! I haven't had a chance to play with it yet but, in view of the bad reputation drones have in the aviation world, I thought I would post some positive drone links to balance it out a bit.
Drone's World
This video shows the world from the drone's viewpoint, which I found particularly interesting:
Drones with nets to catch other drones
Japan unveils net-wielding police drones for air patrol • The Register
It's a little bit meta but according to a report from Japan Today, the Metropolitan Police Department has assembled a squad of dozens of officers who will use the police quadcopters to catch and take down unruly drones operating in unsafe or illegal conditions.
Leaf Blower
This is a bit more expensive than your every-day leaf-blower but you have to admit, it looks a lot cooler, too.
Low-Budget Films
There's a new judge, jury and executioner in town. Mini City will never be the same.
It's all action and gunfire, so if that's not your thing, then this'll be a flop. But I love the concept of making two minute feature films at home.
Ambulance Drone
Each year nearly a million people in Europe suffer from a cardiac arrest. A mere 8% survives due to slow response times of emergency services. The ambulance-drone is capable of saving lives with an integrated defibrillator. The goal is to improve existing emergency infrastructure with a network of drones. This new type of drones can go over 100 km/h and reaches its destination within 1 minute, which increases chance of survival from 8% to 80%! This drone folds up and becomes a toolbox for all kind of emergency supplies. Future implementations will also serve other use cases such as drowning, diabetes, respiratory issues and traumas.
There's a correction to clarify that Joanna shouldn't have left her father alone but instead sent out a bystander to bring the drone inside. It's basically a flying defibrillator but the concept makes sense and in high traffic areas, it could help someone survive the ten minutes that it takes a real ambulance to get there.
Drone Racing
Sitting comfortably for a race may not sound very exciting but using VR Googles to make the racing in first-person view brings on a whole new dimension to this. I like how the man describes it as an "out-of-body experience".
Drone Football
We surprise a group of footballers in Barcelona by transforming their local pitch into an incredible, interactive football arena.

Using drones, advanced projection technology and over 30,000 programmable LED lights we created a football experience unlike any other.

Watch the players' reactions as their Friday night five-a-side match is elevated to unimaginable heights.
OK, so the drone doesn't have a big job in this and I don't think the footballers like, showed up and discovered this major-cool set up without any warning. But wow, doesn't it look like fun?
Hawk Bait
Maybe this isn't a completely positive take on drones but it made me laugh.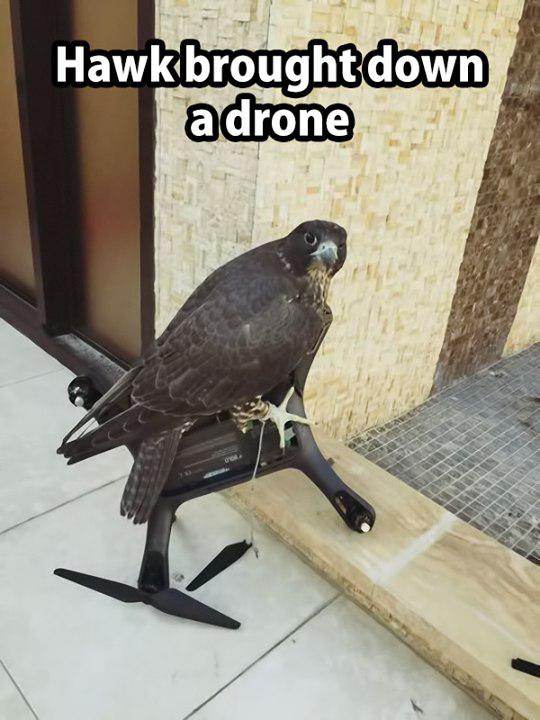 A Toy for Sylvia
It's only little and it's completely manual control but I'm looking forward to scaring the pigeons out of the garden.
I will let you know how it goes and hopefully not crash on my first ever try.
Happy 2016!