Aviation Entertainment
Some times, there's just too many fun links to get down to work. Here's a collection of new websites I was reading / watching when I should have been writing you a new post…
---
Landing short and checking out my balance in my Wild West Aircraft Highlander (Just Aircraft)
---
Rockwell Collins brings head-up flying to iPad® with new 'HGS™ Flight' simulation app
The HGS Flight app goes beyond standard head-up display symbology like flight path vector, speed and altitude, and lets users simulate flights using real-life advanced features that enable more precise flying. These include an approach guidance cue, speed error tape and acceleration caret. The app also features synthetic vision to allow users to see a virtual view of terrain despite any weather condition.
---
This man is a goddamn hero…
---
Security video shows SkyWest jet hitting St. George airport | FOX13Now.com – Salt Lake City, Utah News & Weather from KSTU Television FOX 13
Police and city officials have released airport surveillance camera video of a bizarre incident where a SkyWest Airlines pilot suspected of murder stole a jet and crashed it into the airport shortly before killing himself.
---
I didn't do very well on this one!
Flight Attendant Quiz: Can You Name That Airline By The Flight Attendants' Uniforms? (QUIZ)
The last time we presented you with a brain teaser, we asked if you could identify an airline by its livery. Most of you did very well — we're so proud!

But it's not just airplane art that's unique to each airline, flight attendants can be icons in their own right. So, we thought we'd further test your airline savvy with a little match up of flight attendant uniforms.

In the quiz below, try to identify the airline by what the lovely flight attendants are wearing. Do you have a favorite flight attendant uniform? Let us know in the comments!
---
Timelapse: Gulfstream GV Paint Refurbishment – YouTube
On June 29th, a Gulfstream GV received a fresh coat of paint as Duncan Aviation celebrated the opening of its $11.5 million, 45,000 sq. ft. aircraft paint shop in Lincoln, Neb. (LNK).

A small fleet of cameras mounted in the paint bays captured a timelapse video of the GV's transformation, highlighting the size of the aircraft paint facility and the number of technicians involved during the paint process.
---
BBC News – Clackmannanshire fatal microlight crash pilot untrained
The report found the CAA records showed a "No Flight" declaration was made on the microlight on 18 February 2011, something which is done when an aircraft is not insured and the owner has declared it will not be flown until evidence of insurance is produced.

It also found Mr Paterson was not a member of a microlight club and there were no records of him attending any formal flying lessons.
---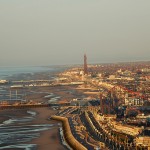 In other news, I'm very excited that I'll be visiting Blackpool ATC later in the month! I contacted them as a part of the Visit ATC day is back – Airspace & Safety Initiative and they were happy to have me come visit. I can't wait to tell you all about it.