Amazing MD-80 Departure from Princess Juliana
I admit, I have a soft spot for island runways. And one of the most famous island runways is runway 10 at Princess Juliana International Airport on Sint Maarten, with low-altittude final approaches happening very close to Maho Beach. Princess Juliana airport is regularly the subject of viral videos showing aircraft coming in low over the beach and the location is excellent for stunning aviation photography. It's also the airport featured in the free demo version of Microsoft Flight Simulator X because who wouldn't want to have a go!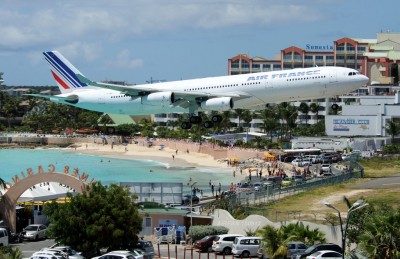 Princess Juliana International Airport – Wikipedia
Arriving aircraft approach the island on the last section of the final approach for Runway 10, following a 3° glide slope flying low over the famous Maho Beach. Pictures of low flying aircraft were published in several news magazines worldwide in early 2000. The thrilling approaches and ease of access for shooting spectacular images, made the airport one of the world's favorite places among planespotters. To meet changing international and local regulations a 150-metre (490 ft) safety extension was required.

Despite the reputed difficulties in approach, there have been no records of major incidents at the airport, although ALM Flight 980 crashed 30 miles (48 km) from St. Croix on 2 May 1970, after several unsuccessful landing attempts at TNCM in bad weather.
So, I know you all have seen this before. I have something a little bit different for you today.
The winds on Sint Maarten are such that usually aircraft come in and depart on runway 10. But a capricious wind meant that the runway in use was 28. Incoming traffic approached over the island instead of the shore. Meanwhile, outgoing traffic went straight over Maho Beach. That led to this amazing low-flying video of an MD-80 taking off over the beach:
I love the slow-motion replay which makes me feel like I was almost there.
The plane spotter who took the video left comments about the experience:
I took the video. It was probably the biggest rush you could ever experience. I had prayed for them to keep low and my shadow shows my hand moving downward saying stay low. I captured it with a GoPro. There was only me and friend I had just met a minute prior to to this awesome takeoff. His camera failed 2 seconds in so this capture will be the only one available. I'm glad to share it and continuously feel the rush every time its played ! Thanks Insel !
My previous years there, the Insel Team were the champs of "sand blasting people" I witnessed them nose up to the fence and had participated in that crazy experience. It's on my channel but poor video quality. SO, when I seen them departing and turning down the runway my heart started pounding. Only 3 off us on the beach and I said this is it. If anyone can do it, I figured it would be them. I watched other takeoffs earlier that day and hoped the winds would stay favourable. The other aircraft were airborne and wheels up by mid runway. I just stood there watching. Lights approaching, slight engine roar, still down and finally fully visible nose cone and cockpit. You could almost see their grin as nose finally elevated and instantly wheels up and then the most intense feeling of power and strength and vulnerability as this massive jet passes over us like 3 little markers lining the end of the runway. Like I said earlier, there is no amusement park in the world that could give you that rush. And SXM is one of very few that would even ever give you the remote chance of experiencing it. I picked the right year, the right day, the right hour, the right airline and the right pilot – along with the right weather and winds made for this awesome capture. Absolutely NO doubt in my mind that they kept this airplane down till that last second and I mean second !
So now my wishlist has been updated to include arriving and departing Sint Maarten's over the beach!