Small Plane Gets Stoned
This photograph has been posted to aviation forums repeatedly, each time with a thread of pilots wondering what the hell could have happened to cause the light aircraft to be smashed with a large rock?
I have to admit, I presumed some sort of airfield accident when the plane was parked but, until I saw it again this week, I hadn't attempted to find out. Plane and Pilot Magazine took a stab at it although they mainly came up with what didn't happen.
We presumed the plane had just flown in but was in an unlucky spot.

Then we asked how in the world the rock could've gotten there, and we're coming up with nothing. It couldn't have rolled, because that would have left a mark, a sign of the rock having trampled the grass on its path. And it couldn't have bounced, because we're not seeing the kind of damage to the plane a forward bouncing rock would make. This looks as though it dropped directly down from the sky. We've heard of golf-ball sized hail, but this is ridiculous.
The answer, it seems, is exactly the same as it is for the popular Piper Comanche Full of Arrows passed around with its misleading headline about uncontacted tribes.
The aircraft and its boulder is an art installation of "fibreglass, stone and airplane" by Jimmie Durham called Encore tranquillité (Calm Once More), which is on display at the National Gallery of Canada.
Durham is an American sculptor living in Berlin who describes himself as of Cherokee descent. He bought the aircraft in Berlin, although it isn't identified other than as a "hand-built German airplane". He took it to a derelict Russian airfield outside of Berlin, where he lowered a boulder onto the aircraft, splitting it in two. He then replaced the boulder with a fibre-glass replica.
The display was then moved to Paris as a part of an exhibition called Rejected Stones with a collection of Durham's work. CAA Reviews (nothing to do with the Civil Aviation Authority) explain how the centrepiece of the exhibit shows the boulder "taking an emphatic revenge on technological modernity, for which the airplane remains a persistent symbol."
Other works on display in Rejected Stones contributed to the gradual unfolding of a world that is not functioning according to expectations. Odd juxtapositions of language and image appeared throughout the enormous horseshoe-shaped gallery in a seemingly endless series of videos, drawings, photographic portraits, and collaged bits of this and that. While conforming to a loose chronological order, the diverse media in the gallery cross-fertilized, producing slippages of association that made it difficult to affirm the boundaries of particular works of art and the discrete elements that form them. The manner of display complimented the tendency of the work to resist fixed meanings and stable identities. Often placed directly on the floor and unmediated by framing pedestals or display cases, slabs of wood, oil cans, furniture, and household appliances were altered in such ways that they seemed to no longer bear the weight of the cultural investments projected into them.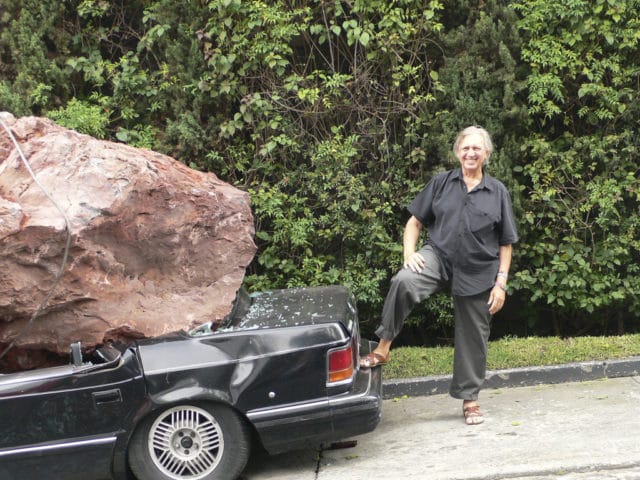 He's done similar work before, including Still Live with Stone and Car where Durham dropped a painted boulder onto a Ford Festiva and Xitle and Spirit where he dropped an eight ton stone onto a Dodge Spirit.
We tend to say that stone is permanent, immovable, when it fact it is just slower and tougher than us, or sometimes much faster.
In the National Gallery of Canada magazine article They Will Be Smashed, Durham appears to have had some affection for the aircraft before he dropped a boulder onto it.
I imagine someone who is bothered by a fly and swats it down, having peace again for a moment. But I actually admired the plane: such good and artisanal work on it, and people still flew in it! My frame of reference was, and is, simple: Nature falls on us. Our clever efforts are smashed. But to me this is funny tragedy. Our efforts ARE clever, and they WILL BE smashed. A person says, 'I'm going on vacation,' but instead, he is run over by a truck or cancer.
I'm not sure I'm really getting the idea of a "funny tragedy" but as a message, I can see what he's trying to say. The article goes on to quote the curator talking about Durham's belief that "stones were like the Cherokee people, because they'd been kicked down the road, and moved, and moved, and moved."
The inspiration for this sequence appears to have been a 1996 work in which he threw stones at a refrigerator which he then named Saint Frigo.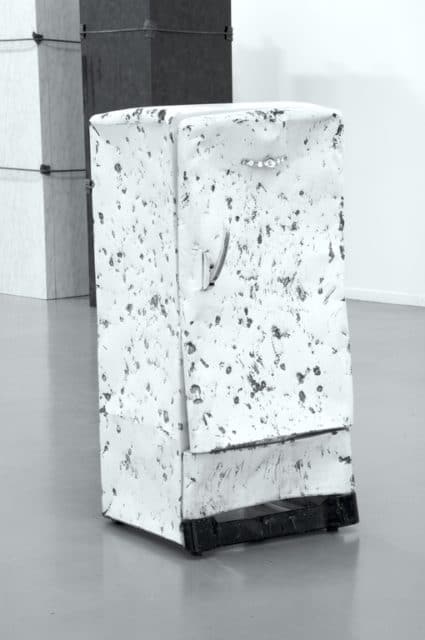 I don't really destroy things. I just change them. I change their shape, just like any sculptor does. I chose the refrigerator. I stoned it for a week, every day, until I got the shape really changed. I chose it because I wanted to throw stones at something as sculptural work, but I wanted an object that no one would care about. I thought that if I stoned a TV or an automobile, everyone would be glad and care in some way or another, and I thought that a refrigerator was completely neutral. It was, until I started stoning it and then it wasn't neutral anymore. Then it started being brave, so that in the end I called it Saint Frigo, because it was a martyr. I saved its life by making it a martyr. It was going into the trash, now it's eternal, now it's art.
Well, I have to say I think he did destroy that innocent little aircraft, although I accept it was probably on the scrap heap anyway. Nevertheless, I'm a little bit incensed that an everyday and perfectly ordinary refrigerator gets called brave and is given a sainthood, while the seemingly one-of-a-kind hand-built plane is given nothing so much as a "Good riddance!"
I have to admit that his work got me thinking, which is of course what the sculptor must have wanted in the first place.
Still, I wish I knew more about the poor plane.