Crashing for Cash: Trevor Jacobs pleads guilty
The big news this week is that Trevor Jacob, extreme sports addict and YouTube personality, confessed that he intentionally crashed his aircraft for a sponsored video.
He purchased the vintage aircraft, a Taylorcraft B (which is no longer in production) and brought it to Lompoc City Airport. There, it was noticed that he didn't bother with the "major maintenance" that the Taylorcraft B clearly needed. Instead, he focused on installing cameras inside and out as preparation for a flight to Mammoth Lakes. He departed Lompoc with the cameras rolling, wearing a sky-diving parachute and with a selfie stick ready. According to the footage he uploaded to YouTube, he had an engine failure which led to him jumping from the aircraft, leaving it to crash into the mountains. However, viewers were immediately suspicious and called out numerous issues with the "emergency", including the fact that he had opened his door before the engine failure, and made no attempt to restart the engine or call ATC to let them know his location, but simply jumped out, selfie stick in hand, recording the Taylor B gliding away.
Once his location was established through the video footage, it became clear that there were numerous landing sites in range of the gliding aircraft, including an airfield.
Trevor Jacob deleted the video and uploaded a new one which tidied up the crash and removed all reference to the sponsor.
He has not updated his YouTube channel since. It was way too late. A federal investigation had already been initiated.
In April 2022, the FAA released an emergency order of revocation.
Your egregious and intentional actions on these dates indicate that you presently lack the degree of care, judgment and responsibility required of a certificate holder.
Things went a bit quiet after that. Then, on the 11th of May 2023, the United States Attorney's Office in the Central District of California released the news that pilot had pleaded guilty to felony charges.
Santa Barbara County Man Who Deliberately Crashed Airplane for YouTube Video Admits to Obstructing Federal Investigation

According to his plea agreement, Jacob is an experienced pilot and skydiver who had secured a sponsorship from a company that sold various products, including a wallet. Pursuant to the sponsorship deal, Jacob agreed to promote the company's wallet in a YouTube video that he would post.

On November 24, 2021, Jacob took off in his airplane from Lompoc City Airport on a solo flight purportedly destined for Mammoth Lakes. Jacob did not intend to reach his destination, but instead planned to eject from his aircraft during the flight and video himself parachuting to the ground and his airplane as it descended and crashed, he admitted in the plea agreement

Prior to taking off, Jacob mounted several video cameras on different parts of the airplane and equipped himself with a parachute, video camera and selfie stick. Approximately 35 minutes after taking off, while flying above the Los Padres National Forest near Santa Maria, Jacob ejected from the airplane and videoed himself parachuting to the ground.
Although he reported the crash to the NTSB, he claimed that he didn't know the location of the plane wreck. Then, he and a friend flew to the site by helicopter which they used to carry the wreckage to a cattle ranch (now operating as a winery) where it was loaded onto a trailer for the pilot to drive to a hangar at Lompoc City Airport.
In a scene straight out of a horror movie: Mr Jacob dismembered the Taylorcraft B and threw away the pieces in various trash bins around the airport and local region, in hopes that no one would ever find the remains. Once he had disposed of the evidence, Jacob uploaded the YouTube video of the crash.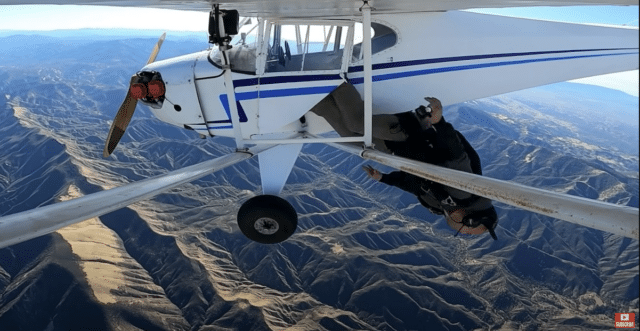 He has also admitted to lying on the aircraft accident incident report and to aviation safety inspectors when he claimed that his aircraft had lost engine power and that he was unable to identify any safe landing options. He confessed that he had intended from the start to deliberately scupper the aircraft in hopes of making money from the video recording of the crash.
Jacob faces up to 20 years in prison for obstructing the federal investigation, although this will clearly be mitigated by the guilty plea.
His company, Adventured, offers the opportunity to book a Trevor Jacob Psychology Session for $99, in which he is happy to listen to your story and also to share what he's learned.
I'm mainly sad about the Taylorcraft.