Quite the Fall
This video from the 11th of November shows a cabin crew member falling out of an aircraft, grabbing the doorway edge before losing her grasp and landing on the tarmac below.
The drop from the rear doorway of the 737 is around 2.7 meters (9 feet).
The story was originally reported in the Beijing Youth Daily, the official newspaper of the Communist Youth League committee in Beijing. The video was taken by a survellience camera on the airport.
Translations of the article say that the incident happened on a Xiamen Air aircraft at Zhengzhou airport in the Henan Provice. The aircraft, a Boeing 737, was being restocked when the crew member lost her footing and fell out the open cabin door.
The flight was Xiamen MF 8253, a regularly scheduled morning flight from Fuzhou (FOC) which stops at Zhengzhou for an hour before continuing on to Langzou.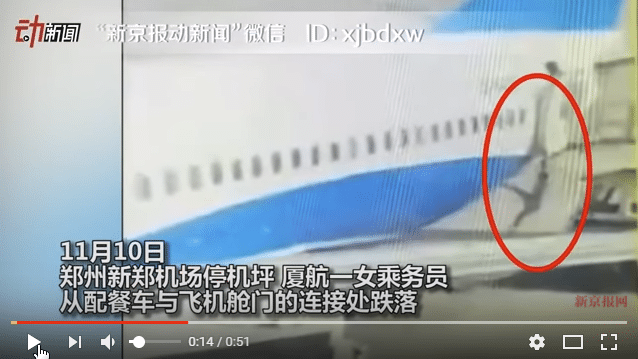 The airline, Xiamen Air, posted a statement to Weibo which states simply that the woman fell out of the rear door as the aircraft was making a short stop in Zhengzhou. She had surgery for a broken rib and was expected to stay in hospital for a week.
The South China Morning Post has a detailed article explaining what happened and reports that this is the second such incident in less than a month.
Chinese flight attendant falls out of stationary plane at Zhengzhou airport, suffers broken bones
On October 23, a flight attendant with China Eastern Airlines suffered bone fractures and bruises after falling from the rear door of a stationary aircraft at Shenzhen airport.

She was apparently trying to close the door as the plane was preparing to take off.
I don't know if we have any cabin crew reading who can weigh in on the incidents but I sure would be interested in hearing more about how this could happen and what safety procedures are (or should have been) in place to avoid this.