Not Enough Fuel: The Disgusting Truth About LaMia Flight 2933
On the 28th of November 2016, LaMia flight 2933 departed Santa Cruz de la Sierra (the largest city in Bolivia) for a chartered flight to Medellín in Colombia. The aircraft held 68 passengers and 9 crew. At 21:56 local time, the aircraft disappeared from radar screens. The wreckage was found on the slopes of Cerro Gordo. Search and rescue found seven survivors, one of whom died after being transferred to hospital. There were 71 fatalities, including the flight crew and all but one of the cabin crew.
The Colombian Civil Aviation Authority has confirmed that the aircraft did not have the mandatory fuel reserves, which are defined by the International Civil Aviation Organization (ICAO) Annex 6, part 1.
This is probably the most important point to understand. A flight plan lists
the departure airport
the destination airport
an alternate airport in case there is an issue at the destination
A commercial flight doesn't just have to carry enough fuel for the trip. It must have enough fuel to fly to its destination, fly a missed approach (i.e. attempt to land and fail), divert to its alternate airport and then it needs further reserve fuel for another 30 minutes of possible holding patterns.
According to the Colombian Air Safety Secretary, the flight should have gone from Santa Cruz de la Sierra to Cobija Airport in Bolivia, for refuelling, a ninety minute hop, before continuing to Medellín. Apparently, the departure from Santa Cruz was delayed and Cobija Airport doesn't operate at night, which might be why the refuelling stop didn't happen. However, the flight could equally have stopped at Bogotá to refuel.
Instead, it seems that LaMia filed a flight plan from Santa Cruz de la Sierra directly to Medellín, a route spanning 1,588 nautical miles. The alternate airport filed was Bogotá, which is a 128 nautical miles from Medellín (going back on yourself). So this flight plan required enough fuel for a minimum flight of 1,716 nautical miles along with enough fuel for at least one missed approach plus enough fuel for the aircraft to hold for up to 30 minutes.
The actual range of the aircraft was 1,600 nautical miles. The aircraft could just barely make it from Santa Cruz to Medellin, if nothing went wrong. It never was going to make it back to Bogotá. It never had enough fuel to hold for 30 minutes at Medellín, even if it didn't bother with Bogotá.
It should never have flown that route.
The aircraft was an Avro RJ-85. The Avro RJ is a high-wing cantilever monoplane easily recognisable because of its T-shaped tail. It runs quietly despite its four engines, giving it the nickname Whisperjet. It's popular as a regional jet for short-haul flights, especially as it is able to use short runways and even rough airstrips with only minor modifications. The standard aircraft has a range of 1,600 nautical miles (1,840 miles, 2,960 km) and a service ceiling of 31,000 feet (9,500 metres).
This video shows an Air France Avro RJ-85 doing a crosswind landing at Dublin Airport:
The operator of the aircraft was LaMia, short for Línea Aérea Mérida Internacional de Aviación and a play on words (la mía is a possessive phrase for a feminine object, as in "that thing which is female is mine").
LaMia started as a Venezuelan operation which failed twice (in 2009 and 2013). The Venezuelan owners rented their three RJ85s to Bolivian entrepreneurs, who stuck with the name LaMia as it was already painted on the aircraft. In November 2015, LaMia was launched as a legally distinct company offering domestic charter flights in Bolivia. The two owners were Gustavo Vargas Gamboa and Miguel Alejandro Quirogo Murakami, who was piloting flight 2933 when it crashed.
The operations coordinator said that resource extraction (mining) companies, travel agencies and soccer teams were their target audience. LaMia previously operated flights for the national teams of Argentina, Bolivia and Venezuela along with Colombian Atlético Nacional, the Paraguayan Club Olimpia and local sides Oriente Petrolero, The Strongest and Club Blooming. The airline had three RJ85 aircraft but two of them were under maintenance.
That night, LaMia flight 2933 was about 80 nautical miles south of Medellín and descending from its cruise altitude of FL300 (30,000 feet).
Another aircraft, VivaColombia flight FC-8170, was en route from Botogá to San Andrés Island when they experienced an alarm in the cockpit, which turned out to be a malfunctioning fuel gauge. At 21:11 local time the VivaColombia flight crew decided to divert to Medellin, which is about halfway from Bogotá to San Andrés. The aircraft was vectored in for a priority landing. It started its approach for runway 01 at 21:45 and touched down safely at 21:51.
VivaColombia have issued a statement that they did not declare an emergency and that the diversion was simply an "unscheduled stopover due to a technical related issue". Certainly, it's clear that the passengers of that aircraft were never in any danger and that the aircraft would not have been given priority if another aircraft had declared an emergency. The Colombian Aerocivil Secretary of Aviation Safety commented that it would not be uncommon for controllers to prioritise a national flight higher than a foreign charter flight.
During this time, LaMia flight 2933 had started its descent and was about 80 nautical miles south of Medellín at 21:34. At 21:48, they entered a holding pattern.
A third aircraft, Avianca flight AV-9771 from Cartagena (Colombia) to Medellín, was arriving at Medellín at the same time and was also in a holding pattern while the VivaColombia flight was on approach.
Normally this would not have been an issue. Every commercial jet should have had enough fuel for their destination (including enough for a missed approach and an approach) and fuel for the alternate airport and reserve fuel for a further thirty minutes of flight.
The LaMia flight was told that they were number three for the approach.
The fight crew apparently asked what the expected delay would be and then stated that they were coming in for the approach immediately as they had issues with fuel. By now, it was much too late. It's just crazy that they did not admit their fuel situation the moment they were asked to hold. If they had declared a fuel emergency, they would have been given priority over VivaColombia and brought straight into Medellín. I can't help but wonder if the captain, being one of the owners, did not want to admit that they did not have enough fuel on board for the flight, for fear of reprisals against the airline.
At 21:54 the flight left the holding pattern for the approach. It disappeared from radar at 21:56 while descending through FL155 (15,500 feet).
ICAO rules are that the declaration of minimum fuel is required if you can't land with at least thirty minutes holding fuel in your tanks, even if you are absolutely sure you are going to land safely. It's straight forward: you should not use the final reserve and, if you realise that you might have to, you must declare an emergency.
The Airport of Medellín have stated that the aircraft had declared an emergency at 22:00 local time, reporting electrical problems. It sounds like the flight crew did not realise that the engines flaming out could cause the electrical failure.
A recording from Medellín has been leaked. Warning: it's difficult to listen to.
| | |
| --- | --- |
| LaMia flight 2933 | Señorita, Lamia 933 está en falla total, falla eléctrica total, sin combustible. |
| | Lamia 933 is experiencing a total failure, total electrical failure, out of fuel. |
| Medellín | You are now 0.1 miles from Rionegro. |
| Medellín | I can't see your altitude. |
| LaMia flight 2933** | We're at 9,000 feet. Vectors. We need vectors! |
| Medellín | You are 8.2 miles from the runway. |
| LaMia flight 2933 | [expletive] |
| Medellín | What is your current altitude? |
| background voice | They aren't going to respond any more. |
There's no explanation for their sudden descent rather than an attempt to glide as far as they could. I've seen estimates that they probably could have glided for 10 minutes if they had set up the aircraft. But then, if they'd set up correctly, they wouldn't have attempted this flight with only just enough fuel to make it if all went well.
LaMia entered the holding pattern at 21:48. The hold added about 54 nautical miles to the flight. At 22:00 the flight crew finally declared an emergency but, by then, they were completely out of fuel.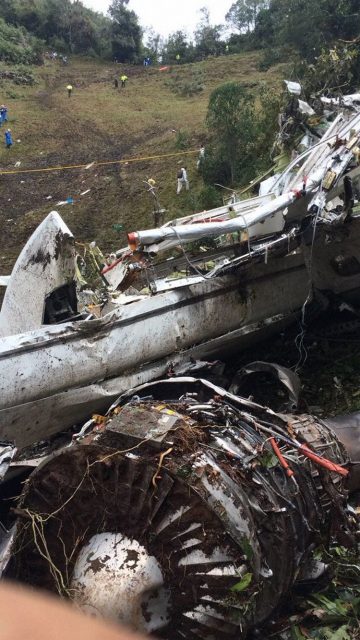 There was no fire which is one reason why there were any survivors at all. There was no fire because there was no fuel. In 12 minutes in the hold, they'd used everything they had.
Under ICAO rules, the investigation will be led by the Colombian Civil Aviation Authority as the accident took place in Colombia. They have requested the help of the British AAIB as the state of manufacture. Both the cockpit voice recorder and the flight data recorder have been recovered and the data is in good condition.
The leak of the ATC recording, in which the captain states he has had a total electrical failure and no fuel, has been confirmed as authentic, although there has been an implication that some segments may have been omitted, either for effect or to protect air traffic controllers involved.
The Colombian spokesman has already stressed that they will be investigating why LaMia authorised a flight which was beyond the range of the aircraft.
The Bolivian civil aviation authority immediately suspended LaMia's Air Operator Certificate (AOC) as a result of the crash. Bolivian Law requires all employers to be registered with the Ministry of Labour but, although LaMia has eight employees, it turns out that it was never registered with the government.
The Bolivian Ministry of Public Services has announced that in addition to suspending LaMia's AOC, they are investigating how the AOC was approved. There will be an internal investigation into the conduct of Bolivia's Administración de Aeropuertos y Servicios Auxliares a la Navegación Aérea (Administration of Airports and Air Navigation Services) regarding administrative and operational permits. It turns out that the Director of Aircraft Registries at Bolivia's Civil Aviation Authority is the son of Gustavo Vargas Gamboa, the surviving owner of LaMia.
The problems with this flight add up frighteningly fast.
The airline operator may not have been properly approved and monitored. Even if it was, the flight plan was clearly not a reasonable flight plan for that aircraft as a single hop. The flight, as planned, would use all of the fuel in the tanks, with no reserve and no fuel for contingencies, let alone a flight to Bogotá if Medellin had ended up with (for example) a blocked runway. The LaMia dispatcher accepted the flight plan, even though it must been obvious that it did not meet minimum requirements for fuel. The flight crew don't appear to have monitored the fuel during the flight nor to have considered stopping to refuel on the way. They should have declared an emergency the moment it became clear that they couldn't make it to Medellín and back to Bogotá but, on that basis, they wouldn't have taken off at all. However, it's unbelievable that they still didn't react when they reached their 30 minute reserve. When asked to fly a holding pattern, they were already within the last minutes of useable fuel. Even then, they did not immediately make it clear to the controller that they needed to land as quickly as possible.
The flight crew did eventually declare an emergency; however it was much too late. They were already out of fuel and their only remaining chance was to glide the aircraft to land. Instead, they descended rapidly and seemingly without a plan.
On top of all that, there is evidence that the LaMia captain had flown that same route four times before. He was literally playing Russian Roulette with the aircraft.
The whole thing is just heart-breaking. The passengers and the rest of the crew deserved better.
Sources include:
http://www.eldeber.com.bo/mundo/historia-del-avion-estrello-colombia.html
http://nsnbc.me/2016/12/02/its-official-colombias-caa-confirms/
http://www.eluniversal.com.co/deportes/el-avion-de-vivacolombia-en-ningun-momento-se-declaro-en-emergencia-241482
http://avherald.com/h?article=4a16583c&opt=0
http://www.pprune.org/rumours-news/587574-jet-goes-down-its-way-medellin-colombia.html