Multiple Bird Strikes at Mwanza Airport
Let me warn you up front, the photographs below are not for the easily-made-queasy and bird lovers should probably look away now.
On the 9th of December 2018, Precision Air flight 722 suffered multiple bird strikes while on final approach to Mwanza Airport in Tanzania. Precision Air is a Tanzanian airline, established in 1993 as a private charter company operating a five-seater Piper Aztec for tourist flights to the Serengeti National Park, Ngorongoro Crater and the Zanzibar Island.
As the requirements for air transport services increased, Precision Air began offering scheduled flights from Arusha using seven-seater Cessnas (207 and 402) until the 1990s when they introduced their ATR fleet. Precision Air now operates a fleet of nine ATRs and offers scheduled domestic services in Tanzania as well as international scheduled flights to Nairobi and Entebbe. Their headquarters is now in Dar es Salaam with a minihub at Mwanza. Mwanza is located on Lake Victoria.
The aircraft in question, an ATR 72-500, is a twin-engine turboprop popular with regional airlines for short haul flights. On the 10th of December it was on a scheduled passenger flight from Nairobi to Mwanza via Kilimanjaro. There were four crew and 68 passengers on board.
Right, does that put us low enough that the squeamish won't accidentally faint at the sight of blood? I hope so because I have to admit, I've never seen anything like this before.
When I said "multiple birdstrikes," I meant it. The ATR 72 flew into what was clearly a very dense flock of birds. The pilots reported that they struggled to see out the windshield at all.
The windshield wipers are stuck with feathers and bird remains and the nose of the aircraft looks like a bloodbath.
These images were originally published by Aviation Tanzania on Twitter.
#Birdstrike Mwanza airport leo. Marubani wa @PrecisionAirTz wanastahili pongezi kwa ujasiri na kuweza kutua katika hali hii.
Hatua za haraka zichukuliwe na mamlaka husika za viwanja vya ndege #TAA na #TCAA ili kudhibiti hawa ndege katika viwanja vyetu. #Tusisubiri mengine pic.twitter.com/kum1QCYVX6

— Aviation Tanzania (@aviationtz) December 9, 2018
In the full-sized photographs, you can really see the extent of the violent impacts, including the bird wreckage at the pitot… it's hard to believe that the tube didn't get blocked.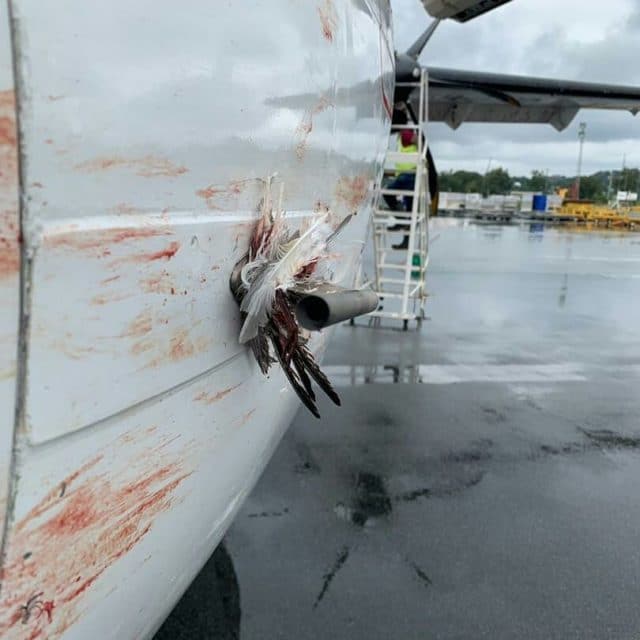 The landing gear was already extended and you can see the wings and legs trapped in the struts.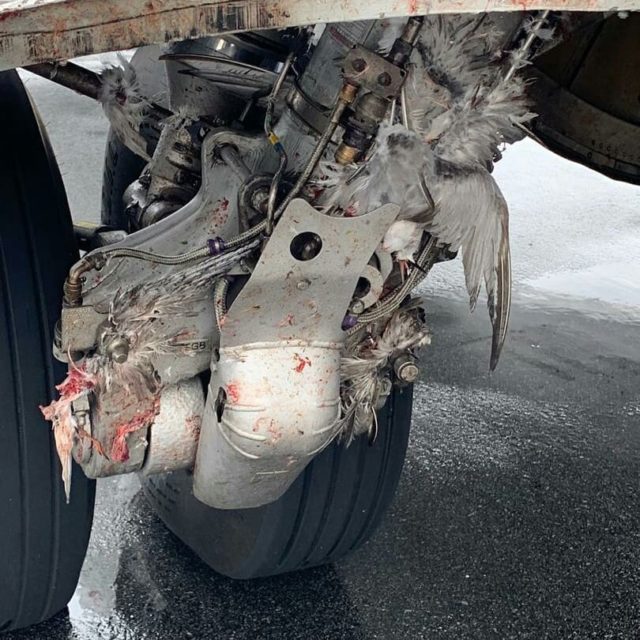 The aircraft landed safely and rolled to a stop at 15:50 local time. After landing, the runway was found to be covered with "countless dead birds".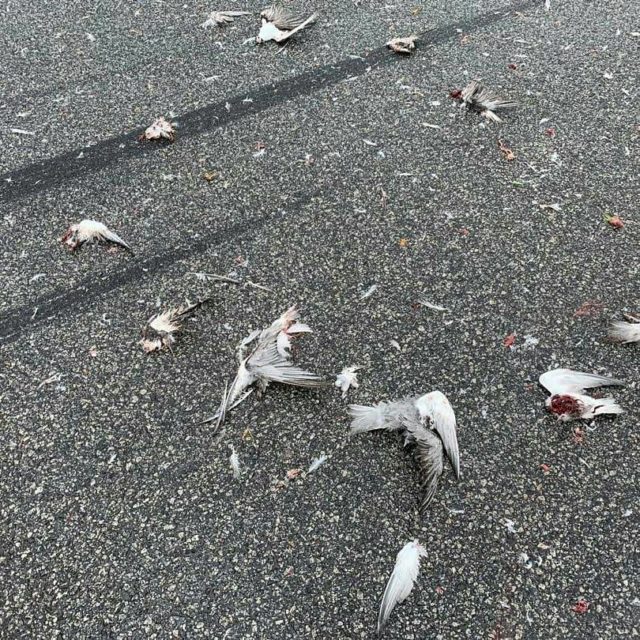 From the press release:
Due to the skills and competence of the pilots acquired from the high training standards of Precision Air, the aircraft landed safely without any casualties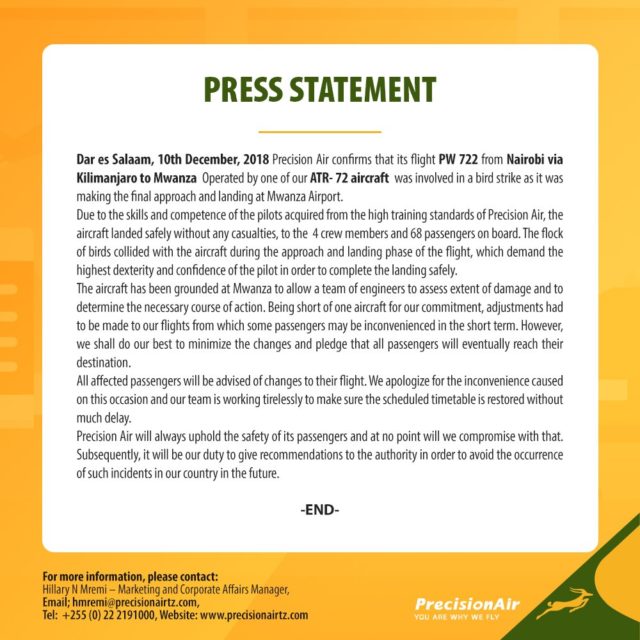 It's nice to see the pilots getting credit rather than the common 'miraculous landing' that appears to have come out of nowhere.
The aircraft is currently grounded at Mwanza for further inspection to assess the extent of damage and Precision Air have released a statement apologising to customers who will be inconvenienced while they are one aircraft short.
Precision Air's Chief Executive Officer told The Citizen that she hoped that better mechanisms would be put into place at Mwanza.
The birds not only pose a risk to passengers and the crew but also they cause a great loss. They can damage the engines. It means that our engineers have to work on this aircraft before it could start flying again. Imagine when an engine is damaged and we have to pay up to two million dollars to replace it.

Our pilots are well trained to deal with such situations but I think long-term solutions have to be found at Mwanza Airport… where cases of bird strike have been reported quite often.
The Tanzania Airports Authority has assigned a team to look into the matter. The Director General seems to have said that they use "groups of youth" who control with the birds, by which I think he means teenagers shifting the flocks off the runway? In any event, they were not ready for this flock. He stated that they wanted to learn from other countries with similar problems and to start employing technology.
Meanwhile Precision Air has offered the following reassurance.
We shall do our best to minimize the changes and pledge that all passengers will eventually reach their destination.
It doesn't quite fill one with confidence but at least they acknowledge their responsibilities to their customers as opposed to some airlines I could mention.
One final note: there are some references to the aircraft in question as being registration 5H-TCE, but that registration belongs to a Dash-8 belonging to Air Tanzania and is not the incident aircraft.
PS: My favourite commentary from the Internet:
A picture is worth a thousand birds!
Sounds as though the whole aircraft was completely autofeathered!