Mid-Air Collision over Cerritos in 1986
In 1986, I lived on the outskirts of Cerritos, a 'gateway' city in the southeast of Los Angeles County. No one outside of California had ever heard of Cerritos, hell, most of California had not heard of Cerritos. When my friends and I were asked where we were from, we tended to just say Los Angeles or, if pressed for specifics, Long Beach.
On the 31st of August, that all changed and Cerritos became easily identifiable, known all over the country as 'that place where the plane crashed'.
I've never written about the incident where a four-seater Piper Archer inadvertantly bumbled into Los Angeles International airspace and clipped the fin of an Aeroméxico DC-9 on approach. The horizontal stabilizer and rudder were torn off of the DC-9 which flipped over and plunged into the residential area below, taking out a city block and killing 15 people on the ground. The devastation was like nothing I've ever personally experienced before or since.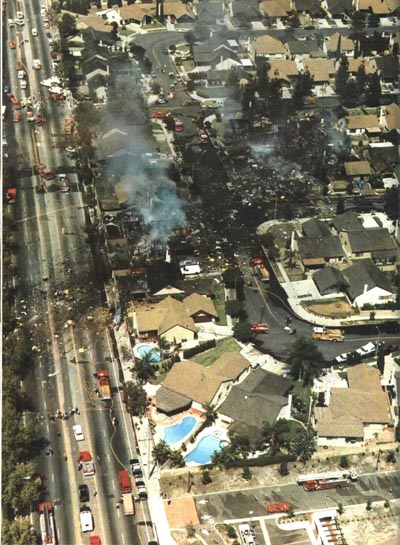 There's no good reason as to why I have never done this one: I've read the report and know more about the crash than I do about most others. I guess it just always seemed like too big a thing to tackle. Also, it was over thirty years ago: my own memories are hazy and probably trivial in the scheme of things. I volunteered to help that night as residents were put up in a school gymnasium filled with cots (camp beds). On the wall was a big board for people to write their names, in order to help the survivors to find each other.
So I was glad, this morning, to see that This Day In Aviation featured the crash yesterday, with photographs from the time and a good write-up of the report.
This Day in Aviation: 31 August 1986
At approximately 11:41 a.m., Pacific Daylight Time, William Kenneth Kramer departed Zamperini Field (TOA) at Torrance, California, flying a Piper PA-28-181 Archer II, FAA registration N4891F.

The PA-28-181 was a single-engine, four-place, light airplane with fixed tricycle landing gear, built by the Piper Aircraft Corporation in 1976. It carried the manufacturer's serial number 77-90070. It was owned by William Kramer. In addition to the pilot, there were two passengers on board, Kramer's wife of 30 years, and their 26-year-old daughter. The family's destination was Big Bear City Airport (L35), high in the San Bernardino Mountains of Southern California.
It's a good piece and I recommend that you read it.
The author blames the pilot of the Piper Archer for getting lost in the first place, which I think is overly simplistic. I agree with the report's conclusion, when all's said and done, which is that an air traffic control system must provide collision protection in a world where we know mistakes happen.
Of course, this was 1986. The combination of enhanced ATC systems and wide-spread adoption of traffic collision avoidance systems (TCAS) mean that today, this accident would almost certainly have been avoided.
I'd like to say that current GPS systems contribute too, making it unlikely that a GA pilot will inadvertantly fly into restricted airspace in the first place but, having done it myself (clipping the edge of the London Control Area), I can attest to the fact that technology can't fix stupid.
Meanwhile, I'm going to use that article as an excuse to take the rest of the day off and, instead of writing, I am going to drag my mother sight-seeing, as she's visiting for a fortnight. She says to tell you hello and please buy my books.
See you next week!
Edit: I've received a note pointing out that neither I nor This Day in Aviation mention the fact that the pilot of the Piper Archer was said to have suffered a heart attack directly before the mid-air collision. I have to admit, I always presumed that this was caused by the view of a DC-9 filling his windscreen. Certainly, the NTSB considered that this did not contribute to the collision by causing pilot incapacitation.