Cargo Fire at Hong Kong
On Monday, a cargo loader burst into flames while preparing to load American Airlines flight 192 from Hong Kong to Los Angeles. There's a lot of embedded video on this post so if you are reading on the mailing list, you might want to click through to the post to view them.
Initial reports claimed that the aircraft was on fire although it is clear from watching the videos taken by various people at the airport that the aircraft was not touched — although it surely is a bit too close for comfort! Also, the headlines that the fire was on the runway is clearly a nonsense. Even if it were not obvious from the videos, that's not where cargo loaders operate! Sometimes the rush to write headlines really does make for the silliest errors.
Cargo fire at Hong Kong Airport. Not yet known damage to this American Airlines Boeing 777 pic.twitter.com/at96EO4ftS

— ChinaAviationReview (@ChinaAvReview) October 9, 2017
The Boeing 777-300ER is the largest in American Airlines' fleet and flies many of American's flagship routes. Flight 192 had been scheduled to depart Hong Kong International at 18:10 local time. Although theoretically the aircraft was not harmed, American Airlines decided to cancel the flight and take the 777 out of service. The decision makes sense even if they were sure there was no damage, considering the way the videos and photographs spread like, well, like wildfire. The passengers were rerouted using partner airlines at Hong Kong.
#AmericanAirlines plane scheduled to #LosAngeles engulfed in flames in #HongKong's international airport on Mon; one person wounded pic.twitter.com/lbFny2OwEP

— People's Daily,China (@PDChina) October 9, 2017
On the following black and white video, the machine operator can be seen jumping from the cargo loader at the beginning and then being 'helped' away from the flames from about point 00:50 of the video.
American Airlines confirmed that he is being looked after by medical professionals and that his injuries were not life threatening.
An external piece of loading equipment had a mechanical issue and caught fire while preparing to put cargo in the hold of American Airlines flight 192 from Hong Kong (HKG) to Los Angeles (LAX). As a result, a pallet on the loading equipment containing non-hazardous goods also caught fire.
It's hard not to feel sorry for the passengers who watched the flames arise next to the aircraft they had been about to board. This caption sums it up, although it looks as though no passenger cargo was affected.
My flight! My luggage! My clothes!
The aftermath looks pretty impressive but all things considered, there's not a lot of damage.
It's all a bit of a storm in a teacup, admittedly, but I thought it was interesting to have a front-row seat as a result of modern smart phones and social media!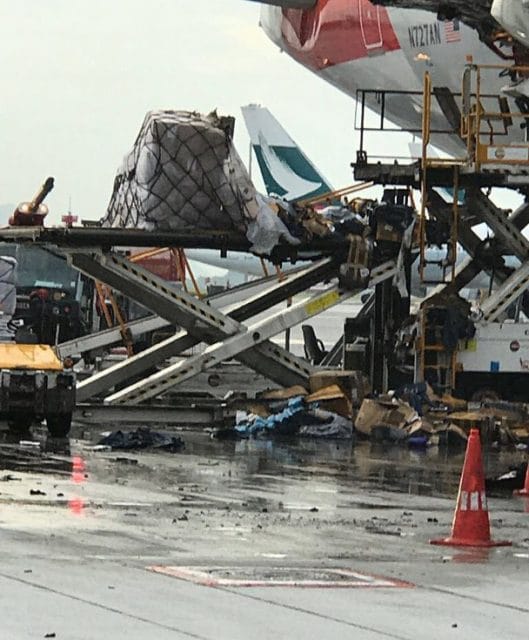 I just hope no one lost any valuables and that the machine operator is all right!