ATC controller keeps cool: "That was a really bad experience."
William and Cecilia Reid were travelling from their home in Clarksburg, West Virginia to Lake Placid New York in their Beechcraft Debonaire in order to visit family. It was the 1st of October 2016.
They were climbing to 9,000 feet when something when something went terribly wrong. Cleveland Center suddenly got the following blood-chilling call.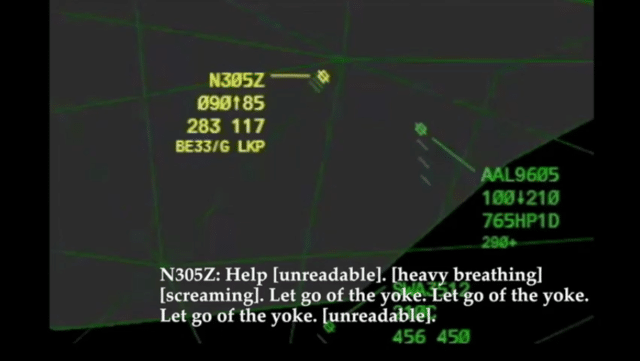 N305Z: Help! [unintelligible] [heavy breathing] [screaming] Let go of the yoke. Let go of the yoke! Let go of the yoke!
Cleveland Center: Is everybody okay 305Z? You all right?
Cleveland Center: November Three Zero Five Zulu, are you with Cleveland?
The Cleveland Center radar screen showed the flight at 8,100 feet, then 7,400; 8,500; 7,800; 6,900 and, finally, 5,000 feet. The controller wasn't sure what was happening.
I did show him descending, I did not have any information on what the exact problem was. I was racking my brain to figure out what was wrong and what I could do to help.
The aircraft had hit a severe updraft and his wife clutched the yoke against the heavy buffeting. The stall warning went off during the unexpected climb and then the aircraft began to descend.
N305Z: I can hear but we are in trouble.
Cleveland Center: All right. What do you need, what do you need?
The controller reasoned that if it was a mechanical failure, there wasn't much he could do. If it was spatial disorientation, however, he might be able to help the pilot get back into control.
Cleveland Center: N305Z, follow your instruments. Follow your instruments, sir.
Cleveland Center: I do show you descending. Follow your instruments, sir. Trust your instruments.
The weather was not good; a "pea-soup" fog. Mrs Reid described it as "looking at a wall of gray all the way around." As they rapidly descended, she saw a green hillside with trees. "I thought, we are dying here today."
N305Z: I'm flying my instruments. What happened? I got in a real bad updraft.
Cleveland Center: I don't know what happened, sir. You got it under control?
I love this line particularly because the controller is diverting the pilot from panic and focusing him on what's important: Is the aircraft under control?
N305Z: I went way up. No matter what I did it was still climbing and then all the sudden it let go the other way.
Cleveland Control: You're fine. You're fine. I'm showing you level at 5,000 now.
Five thousand feet was just a few hundred feet over the minimum safe altitude for the area. The controller said afterwards, "If it would have taken thirty seconds longer to regain control, this could have ended very differently."
N305Z: I'm going to hold at five thousand until things slow down a little bit.
Cleveland Center Absolutely. You just maintain five thousand. Just whatever you need to do is fine. Five thousand is a good altitude in that area, just don't go any lower.
Cleveland Center: I do have the Morgantown airport at your 10 o'clock and about three to four miles if you needed to land or anything, sir.
N305Z: Uh, no sir. We're good. I need to get back on course. That was a really bad experience.
Cleveland Controller: I…I can imagine. It was over here on this end, too.
Aw, bless. This is the first crack in his composure that we hear; he's been excellent.
They agree a new altitude of seven thousand but the controller is still concerned, possibly because the pilot still sounds stressed.
Cleveland Center: N305Z you don't have any damage to the aircraft or anything like that, do you?
N305Z: The only thing that I see is my wing tip fuel door. The fuel covers are open but I'm assuming I don't…the plugs are still in place. I'm not losing fuel out there.
Cleveland Center: Roger. Sounds good. We do have, you know, multiple airports around your area if you do feel the need to land. I've got that. Ton of options for you. Just let us know.
The pilot initially wanted to continue on but after a bit more conversation, he chose to divert to Arnold Palmer Regional Airport in Latrobe, Pennsylvania, where he landed safely. He phoned Cleveland Center to speak to the operations manager and then spoke to the controller in order to pass on this thanks. An hour later, they departed again and flew safely to Lake Placid.
The Cleveland Center controller, David Stempien, won the Great Lakes Region Archie League Medal of Safety for his efforts to assist the pilot while remaining calm and professional throughout. The Region's vice president said, "I am extremely proud of his focus during the event and his follow-through after the event to assist the pilot."
I tend to agree, once the Beechcraft levelled out, I think I would have been out of the chair and searching for a stiff drink!
Archie League Medal of Safety Awards:
About the Archie League Medal of Safety Award

The ability to think quickly and remain calm under pressure while maintaining situational awareness are just some of the unique qualities that air traffic controllers possess. Their willingness to resolve complex situations without hesitation, offer a reassuring voice to those on the frequency, and ability to coordinate their efforts with other controllers help these dedicated professionals be successful at maintaining the safety of the National Airspace System.

While many controllers often feel that they are "just doing their job," their hard work is often viewed by others as remarkable and extraordinary. The Archie League Medal of Safety Awards were created in 2004 and named for the first air traffic controller, Archie League. The program highlights a variety of aviation "saves" — some which involve a team of controllers working together, while others are the result of one controller's efforts.
The original ATC audio has been compiled into a video by NATCA for the award ceremony which really allows you to follow along in what must have been a truly frightening moment for everyone.
Or you can watch the award presentation, including the video above and a speech by the couple, on the NATCA Youtube channel:
If you can't play the videos, take a look at the original post on Fear of Landing.
I love the NATCA Archie awards and I think I'd like to do a special series over the summer of the winners, as they give a wide range of examples of general aviation ranging from lost aircraft to electrical issues to a drunken pilot trying to take off (who funnily enough did not attend the banquet to thank the controllers). And of course they all have happy endings; what more could I ask for!