All Boozed Up and Ready to Fly
It was 05:17, just a few minutes past dawn, when the police saw the flight crew board the aircraft. The take-off time for the charter flight taking holiday makers from Oslo to the sunny island of Crete was 05:45.
There were five crew members: two pilots and three cabin crew. Four of them were drunk.
In some of the aviation forums I follow, there was some doubt as to whether they were "really" drunk. Especially retired pilots seemed to fret that the poor crew had maybe had a pint and some chatter before heading off to bed and then were completely unreasonably hauled out of the aircraft by police.
In response, here's a timeline of the events that night.
16:00 The crew started drinking some time around four on the Friday afternoon at the hotel where they were staying. It seems that they started on beer and then bought two bottles of whisky.
We went to the hotel 15-16:00 to sit and chat a bit. We were tired, and we must have lost track of how much we drank.
20:00 The bottles were empty. Based on the blood alcohol levels, the police believe they must have drunk more in the four hour period, however the crew denied it and claimed that they had agreed in advance that they would stop drinking at 20:00.
One of the cabin crew members said she was served the whisky but didn't know how much. She was sure that she'd stopped drinking after this, somewhere between 20:00 and 21:00. She had joined the other crew members in one of the hotel rooms to watch videos but was not drinking alcohol there.
The crew quickly tried to establish the timing.
Norwegian law is very clear on this point: airline crews must not have a drink within eight hours of going to work and the alcohol limit is 0.2 milligrams per millilitre of blood. The UK has a similar eight hour rule.
However, there are two aspects of this. Even if they stopped drinking eight or more hours before going to work, they must be below the limit. For the average adult male, if you drink four pints of beer ten hours before duty, you can still fall foul of the law with an alcohol level of .03%.
Most pilots I know do not drink within 12 hours of going on duty and none of them would drink four pints the day before a flight.
The captain was reported to have a blood alcohol level of 0.4, twice the maximum allowed for flight and enough to be charged with drunk driving in a car. The first cabin crew member tested with blood alcohol levels of 0.55. The second cabin crew member's test showed as 0.91. The first officer's blood alcohol was 1.2mg
Obviously alcohol tolerance varies by person but you guys, I'm a pretty good drinker and at 1.2 mg I'd be unconscious.
Anyway, lets go back to the timeline.
All four crew members stated that they stopped drinking around 20:00 and certainly before 21:00.
The prosecution was well prepared.
01:39 Video footage showed the first officer purchasing beer at the hotel bar.
As a result, he agreed that he had one beer between 21:00 and reporting for duty. The judge asked the first officer if he was aware that he was drunk when he arrived at the airport. No, was the response. He just felt tired.
The first cabin crew member insisted that she had not continued to drink. Based on the breathalyser, the judge estimated that she must have had a blood alcohol level over 2 when they left the bar in the early evening for that to be true. "Were you really so drunk?" She was not sure how much she'd had to drink but argued that she'd not eaten and not had any water, so she must have metabolised the alcohol more slowly.
02:00 A witness saw the second cabin crew member in the hotel lobby.
The second cabin crew member conceded that this sighting was probably correct but was irrelevant, as she definitely did not drink any alcohol after 21:00. Now that timing isn't coincidence, because 21:00 is exactly eight hours before 05:00. She attempted to establish that although her blood alcohol content was too high, she did not drink anything within eight hours of duty. That would mean that she must have been very drunk.
Usually I do not drink alcohol at all. I cannot handle alcohol well.
However, she got her times wrong. According to Air Baltic, her workday started at 04:35. If she stopped drinking at 21:00, she was already 25 minutes too late.
02:40 A hotel staff member phoned the police and alerted them to the fact that the airline crew were drinking at the hotel.
It's hard to believe this would have happened if they were all quietly drinking water and watching videos in the hotel room.
03:30 According to the local press, the second cabin crew member then admitted that she was still in the bar at 03:30 and that she then fell asleep because she was drunk.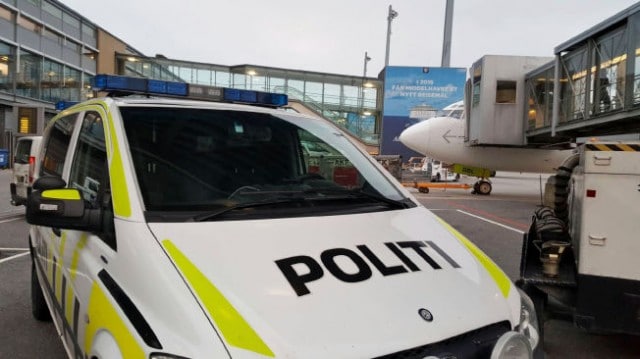 05:17 The police observed the crew boarding the aircraft and asked them for breathalyser tests. Soon after, all four were arrested. Only one crew member that morning was sober. How's that for a sobering thought?
05:30 Passengers told that their flight was cancelled due to illness and to please collect their luggage.
All four were held in custody for two weeks as they were deemed a flight risk.
The first officer has been sentenced to six months in prison. The first cabin crew member was sentenced to 45 days in jail, the second, 60 days.
The captain's trial date is the 17th of September. His case is considered more complicated because there are additional charges relating to his command responsibility.
I find it telling that all four were happy drinking bottles of whisky the afternoon before the flight, let alone the apparent drinking for at least two of them past 2 in the morning. All four thought it was reasonable to show up for work. In my opinion, this points to a company culture issue.
The airline issued a press release to say they are introducing additional safety measures, specifically, breathalyser tests for all safety-critical personnel, instead of the random tests previously in force.
It's unlikely that any of the four will ever work in aviation again. Of course it is sad to see a mistake cause the end of four careers. But I'd rather that, than a mistake in the air causing the loss of the aircraft and passengers. It's difficult enough dealing with human error and complicated issues in the air without adding alcohol to the mix.
To end on a lighter note, I was looking through Norwegian press articles for detail and ended up with this beauty from Google translate:
The personnel in the street reported that the crew was ill and unable to fly, and that the flight was canceled. We therefore went back to the baggage area to retrieve our cases. Then a representative from Air Baltic and gave us matbonger and stated that new crew was on the way. We pretended therefore to be luggage and now waiting for the plane to be set up again, he said.
So now you know: if someone gives you matbonger, simply pretend to be luggage and wait for the plane.