Details of the Frightening Near Miss at Chicago Midway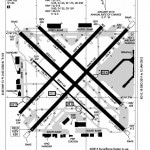 On Tuesday, two aircraft were on a collision course when ATC instructions weren't understood at Chicago's Midway airport in Illinois.
Delta Airlines flight 1328, a Boeing 717-200, was a scheduled flight to Atlanta, Georgia. On the recordings, this flight is referred to as Delta thirteen twenty-eight.
Southwest Airlines flight 3828, a Boeing 737-700, was scheduled for Tulsa Oklahoma. This flight is referred to as Southwest thirty-eight twenty-eight.
The interactions on the ground show the roots of the issue.
Ground ATC recording courtesy of LiveATC
Before pushback, the two aircraft could already be heard talking over each other. By 01:20, the Ground controller had straightened out the gate situation and gave the clearances for both aircraft to taxi.
Delta 1328 was given clearance to taxi to runway 04 right, and cross runway 31 right and hold short of 31 centre.
Southwest 3828 was offered a choice of 4 right or 31 centre. She then cleared them to cross runway 31 right for a departure on runway 31 centre.
Her final calls to the aircraft are clear.
Delta 1328, be advised, similar callsign on frequency is Southwest 3828. Cross runway 31 centre and 31 left and continue via taxiway Yankee to 4 right.
Southwest 3828, be advised, similar callsign on frequency is Delta 1328 and once you approach 31 right, as you are crossing it, you can switch over to tower. Have a good day.
Both aircraft acknowledged the controller's warning.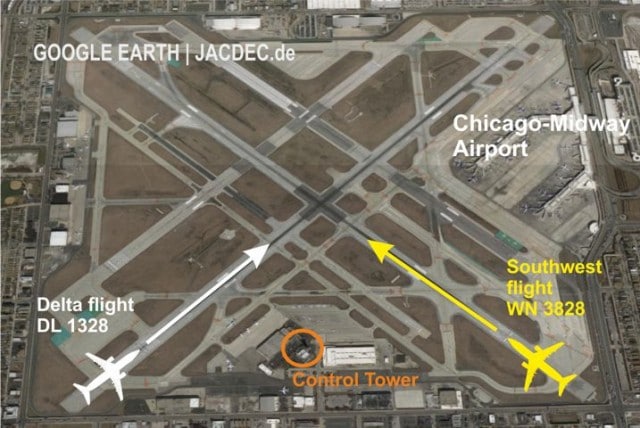 Tower ATC courtesy of LiveATC.net
At the start of the second recording, Delta 1328 is lined up on runway 4 right. The Tower controller asked the aircraft to hold position, saying something about a cross runway (possibly a reference to Southwest 3828 on runway 31) and a landing aircraft inbound on runway 4 left (on a four-mile final landing parallel).
Delta 1328 acknowledged the call.
The controller then cleared Southwest 3828 to enter runway 31 centre and wait.
The critical point is at 0:46 of the recording, which goes something like this.
Tower: Traffic holding position on the cross runway, traffic on three-mile final for the cross runway. No delay please, turn left heading 250, runway 31 centre, clear for take-off, the wind 060 9.
This call is completely reasonable except that I never hear him actually state a callsign to make it clear who the controller is talking to. However, there's only one aircraft on runway 31 centre, and that is Southwest 3828.
This call is meant to impart the following to Southwest 3828:
There's an aircraft holding on the runway which crosses yours (this is Delta 1328 who was lined up and waiting on 4 right
There's another aircraft inbound on the cross runway (04) who is on three mile final
Please take off with no delay (as the controller needs him out of the way so that Delta 1328 can take off and the inbound aircraft can then land)
Once you've taken off, turn left for a heading of 250
On runway 31 centre, you are cleared to take off
The current wind is coming from 060 and the windspeed is 9 knots
There are two transmissions at the same time. It seems pretty clear (sitting at home, listening to the recording over and over again) that both Southwest 3828 and Delta 1328 have acknowledged the clearance to take off.
The controller didn't have the opportunity to listen to the transmission again but he's clearly unhappy that the acknowledgement was so garbled. He repeats his instruction to make sure that it is clear. I have to admit, though, I struggled to understand the call at the speed at which he is speaking.
Tower: Thirty-eight twenty-eight verify: no delay, left 250 and 31 centre clear to take off.
Again, two aircraft responded at the same time. Southwest 3828 on runway 31 centre was the only aircraft clear to take off, but both Southwest 3828 and Delta 1328 acknowledged the clearance.
They both started rolling. The Tower controller realised that both aircraft were moving and started shouting.
Tower:Thirteen twenty-eight! Stop! STOP STOP!
Delta 1328: 1328, stopping.
Tower: 1328 make the right turn on to taxiway Delta, right turn to Delta, hold short runway 4 right.
Again, there are two transmissions at the same time. This time, you can clearly hear Southwest acknowledging the instruction given to Delta. Both aircraft have stopped.
Southwest 3828: Hold short runway 4 right Southwest 3828.
The controller may not always have been as clear as he could be, however I have to admire his calm under the situation, having just watched two aircraft under his control almost run into each other.
Tower:You keep answering for each other. It's Southwest 3828 and Delta 1328. Southwest 3828, make the right turn onto Golf back to runway 31 centre.
The inbound aircraft is cleared to land and then there's a moment of silence, presumably while everyone is taking in what just almost happened.
At about 03:00 there's one last exchange on the subject.
Southwest 3828: We were Southwest on 31 centre. Were we the ones clear for take-off?
Tower: Yes, sir, you were, you were the one. You were doing what you were supposed to be doing.
Southwest 3828: And Delta was rolling also?
Tower: Yes, he took your call sign. Somebody kept stepping on you, I couldn't figure out who it was and then, that's why I reiterated that it was you that I was clearing to take-off.
Delta 1328 departed half an hour later and arrived in Atlanta ten minutes late. Southwest 3828 waited on a replacement Boeing 737-700 and departed almost four hours later, arriving in Tulsa 220 minutes late.
The incident is under investigation.