About Sylvia
SYLVIA WRIGLEY is a pilot and aviation writer who has been obsessing about aviation safety for over a decade.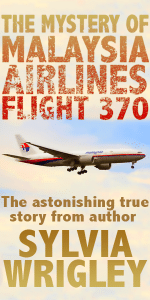 She's worked across all modern media including:
The Mystery of Malaysia Airlines Flight 370 explores the tragic true story of MH370 with a view to educate the reader, rather than promote a specific pet theory as to what might have happened.
Find out more at http://mh370.fearoflanding.com/.
Her series, Why Planes Crash, launched in May 2013. The first book of the series covers eleven accidents and incidents in 2001, including the disastrous runway incursion at Linate, the near-miss over Tokyo, the Avjet crash at Aspen, the Twin Towers and American Airlines Flight 587 disintegrating over Queens.
Her latest book covers an interesting collection of aviation incidents in 2002. It includes instructions as to how to write off a Saab 2000, collects the few details available about the Skynyliv airshow disaster, as well as covering two in-flight suicides, a runway collision and an in-depth analysis of the Überlingen mid-air collision.
Find out more at http://planecra.sh
---
She also writes science fiction and fantasy. If you are interested in her fiction, please visit her author page at http://www.intrigue.co.uk.
If you would like to find out more about Sylvia, please email her directly at sylvia@fearoflanding.com
Categories: