A Few Good Stories
I'm in Dresden at the moment and I'm afraid I haven't had a free moment to write you a new article. Luckily, lots of other people are on the internet and have shared some fun and interesting aviation posts.
---
This great clip was posted to Reddit: Every foot of that runway was used that day
Best comment:
"Positive climb rate?"

"Well, it's not negative…"

"Gear up"
---
I could have sworn I wrote about this already but I've searched the site and can't find it, so I'll let Check Six tell you about it instead.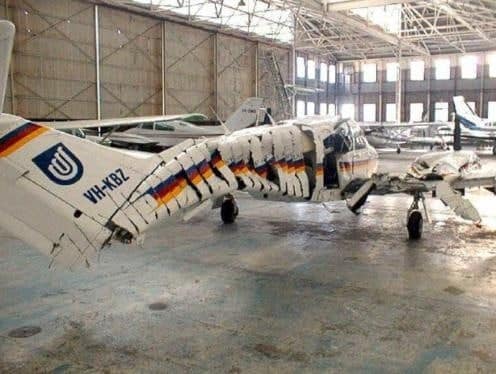 Isabel was hanging on to the tail of his aircraft trying to stop it going any further, and watching in horror it shreds through several surrounding aircraft – hoping that, any minute, the engine will stop. But, unmanned for over 150 yards – the Saratoga sliced through four Piper Warriors, operated by the University of South Australia Flying School, before turning sharply right and plowing into the school's Piper Seminole, registered as VH-KBZ, virtually destroying it, and spewing out hundreds of liters of avgas.
Read the whole story at Check Six: Shredded Seminole
---
You might have heard about the close call at Boston Logan airport, in which a private jet took off without clearance directly in front of a landing Embraer ERJ 190. The final report is a quick and easy read but I was struck by the captain's statement in the docket, which shows just how unaware they were. The first officer was the Pilot Flying and he said after lining up he asked the captain if they were cleared for take off. The captain, in his role of Pilot Monitoring, confirmed that yes, they were cleared for take-off.
Here is the Captain's explanation from the docket
On February 27, 2023, we arrived in KBOS at 16:48 local time and dropped our passenger at Signature Flight support FBO. After leaving the passengers we proceded to call operation to find out if we were going to Layover in Boston and their answer was that we were going to reposition the plane back to KFXE. At that time, I started to do the flight plan, weight and Balance, fueling the plane and everything needed to have the plane ready to leave. I was going as a non flying Pilot (doing radio, having the airport diagram on my lap giving directions etc). We started taxing out at 6:49 pm after being clear to taxi by ground control 121.9 via taxiway B – E and hold short runway 4L. After that we were clear to cross runway 4L in E and take M for Runway 9. During the crossing we were told switch to Tower 128.8. Taking Taxiway M we had the clearance that seems to be "Line up and wait" probably I replied back but on my mind I was clear for takeoff. The takeoff was done at 18:55 local time. During cruise we received a phone number with the instruction to call upon landing. After landing in KFXE we called the number and found out that we did a takeoff without authorization and because of that a plane had to do a missed approach passing 400′ above us.

I can not understand what happened to me during the clearance, the only thing that comes to my mind is that the cold temperature in Boston affected me, I was not feeling completely well and had a stuffed nose.

My apologies, Sincerely
---
If you are still short of something to read this week, may I recommend Nur Ibrahim's fact check for Snopes: Did Early 20th-Century Commercial Airplanes Use Wicker Chairs to Seat Passengers?
See you next week.