Flightradar 24 and aircraft tracking
Flightradar24 (FR24) is a global flight tracking site which offers realtime information about flights by tracking ADS-B. ADS-B stands for automatic dependent surveillance-broadcast. This is a means for an aircraft to automatically transmit its identification and location, allowing other aircraft and aerodromes to know where they are. What's great for us is that because it is a broadcast, anyone can read the data, which allows us to track their movements. It can make for addictive watching.
For example, today the Antonov An-225 departed Ireland to return to the Ukraine. It was possible to watch the flight across Europe in real time on the site. Also, now that it has safely arrived in Kyiv, you can still watch the playback of the flight on their website.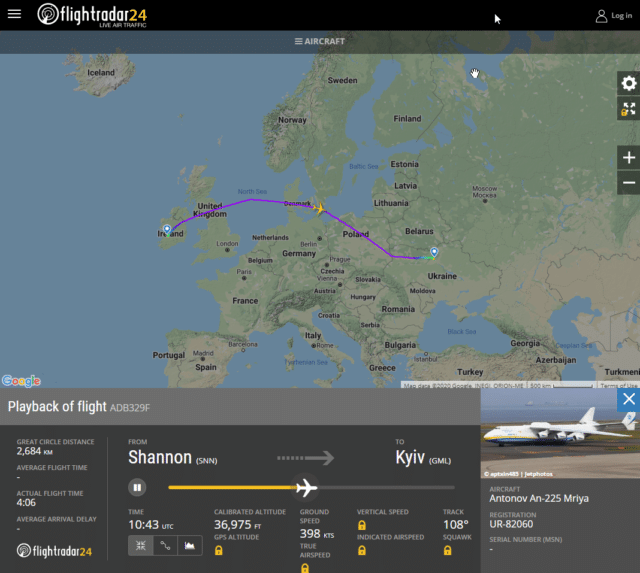 You can access playbacks on the site by clicking the clock icon on the right side of the flightradar24.com page or search for a flight number to watch a specific flight.
These screenshots from the site show the difference in transatlantic traffic in 2019 and 2020 for the 6th of June at 0300 UTC: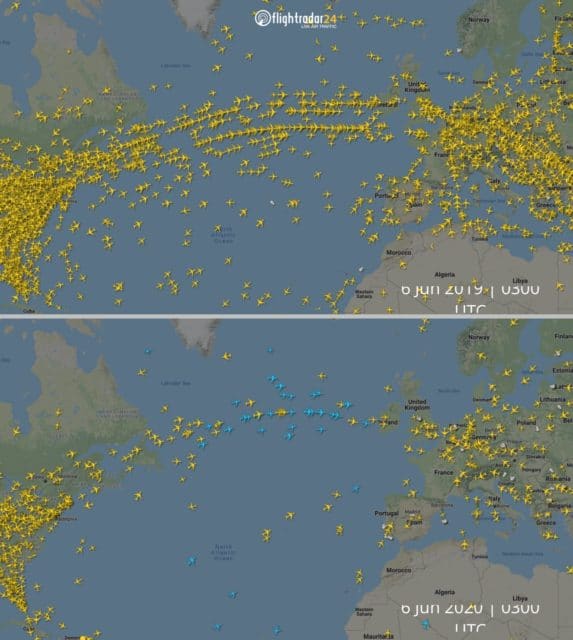 The blue planes, by the way, are those tracked by satellite.
Satellites are collecting the ADS-B signals from aircraft and transmitting them to the Flightradar24 network. Space-based ADS-B tracking will be used to supplement our terrestrial receiver network.

ADS-B signals are sent out from the aircraft and collected by satellites orbiting the earth. The signals are then transmitted to ground stations and the Flightradar24 network. All of this occurs in near real time.

ADS-B signals have a limited range and terrestrial stations are incapable of coverage over the oceans and in remote areas without power and internet. Using satellites to collect ADS-B signals allows us to cover these areas efficiently and supplement our existing world-leading terrestrial receiver network.
Obviously, Flightradar24 also gives us a great view of historical situations, for example, the disruption caused by the Eyjafjallajökull volcano in April 2010. This visualisation, based on Flightradar24 data, shows quiet airspace followed by flights slowly increasing after the eruption.
Airspace Rebooted from ItoWorld on Vimeo.
You can also impress your friends and family with the phone app (Android and iOS) which uses your location to identify aircraft overhead. Simply point the phone at the plane and the app will tell you the flight number and aircraft type and, for commercial flights, the routing.
(OK, my friends and family have never been impressed by my naming every flight as it flies overhead but I live in hope.)
There are entire communities dedicated to watching the tracked flights and discussing what they've seen. Which sort of feeds on itself, because flight crew know the world is watching. Like this FEDEX flight whose ADS B info was clearly entered by a disgruntled pilot:
FUCKYOU

…the movie! 😳😂@FedEx N819FX pic.twitter.com/6YaPeUYRZB

— CivMilAir ✈ (@CivMilAir) April 6, 2019
And, of course, Flightradar24 is generally the source of pilot performance art, where the flight routing is specifically planned to create an image that can be seen only through tracking. Mostly rude, of course, but they are often funny and sometimes even a public service announcement.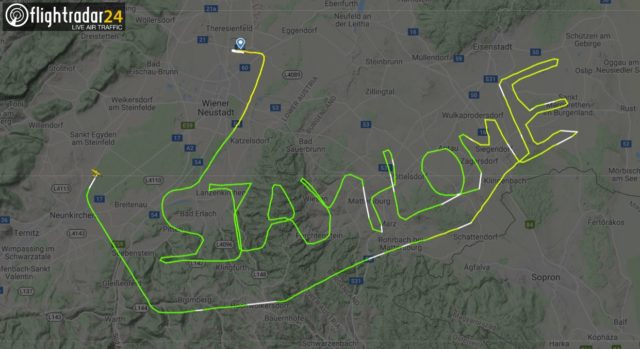 There are some common questions that get asked over and over again. New users are intrigued by strange flight patterns which, if you are used to aviation and Flightradar24 tracking, aren't that strange at all. Planes don't always fly in straight lines but that comes as a surprise to those who only think of them as commercial passenger and cargo flights.
Which brings me to the point of this post. I'm thrilled to see that Reddit user derekcz has taken it upon himself to help people out by making this handy-dandy graphic to answer the most common questions which he has seen about aircraft trajectories on Flightradar24.
In the comments of that post, one user points out that she's seen a "hole" in the aircraft pattern where aircraft didn't fly. It wasn't a military installation and she wondered why this area was avoided. It turned out that an air traffic controller had been confirmed as infected by COVID-19; flights which would have been managed by that part of the facility were re-routed to avoid the region while the facility was decontaminated.
I find this endlessly fascinating. If you do too, I'd love it if you would share your favourite flight tracking links and stories in the comments.