Without a Trace: 1970-2016
It's taken a lot longer than I expected but I'm thrilled to announce that I have finished Without a Trace: 1970-2016, my second book about aviation mysteries. The two book series covers thirty mysteries, starting with the hot air balloon and ending with the Sutlej that disappeared from under the military's nose. It's been a wild time and I've really enjoyed researching and writing about all these pieces.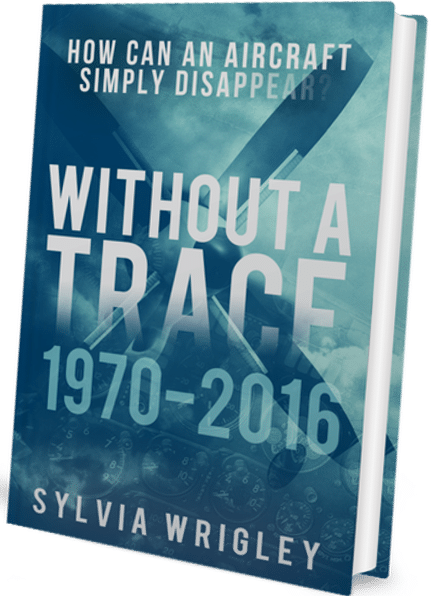 The disappearance of Malaysia Airlines flight 370 in 2014 is considered the greatest aviation mystery of our time but it does not stand alone. The second volume of Without a Trace begins in 1970, when a military pilot chased a glowing unidentified object only for both to disappear in an instant. How did India manage to misplace five fighter jets? Did the young pilot chasing an inexplicable aircraft over the Australian coast really get abducted by aliens? These questions and more are explored in Without a Trace. We explore modern mysteries as recent as 2016, with the sudden disappearance of an Antonov An-32 on a routine courier flight, while the aircraft ahead and behind saw nothing. Each case is laid out in rich detail and presented chronologically, with explanations of technology, aviation jargon and cultural aspects involved in each mystery.

Sylvia Wrigley introduces the crews, innocent bystanders and rescuers in this collection of true stories. Documenting the popular theories from each case, she uses her knowledge and experience as a pilot and an aviation journalist to demystify aviation jargon and narrow down each disappearance to the most likely explanations. The stories range from fighter jets to commercial airliners, all of which have vanished within our lifetimes without a trace.
This is a mainstream book for people interested in mysteries and true stories. The analyses don't get into as many technical aspects of aviation like those here or in the Crash books, but it is still good fun and also would make a brilliant present for people who maybe aren't aviation geeks (I assume there are such people out there, somewhere).
If you enjoy Fear of Landing and would like to help me make this a success, here's what you can do to help me launch the book:
Buy the book. Amazon ranks a book based on the purchases in the first couple of weeks, so in order to gain visibility, I need to show sales, which then lead to more sales! So right now, every book counts.
Review it. Good or bad, reviews are seen as a recognition that the book attracted attention. I mean, I'd prefer all five-star reviews praising my research and writing, of course, but anything that can help readers decide whether this is a book they would enjoy is useful, even if it points out the flaws.
Tell people about it. The biggest problem is always obscurity: has anyone heard of the book? They won't know to look for it. I'll be promoting it and running some advertisements, of course, but nothing else has as much impact as a little word of mouth.
Leave a nice comment. OK, this doesn't do a lot to launch the book but it DOES make me feel better.
I've got an interesting in-depth piece for you next week but for now, I'm going to take a deep breath and a long nap, proud of a job well done.