Paris Air Show 2017
The Paris Air Show is the commercial aviation event of 2017 and last week it hosted some great flying as well as interesting news and press releases.
#Bourget2017 jour 5: venez échanger avec nos équipes #RH sur notre stand à l'@AviondesMetiers #PAS2017 #ThalesNow pic.twitter.com/oll8oiUsm4

— Thales France (@thalesjobs) June 23, 2017
I've been following the event from my desk and here are some of the exciting details that I thought you might like.
I know videos aren't working for some people on the mailing list. If so, please visit the website to view them.
---
The big news was that Airbus announced the A380plus.
Airbus is presenting a developmental study for an enhanced version of the A380, called the "A380plus." The study includes aerodynamic improvements that would reduce fuel consumption, as well as an enhanced cabin layout and optimised maintenance planning.
---
I wasn interested to see how the Griffin Dome takes simulator training to the next level.
Domes on the Range: F-35 Training Takes Off
The dome itself is made from three pieces of acrylic sheeting, which are shaped before being baked in an autoclave, then painted on a robotic jig to ensure the surface is free of any defects that could cause errors in the visual simulation. The dome is surrounded by towers carrying 25 specially designed projectors.
---
And wow, but the F-35 demonstration flight is a joy to behold.
Lockheed Martin senior experimental test pilot Billie Flynn flies the F-35A Lightning II. This is the Paris debut of the F-35A model, which is flown by the United States Air Force. Last year, the STOVL-capable F-35B variant made its international airshow debut at the Farnborough Air Show. This F-35A display shows an expanded envelope of the aircraft's capabilities over the last display.
There's more on this at the Popular Mechanics website: Watch the F-35 Pull Aerobatic Stunts at the Paris Air Show
---
Boeing's vice president announced that they are pushing forward with on-board artificial intelligence.
Boeing will test self-flying planes
"When I look at the future, I see a need for 41,000 commercial jet airplanes over the course of the next 20 years. And that means we are going to need something like 617,000 more pilots — that's a lot of pilots," said Mike Sinnett, Boeing's vice president for product development, at the Paris Air Show on Monday. "One of the ways that may be solved is by having some type of autonomous behavior."
---
CNN produced a stunning video about the Paris Air Show and the flying clips are breathtaking.
Watch commercial planes and military aircraft performing breathtaking aerobatic feats at the Paris Air Show https://t.co/oCBkh7o0E5 pic.twitter.com/x0MeuhLyGj

— CNN (@CNN) June 21, 2017
---
I have a soft spot for the Dassault Rafale which did a demonstration flight on the third day of the show.
The Dassault Rafale was developed for the French Air Force and Navy, but has also been purchased by Egypt, Qatar, and India. The aircraft has seen combat over Afghanistan, Libya, Mali, Iraq, and Syria.
---
I've long wanted a flying car and so I was excited to see lots of photographs of the Pegasus.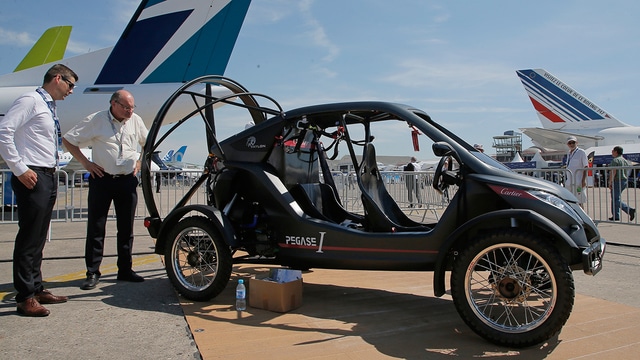 Sadly, it may not be quite up to the ask just yet.
'Flying cars' highlight of Paris Air Show
For now, however, the project is a concoction of aluminum framing and eight propellers that barely gets off the ground and crashes after several seconds.
---
Another prototype was unveiled: the Israeli electric three-engine aircraft prototype. It's looking a lot more stable than the flying car.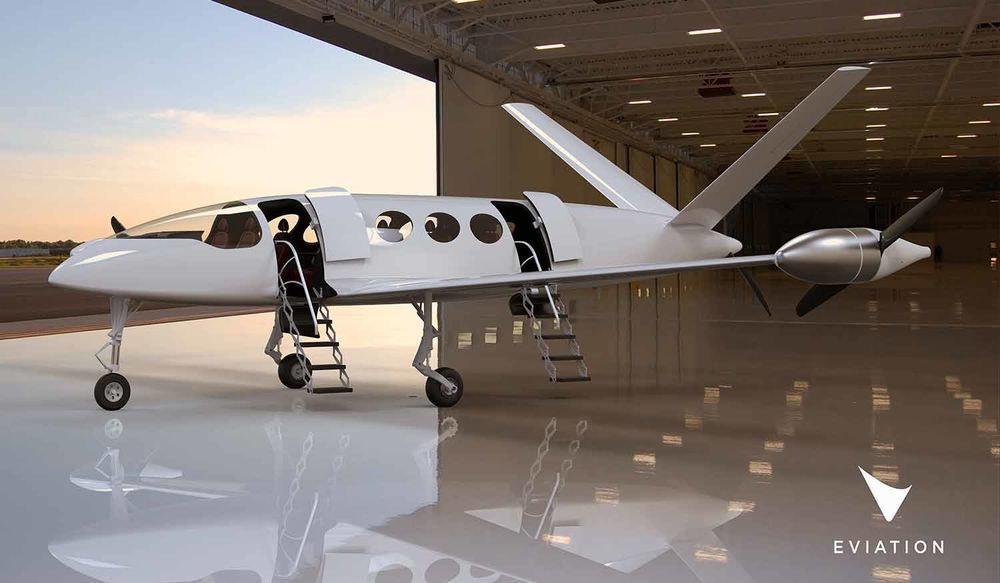 Electric Eviation Makes Debut at Paris Air Show
The first Eviation production model is slated to arrive in 2020. It will carry six to nine passengers using electric motors supplied either by Yasa of England or Siemens of Germany as well as 6,000 pounds of batteries. If that sounds like a lot, well, it is – but it's necessary to propel the aircraft, which will have a max takeoff weight of just under 12,000 pounds, a max payload of 2,750 pounds and a cruise speed of 240 ktas, all fairly incredible projections from a company that wants to change the world of aviation, and maybe the world in general.
---
And finally, yesterday Boeing made headlines for having won 571 sales in Paris (235 more than Airbus).
Boeing outsells Airbus at Paris Air Show
The 737 MAX 10 successfully launched in Paris was "clearly the star of the show," said Boeing vice president for marketing Randy Tinseth in a phone interview Thursday from Paris, but he added that additional Boeing widebody jet sales could also help buoy production rates in Everett.
---
That's just a summary of the week-long event but you can see many more videos on the Salon du Bourget / Paris Airshow YouTube channel
The next Paris Air Show is in 2019 … so long to wait!