Wheel Falls Off For Student Cross-Country Solo
This was initially brought to my attention by Tom Podolec Aviation on Twitter who posted about a Piper PA-28 in distress. The student pilot, a 17-year-old woman named Maggie Taraska, had just taken off when the right main gear fell off the aircraft on departure.
Piper PA-28 in distress.
Reported as the right main gear wheel fell off the aircraft on departure.
Pilot is a female student solo pilot.
Flying orbits around Beverley Airport, North of Boston. Instructors in the tower assisting. Emergency services standing by. pic.twitter.com/DitP6UOvPn

— Tom Podolec Aviation (@TomPodolec) September 9, 2018
Taraska took off from Beverly Regional Airport in a Piper PA-28 intending to fly to Portland Maine for her first cross country solo. She had 60 hours experience.
The audio here is from LiveATC and I'm warning you now, it's a pretty emotional ride. Taraska is clearly panicking at the start and in or near tears. The change when she hears her instructor's voice is really noticeable.
I've also included a download of the raw audio from LiveATC here:
The controller informs her of the problem although Taraska has clearly already realised as her radio skills break down, responding to the controller with "Yeah?"
Your right main is now missing from the airplane. It's fallen off the airplane. Say your intentions.
After the initial surprise, the air traffic controller does a stirling job of telling the pilot what's going to happen and how they are going to help her, showing utter confidence that the student is going to get the plane down.
"It will be ok. Just go ahead and circle the airport, for now. Make a right turn to circle. We're going to get some people to help you. OK?
I'm going to tell the truth, I felt my heart in my throat listening to the fear in Taraska's voice.
The controller kept calmly telling her that it'll all be OK and to just circle normally. If you look at the Taraska's pattern on FlightAware, you can see that she's perfectly following instructions and her altitude is only varying within 200 feet, despite the fact that she's clearly in tears.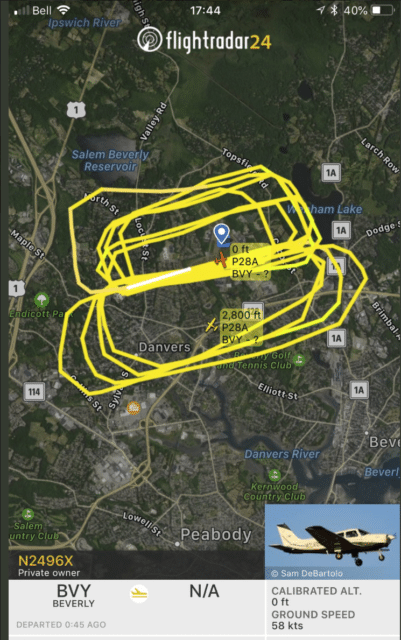 It is such a relief to hear her first instructor speak to her on the radio. The change in her voice is tremendous; she even almost laughs. He works to build her confidence, reminding her that she has plenty of fuel.
Then her current instructor takes over, giving her clear instructions but also underscoring that now she has to trust her own ability to fly and that it's up to her to make this work. This is one of the core lessons in the PPL; that you are the captain of the aircraft and you must take responsibility for it.
You're doing a great job flying the airplane. Keep doing what you're doing. … We got plenty of time. You've got plenty of fuel. We've got plentiful of daylight. So just try to relax. And you always heard me say go back to basics. So we're going to work the basics here as much as possible. OK?
Taraska later said, "I was scared and stressed out. Obviously, if you listen to my conversation with the tower, you can hear that pretty clearly."
You really can, but at the same time, she never lost control and she never gave up. She responded to every call clearly and concisely. And then with the support of her instructor, she started a final circuit for her landing.
It's your right wheel that's missing. The plus side here is that you've got a little bit of a left-crosswind, so if you use your normal left crosswind correction, that means the left side will touch down first and you are just going to ease the right side down.
Her father arrived shortly before she landed, by now she was back to giving standard radio calls and clearly feeling more confident.
By the time I saw Maggie coming on her approach, it was a better approach I could have flown. And I got more hours than she does.
She touched down and you can hear in the background as the tower breaks into applause.
Maggie Taraska spoke about her ordeal after losing a wheel off her plane.

"Thought I was going to flip, I didn't. That was good. It was a little bumpy. I hit a few signs.

Bad things happen all the time & it can't deter you from doing what you want to do or doing what you love." pic.twitter.com/S0NemFMwqq

— Tom Podolec Aviation (@TomPodolec) September 11, 2018
The following day, the flight instructor spoke to the local news:
I always told my students: aviate, navigate, communicate. It's an old saying, but it really pays off…It really was her working the situation and me just giving her some coaching.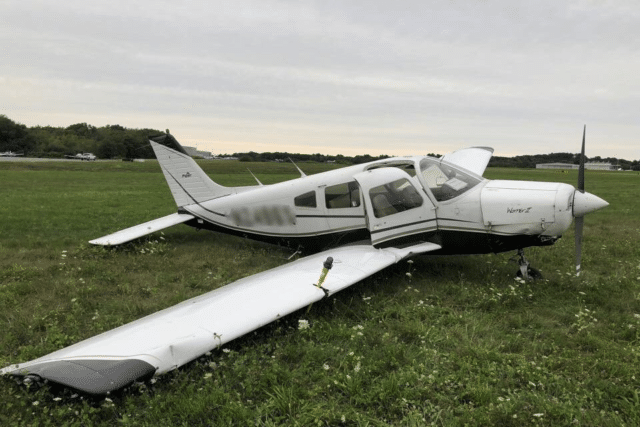 Tom Podolec Aviation added this great audio to Twitter where a pilot requests the autograph from the controller who dealt with the emergency.
Pilots requesting autographs from Beverly Airport Air Traffic Controller who spoke with Maggie when a wheel fell off her plane.

She deserves credit for her professionalism. First person Maggie spoke with during her crisis. She was very calming.

Full audio in thread above. pic.twitter.com/O2OKHZ92zr

— Tom Podolec Aviation (@TomPodolec) September 11, 2018
The following day Taraska confirmed to Boston25 News that she was going back up later this week. Way to go, pilot!