Microsoft Flight Simulator: The Good, The Bad And The Ugly
Microsoft Flight Simulator has released a new version, Microsoft Flight Simulator 2020, fourteen years after the release of Microsoft Flight Simulator X. The timing couldn't be better, of course, with millions of people around the world unable to travel and desperate to feel that they can see the world.
The original flight simulator took form in 1975 when Bruce Artwick, a software engineer and pilot who was doing a Master's degree in Electrical Engineering, created 3-D graphics for flight simulation on a PDP 11 as a part of his thesis.
After he graduated, he wrote a program for 6800-based machines to prove that the processor was capable of dynamic 3-D graphics along with a series of articles explaining what he'd done.
A magazine editor contacted Artwick to ask if the program was for sale, explaining that readers were writing in, eager to buy it.
Quick to spot an opportunity, Artwick created a software house and started selling the software by mail, originally releasing versions for the 8080, the Altair 8800, the IMSAI 8080. Within a few years he followed up with a version for the Apple II (and the TRS-80) and, before long, Flight Simulator became the most popular software for Apple.
Artwick's big break featured in the newsletter from Artwick's Alma Mater: Department of Computer Science University of Illinois at Urbana-Champaign Alumni News: Spring 1996
Artwick then got a call from Microsoft. Microsoft was working with another company that was coming out with a new computer that they predicted would revolutionize the industry, and they wanted to put [Flight Simulator] on it to show off the machine's graphic capabilities. At the same time, Artwick received a similar call from IBM. He opted to work with Microsoft and the new, revolutionary computer turned out to be the IBM PC.
Microsoft Flight Simulator 1 quickly became a bestseller for Microsoft, with Flight Simulator 2 (1984), Flight Simulator 3 (1988) and Flight Simulator 4 (1989) quickly following it its footsteps, leading people to buy new computers simply to be able to run the simulator.
By today's standards, it doesn't use a lot of processing power. In fact, you can play all four of these early versions of Microsoft Flight Simulator for free in your web browser, using the awesome emulator developed by Sebastian Macke and released on github.
Click here to play: https://s-macke.github.io/FSHistory/
In 1999, Microsoft Flight Simulator claimed 21 million copies sold: a Guinness world record. Today, the simulator still holds a record for longest-running videogame series.
Artwick's last version of Microsoft Flight Simulator was FS for Windows 95 (effectively Flight Simulator 6.0), at which point he sold his company to Microsoft, saying that a small company couldn't keep up with the resources needed to keep up with modern computer entertainment.
He was right. The graphics capabilities of the average home computer increased tremendously and Microsoft Flight Simulator moved on from blocky graphics to landscaping and realistic scenery. And now, Flight Simulator 2020 takes this one stage further, using Bing Maps data and Azure AI to generate photo-realistic scenery of the entire planet.
The Verge writes that when a Microsoft VP was shown the first demo using the data, a Cessna flying in downtown Seattle, he didn't understand what he was seeing.
"He just looked at me and said, 'Why are you showing me a video of Seattle with a plane?'" Neumann (Microsoft's head of Flight Simulator) says. "And then the plane turned, and we flew over the Microsoft campus where we were sitting at that exact moment. And he's like, 'Is this real time? Is this running?' And I'm like, 'Yes, it is!' And we knew then we had something special."
However, after release, it soon became clear that there were some problems. Big cities with plenty of data looked great but others, reliant on the procedural algorithms, have gone quite disturbingly wrong. One of the most eye-catching is an inexplicable tower in Melbourne:
In Microsoft Flight Simulator a bizarrely eldritch, impossibly narrow skyscraper pierces the skies of Melbourne's North like a suburban Australian version of Half-Life 2's Citadel, and I am -all for it- pic.twitter.com/6AH4xgIAWg

— Alexander Muscat (@alexandermuscat) August 19, 2020
It turns out that on OpenStreetMap, which is one of the sources used to populate Bing Maps, a user listed the building as having 212 floors, when in fact, the building actually only has two floors. Someone has since fixed it but not before the data was exported for use in Bing Maps and thus the error ended up in Microsoft Flight Simulator, where the AI very diligently represented the building as 212 stories high.
Gizmodo contacted the person who entered the bad data in the first place.
A year ago, Wright had to spend time every week putting details into OpenStreetMap for his degree. The task wasn't assessed and it was, he said, "pretty boring".

"We had to go in and put data about the suburbs into OSM. It was very monotonous and I made a few mistakes but I was like 'fuck it, I don't care,'" he said.
Which to my mind is the perfect summary of the problems with the modern over-reliance on crowd-sourced data.
This prompted many attempts to land on the tower, including this successful one:
There are also textural problems. Reddit user l4adventure posted images of the Pyramid of the Sun in real life compared to in the simulator: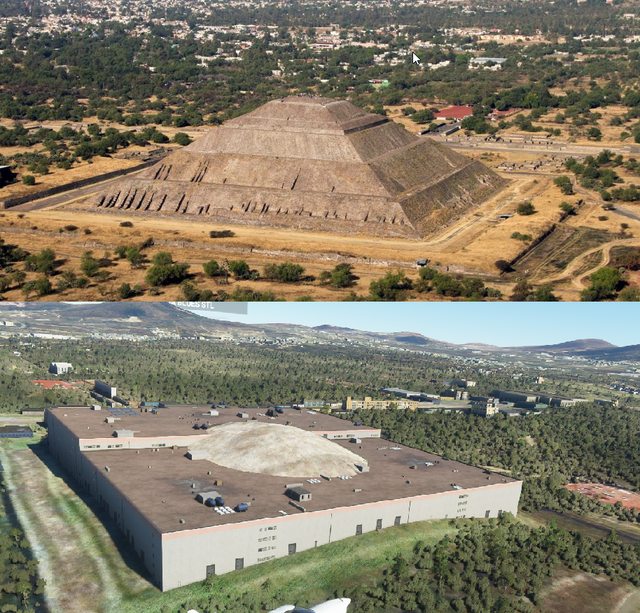 BBC News have done a video of the simulator, including Buckingham Palace turned into a concrete monstrosity: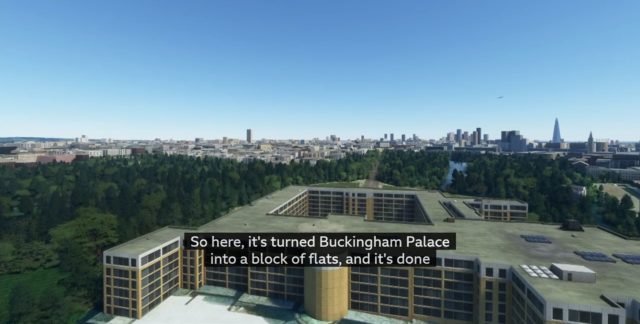 Research scientist and author Janelle Shane, who wrote a book on AI weirdness (called You Look Like A Thing And I Love You), explains how this happened:
Because a nondescript office building is a reasonable default guess given a square building pad and a many-story height, the AI will tend to populate the planet with them unless specifically told otherwise. The Statue of Liberty, the Taj Mahal, and the Eiffel Tower are all lavishly hand-modeled in 3D. But The Motherland Calls statue of Volgograd is a condo high-rise, Buckingham Palace is an apartment complex, the Leaning Tower of Pisa is a vertical concrete silo, and the Pyramid of the Sun is a nondescript warehouse with a hilarious tiny dome on its roof.
More relevant to our interests, the AI also seems to be interested in creating airliners out of brick … or maybe just converting Dunsfold Aerodrome to aircraft-themed housing? Either way, I'm interested!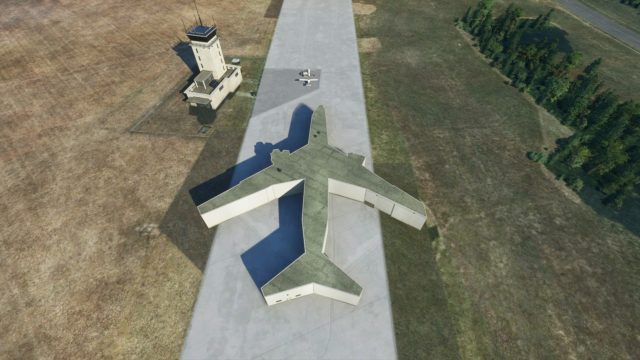 A quick look at Dunsfold Aerodrome gives us a hint as to what went wrong: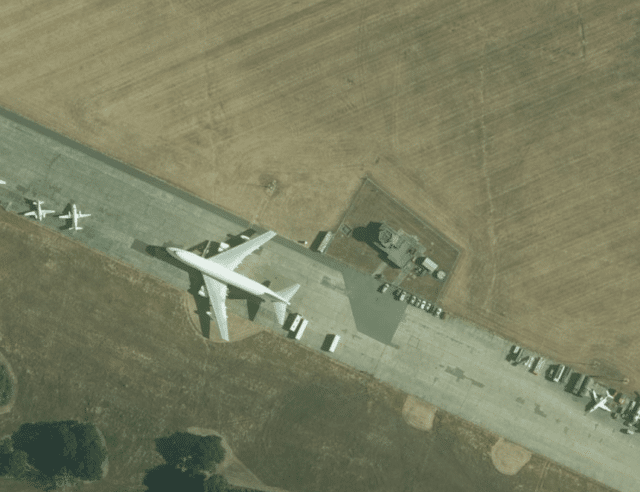 Finally, there's the long running joke of flight simulator players hoping to be the most qualified person on a flight with an emergency.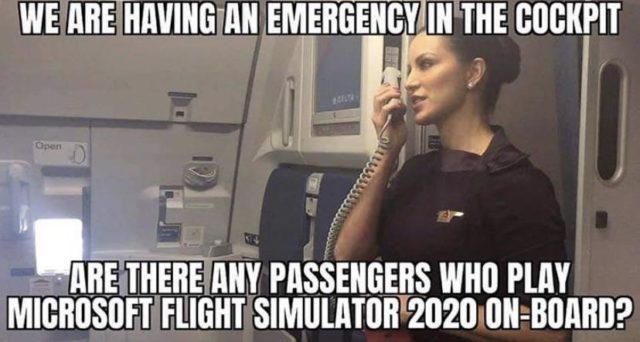 This is such a common theme that I wrote a short story about exactly that which you can read on my Patreon (free, no registration needed): In Command.
However, this video of a landing Microsoft Flight Simulator 2020 shows just why this is unlikely to ever be the case…
Microsoft and Asobo Studios, who developed the simulator and the procedural engine, have been fixing locations and other anomalies as quickly as they've been reported.
It has to be said that despite all of this madness, I've not heard of anyone asking for a refund.