For your amusement: weird and interesting NOTAMS
I was browsing around looking for interesting news when I saw that Reddit user justachamelion had posted a great question for /r/AskReddit:
Pilots of Reddit, what are the weirdest or most interesting NOTAMS you've ever read/heard of?
It was cross-posted to /r/flying, and I found myself quite amused by the list of unexpected NOTAMS. I've collected my favourites for you here.
First off, an explanation: a NOTAM comes from the set phrase Notice to Airmen, notices by aviation authorities to alert pilots of potential hazards along a flight route or at an airfield. One of those listed is actually a PIREP, a Pilot Report, which are radio'd in by aircraft crew to report actual weather conditions encountered in flight so they can be relayed to weather offices and air traffic units.
ccbcc814:
… one of the local Airports became a Special Forces Training site (I guess simulating Airfield seizure or something like that) so its was NOTAMed that The field was closed from 2300 Local to 0500 Local for Military Exercises.
Most of the time this wouldn't have been a issue as the particular field was rarely used for night training (IIRC it only had Runway lighting, but no PAPI/VASI or Taxiway lighting) and out in the middle of BFN. Except for a few pilots who decided that night to camp out without reading the NOTAM.
So cut to them getting woken up at 11pm to [expletive] Ospreys and shit hitting the field, and guys with guns running around outside. It took a few moments for the Military to realize something was up, (I imagine the conversation went something along the lines of "[expletive] is that 182 doing out here?") and they just told the guys to stay inside the Pilots lounge and they would be finished shortly.
outlandishoutlanding:
Currently at YJBY:

ANIMAL HAZARD (SMALL AND MID SIZED MACROPODS) ON ENTIRE AIRFIELD PREDOMINANTLY WEST OF RWY 15/33 FROM 05 280147 TO 08 280200 EST

also at YKMP

SIGNIFICANT INCREASE IN ANIMAL (EASTERN GREY KANGAROO) WI AD VCY FROM 06 080305 TO 06 082300 EST

(The airport operator had to buy someone a new Mooney when it hit a 'roo with no NOTAM up)
Neoupa2002:
IAD UUA /OV KIAD/TM 1238/FL040/TP CRJ2/TB MOD-SEV/RM VERY BUMPY ON DESCENT. PRETTY MUCH EVERY ONE ON THE PLANE THREW UP. PILOTS WERE ON THE VERGE OF THROWING UP.
hitchhiketoantarctic:
I once got a weather report (METAR) for Gallup, NM that simply said "ROSNOT."
When I asked the briefer what that meant, he said he had no idea. So he called the observer (I'm dating myself here, phone calls amongst humans) and asked him what it meant.
He said it meant "Rattlesnake On Step. No Observation Taken."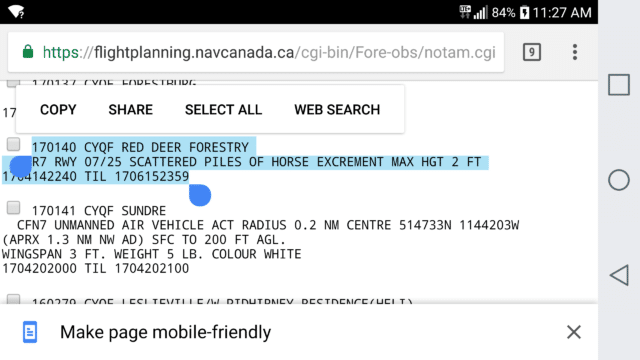 RaiderAce5974:
This has to be a candidate:
http://flightservicebureau.org/the-annual-greece-v-turkey-notam-battle/
The link goes to an article on the Flight Service Bureau website entitled The annual Greece v Turkey NOTAM Battle. Apparently, the Turkish military keep filing NOTAMS concerning Greek airspace and the Greeks keep filing NOTAMS to state that the Turkish NOTAMS are invalid. Here's one exchange from 2016 as posted on the Flight Service Bureau article:
LTBB/ISTANBUL/SEHIR-CITY A2999/16 11JUL 0414Z
– NAVIGATIONAL WARNING TO ALL CONCERNED:
THIS NOTAM IS ISSUED TO CLARIFY THE A1490/16 LGGG NOTAM ISSUED BY GREEK CAA.

AS REGARDS THE GREEK NOTAM A1490/16, TURKEY DOES NOT ACCEPT THE DEFINITION OF THE SEARCH AND RESCUE (SAR) AREA WITH REFERENCE TO ATHENS FIR. THE AREA REFERRED TO IN THE SAID GREEK NOTAM FALLS WITHIN TURKEY'S MARITIME SEARCH AND RESCUE REGION (SRR) AS DECLARED TO THE IMO AND INCLUDED IN THE IMO'S GLOBAL SAR PLAN. THEREFORE, ALL SAR EFFORTS/ACTIVITIES WITHIN THE TURKISH SRR MUST BE COORDINATED WITH THE RELEVANT TURKISH AUTHORITIES. 11 JUL 04:00 2016 UNTIL 14 JUL 02:30 2016.
LGGG/ATHINAI A1496/16 11JUL 1201Z

FURTHERMORE THE SAID ATHINAI/ISTANBUL FIR BOUNDARY WAS DEPICTED ON CHART NUMBER 7 ATTACHED TO THE REGIONAL AIR NAVIGATION AGREEMENT WHICH WAS REACHED IN THE THIRD REGIONAL AIR NAVIGATIONAL CONFERENCE (PARIS 1952) AND SUBSEQUENTLY APPROVED BY THE ICAO COUNCIL ON 23 JUNE 1952.

ACCORDINGLY, GREECE HAS BEEN ASSIGNED RESPONSIBILITY FOR ALL ATM SERVICES AND ICAO PURPOSES AS WELL AS FOR SAR OPERATIONS WITHIN ATHINAI FIR/ HELLAS UIR, AS IS CLEARLY DEPICTED IN THE ICAO AERONAUTICAL CHARTS, AND IS THE ONLY COMPETENT THEREIN NOT LEAVING SPACE FOR MISLEADING OR MISINTERPRETATIONS.

CONSEQUENTLY, THE REF (B) TURKISH NOTAM A3009/16 LTAAYNYX (111139 EUECYIYN JUL 2016) HAS NO GROUND, CANNOT PRODUCE ANY INTERNATIONALLY LEGAL EFFECT WITHIN ATHINAI FIR/ HELLAS UIR AND IS CONSIDERED NULL AND VOID.

THE ONLY VALID AND EFFECTIVE NOTAM WITHIN ATHINAI FIR/HELLAS UIR IS THE REF (A) A1495/16 LGGGYNYX ISSUED BY GREECE.

END PART 2 OF 2. 11 JUL 11:55 2016 UNTIL 14 JUL 02:30 2016.
LTBB/ISTANBUL/SEHIR-CITY A3022/16 12JUL 0740Z
– NAVIGATIONAL WARNING TO ALL CONCERNED:
THE VIEWS EXPRESSED IN TURKISH NOTAM A3009/16 REMAIN UNCHANGED AND S VALID AND EFFECTIVE. THE GREEK NOTAM A1497/16 IS NULL AND VOID.

TURKEY ALSO WOULD LIKE TO EMPHASIZE THAT NO FURTHER EXPLANATION WILL BE GIVEN TO ANY OBJECTION RAISED TO TURKISH NOTAM A3009/16. 12 JUL 07:30 2016 UNTIL 14 JUL 02:30 2016.
Over to you: what are the weirdest or most interesting NOTAMS you've ever read or heard of?