A Little Bit of Everything
There's so much great aviation writing and video out there and I'm always appreciative when people send me fun things; it seems a shame not to share them! So here's a collection of pieces that caught my eye this month.
---
My Favorite Aunt Nancy (FAN) sent me this one about the tragic end of the helicopter service at Disneyland:
by Todd James Pierce
The problems for the helipad first began in 1962, when the Anaheim city council informed Los Angeles Airways that they would need to construct a full air terminal—complete with an indoor waiting area and public restrooms—to continue its service to Disneyland.  Six years later a group of Anaheim motel owners banded together to formally protest the low-flying aircraft, calling the helicopters "dangerous" and explaining that their noise disturbed "motel guests."  But the tragedy occurred on Wednesday, May 22, 1968 when a helicopter flying from Anaheim to LAX crashed into a Paramount dairy farm, killing all 20 passengers and three crewmen.  The passengers had all spent the day at Disneyland.
Los Angeles Airways flight 841 (22 May 1968) is cited as a probable cause of Lookout Inadequate but the full report is no longer available.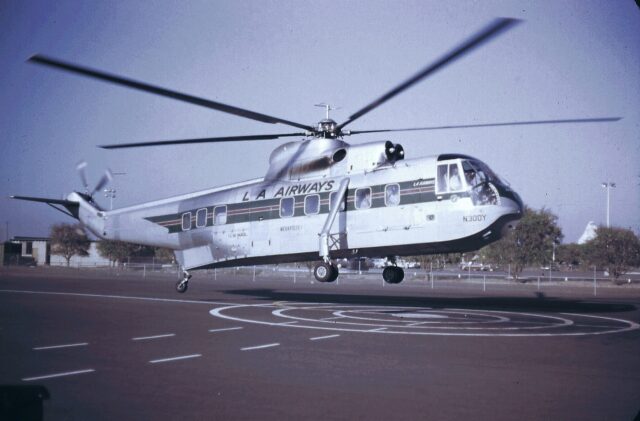 A second fatal flight, Los Angeles Airways flight 417, crashed a few months later while picking up Disneyland customers to take them to the park. This one was the result of a fatigue crack on a rotor blade. You can read a scan of the NTSB report here.
---
Thank you to Alexandra who sent me this Australian report. It's really just one key paragraph but it really tells it all. Quite frankly, I can't decide whether the pilot was incredibly lucky or unlucky.
The pilot was mustering over sandstone which was laced with shallow gorges and gullies. After sensing a shudder and engine miss, the pilot elected to carry out an immediate precautionary landing and landed on an outcrop of rock. While still at high RPM, the pilot moved the pedals and cyclic control to ensure that the skids were on a firm footing and tightened the collective friction. However, shortly after he exited the aircraft to inspect the idling engine, the helicopter pitched rearwards and slid off the rock into the gorge.
Imagine getting out of your helicopter and then there it is, gone.
---
This is World War II documentary has been recoloured and retouched by Movies Then and Now to great effect.
The Memphis Belle: A Story of a B-17 Flying Fortress is a 1944 documentary film which ostensibly provides an account of the final mission of the crew of the Memphis Belle, a Boeing B-17 Flying Fortress. In May 1943 it became the third U.S. Army Air Forces heavy bomber to complete 25 missions over Europe, but the first to return to the United States.

The dramatic 16 mm color film of actual battles was made by three cinematographers, including First Lieutenant Harold J. Tannenbaum. Tannenbaum, a veteran of World War I, was killed in action during the filming when the bomber he was in was shot down over France on April 16, 1943.

The film was directed by Major William Wyler, narrated by Eugene Kern, and had scenes at its station, RAF Bassingbourn, photographed by Hollywood cinematographer Captain William H. Clothier. It was made under the auspices of the First Motion Picture Unit, part of the United States Army Air Forces. The film actually depicted the next to last mission of the crew (see below) on May 15, 1943, and was made as a morale-building inspiration for the Home Front by showing the everyday courage of the men who manned these bombers.
It's amazing how much more modern this feels with minimal digital enhancement:
---
Going through my files I found this description of a Hawker Beechcraft 125-800A which I never used. I try to offer details of aircraft so that people can have know a bit about the history but in this case, it didn't go very well for me at all.
The aircraft was a Hawker Beechcraft 125-800A. These were originally manufactured in 1991 by British Aerospace as a BAe 125-800B but in 1994, Raytheon converted the aircraft into a Hawker Beechcraft 125-800A and exported to the United States.

In order to follow the naming convention, it helps to understand the history of the aircraft.

Hawker Siddeley was formed in 1935 when Hawker Aircraft bought the automotive and aircraft companies owned by J.D. Siddeley. Hawker Siddeley produced the Hurricanes and the Supermarine Spitfires which became famous for winning the Battle of Britain. The Hurricanes were responsible for shooting down 55% of all of the enemy aircraft destroyed, even though the Spitfire got all the glory. In the late 1950s, the British government decided it was better to merge the many existing aircraft companies as the number of aircraft contracts steeply decreased. There were over a dozen aircraft manufacturers at that time, which were merged into several much larger firms.

In 1960, the de Havilland Aircraft company was acquired by Hawker Siddeley. In 1961, de Havilland began the development of a small business jet to compete with turboprops for mid-range flights, which they called the DH.125 Jet Dragon. The prototype aircraft with twin engines mounted on the rear fuselage was a success.

However, in 1963, Hawker Siddeley decided to drop the names of the companies that it had acquired or been merged with. As a result, the DH 125 Jet Dragon became the HS.125 by the time it was in full production. American exports retained the DH.125 designation.

Then, in 1977, Hawker Siddeley Aircraft merged with the British Aircraft Corporation to form British Aerospace. The aircraft model's name changed again, this time to BAe 125. Then British Aerospace sold its Business Jets Division to Raytheon in 1993, and the jet became known as the Hawker 1000. Raytheon had already bought the Beech Aircraft Corporation in 1980 but in 2007, the Raytheon Aircraft company was sold to Hawker Beechcraft Corporation, so…

You know what, this doesn't make it any easier to follow at all. Let's just describe the aircraft as a Hawker Beechcraft 125-800A and leave it at that.
---
And finally, while looking for a photograph specifically of the Hawker Beechcraft 125-800A, I found this fantastic Aircraft Recognition Guide which gives you all the details you need to tell aircraft apart. And like any good mushroom field guide, it also lists examples of similar aircraft that could be mistaken.
I always hated it when Ground Controllers would instruct me to "follow the Caravan" as if I had any idea what that was. (Except for "Follow the Trislander." That one I could handle.) This site includes a quick and easy aircraft characteristic guide which starts with "how many engines" that will allow you to correctly identify any aircraft you might find in the wild.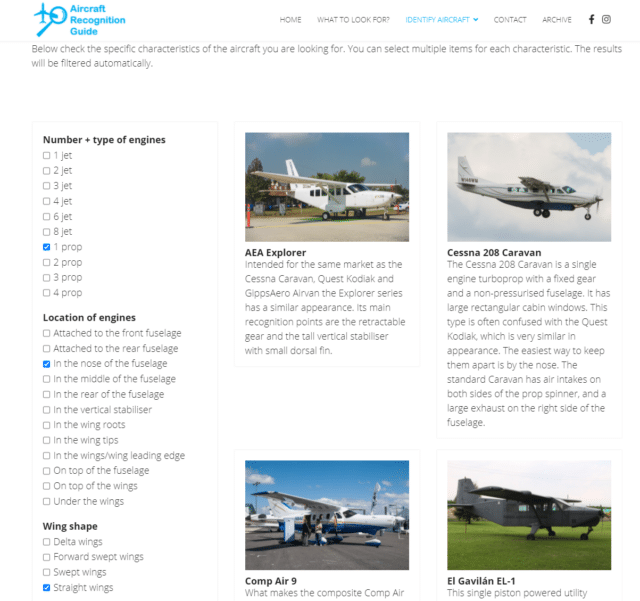 Although maybe checking the website on your phone is not quite quick enough to ID the aircraft while taxying. "Ground, please confirm shape of the wings of the aircraft you wish me to follow for identification purposes. I've narrowed it down to three."
---
That's it from me for this week but please feel free to leave additional links in the comments for everyone to enjoy. Just keep it down to one or two links per comment or else you'll get thrown into the moderation queue.