Supersonic Shockwave Interactions
These photographs are from last March but they've just been featured in Nature magazine's collection of the best science images of the year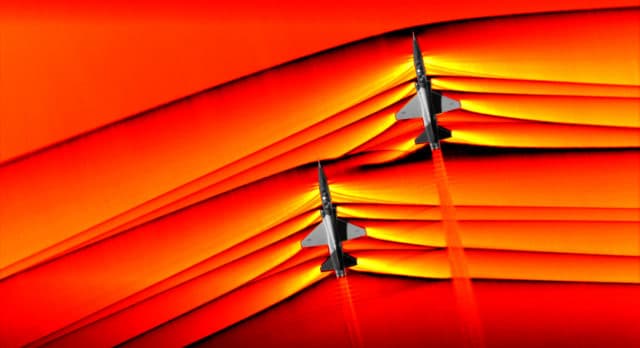 NASA has been exploring the potential of photographic technology resulting in these beautiful air-to-air photographs of supersonic aircraft and how their shockwaves interact.
Two T-38 Talon twinjet supersonic jet trainers were flown out of Edwards Airforce Base while a NASA B-200 King Air installed with the imaging system flew in a pattern at 30,000 feet. The jet trainers were then to fly underneath the B-200 in formation, reaching supersonic speeds exactly as they passed beneath it. The cameras could record for just three seconds, so they had to start exactly as the T-38s came into the frame. These images are the result of everyone doing everything exactly right.
"We're looking at a supersonic flow, which is why we're getting these shockwaves," said Neal Smith, a research engineer with AerospaceComputing Inc. at NASA Ames' fluid mechanics laboratory.

"What's interesting is, if you look at the rear T-38, you see these shocks kind of interact in a curve," he said. "This is because the trailing T-38 is flying in the wake of the leading aircraft, so the shocks are going to be shaped differently. This data is really going to help us advance our understanding of how these shocks interact."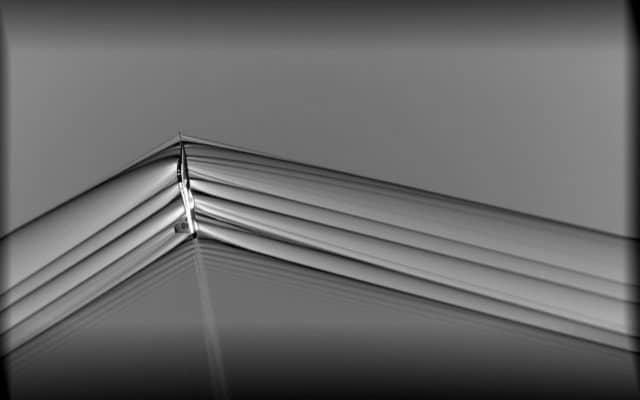 The T-38 aircraft flew at supersonic speeds just 30 feet apart in order to produce shockwaves which are associated with what we on the ground hear as a sonic boom. The goal is to better understand how these shockwaves interact with aircraft plumes and each other in order to confirm the design of the X-59 Quiet SuperSonic Technology X-plane (X-59 QueSST), a supersonic plane which will produce shockwaves which avoid the sonic boom. The researchers hope that this will result in supersonic flights over land without disruption on the gorund.
NASA Captures First Air-to-Air Images of Supersonic Shockwave Interaction in Flight
In order to capture these images, the King Air, flying a pattern around 30,000 feet, had to arrive in a precise position as the pair of T-38s passed at supersonic speeds approximately 2,000 feet below. Meanwhile, the cameras, able to record for a total of three seconds, had to begin recording at the exact moment the supersonic T-38s came into frame.

"The biggest challenge was trying to get the timing correct to make sure we could get these images," said Heather Maliska, AirBOS sub-project manager. "I'm absolutely happy with how the team was able to pull this off. Our operations team has done this type of maneuver before. They know how to get the maneuver lined up, and our NASA pilots and the Air Force pilots did a great job being where they needed to be."

"They were rock stars."
I always get a bit excited at a sonic boom: the first one I ever heard was coincidentally at Edwards Air Force Base when I got taken on a school bus to watch the space shuttle landing. But I can understand not wanting to live under the flight path of a supersonic jet and I'd welcome the opportunity for a new passenger jet to pick up where the Concorde left off.