How Many Successful Ditchings of Commercial Airliners?
When I was learning to fly, I remember someone in the pilots' bar insisting that all that talk about life jackets under your seat was a waste of time; if your aircraft is going down over water, you were done for.
This wasn't just idle talk. In 1999, Slate's article In The Event of a Water Landing said that ditchings are virtually nonexistent and virtually nonsurvivable, claiming that there had never been a single ditching by a US-flag commercial airline but "several non-US airlines have experienced ditchings, with mixed results". The US does not have a single flag-carrying airline, instead all US carriers on a type 401 certificate are considered to be U.S. flag air carriers. It simply means the airline is US based.
The article goes on to quote the Aviation Consumer Action Project, which says that
in an attempted water landing, a wide body jet would "shatter like a raw egg dropped on pavement, killing most if not all passengers on impact, even in calm seas with well-trained pilots and good landing trajectories.
In 2002, The Economist published an article about pilotless planes which stated as fact that "no large airliner had ever made an emergency landing on water" and that the life jackets were only there to make passengers feel better.
(Presumably the "ditch" button is only in the Airbus cockpit to make the pilots feel better.)
This is blatantly untrue but when I tried to look up successful ditchings, I found a lot of varied information. What I couldn't find was a reliable number of exactly how many successful commercial airliner ditchings there have been in the history of aviation.
Now, there's no end of lists on the internet but they all disagree, sometimes even with themselves.
Aviation Safety Network lists 312 occurrences with a result of Emergency, forced landing – Ditching. There's no way to limit this to only commercial flights but it is certainly immediately obvious that US-based passenger aircraft have been ditching since the 1930s.

Wikipedia's Water Landing page states in the first paragraph that there have been nine intentional commercial airliner ditchings and then goes on to list twenty examples, where Ethiopian 961 is listed both as a planned and as an unplanned water ditching.

Meanwhile, Wikipedia's Emergency Landing page claimed that there were only eight 8 intentional ditchings, a list which has since been removed.

AirSafe.com Jet airliner Ditching Events, the most commonly cited list, gives only four ditching events but it is clear that they are limiting their list to passenger jet airliner services. I'm not sure why one would be specific about jet airliners; it seems an odd restriction to me.

Skybrary's article on Ditching: Fixed Wing Aircraft doesn't give a number but offers four examples.

In an academic paper Review of Transport Aircraft Ditching Accidents, a compilation of all known planned ditching events of passenger transport jet aircraft, six ditching events are named.
Note: all of these lists include the "Miracle on the Hudson", the United US Airways Airlines Airbus A320-200 landing in the Hudson after a bird strike. All but the AirSafe.com page (which to be fair doesn't claim to be an exhaustive list) also mention Ethiopian Airlines flight 961 which attempted to ditch near Grande Comore island after being hijacked; however it impacted at high speed and tumbled, breaking into three pieces.
Part of the problem is varying definitions. Wikipedia specifies "intentional commercial airliner ditchings" which seems fair enough, but AirSafe only lists jet airliners, which seems an arbitrary restriction. In 2006, another Economist article We're about to crash claimed that "in the history of aviation the number of wide-bodied aircraft that have made successful landings on water is zero", limiting their definition to wide bodies… but even so, in 1993, there were two incidents of Boeing 747s which overshot the runway and landed on water. Did they mean successful ditching events? Probably, but that's not what they said. Besides, I think I could make a case for the Boeing 377 Stratocruiser being a wide-body, but I'll get back to that.
It seems to me that the first thing we need to do is agree on the definitions.
What do we mean by successful?
I think as a starting point, we can say that a successful ditching is one with no or very few fatalities. Forget the aircraft: in the event of an emergency over water, the focus is on the survival. In the case of Ethiopian 961, only 25 of the 175 souls on board survived. I think we can agree that was not a successful ditching. I'm not sure if there are any borderline cases but I'm happy to think harder about this if one comes up.
What do we mean by commercial airliner?
Strictly speaking, this is an aircraft which transports passengers and air cargo as a commercial service. It gets a bit fuzzy because, in general conversation, I think that we are more likely to envisage a Boeing 737 than a six-seater Cessna 402.
What do we mean by ditching?
In principle, ditching refers to an aircraft attempting a forced landing on water. But clearly, not every emergency water landing can be considered ditching: sea planes and standard aircraft with floats land on water all the time. During the first half of the 20th century, international passenger flights landed on water as standard, as large distances needed large aircraft and large aircraft needed long runways, which mostly didn't exist. For their around-the-world flights, Pan Am used flying boats, known as Clippers, which would land in the bay of their destination and then motor to the harbour to drop off the passengers and cargo. In the case of an emergency, the flight crew would be looking for protected water for their emergency landing just as a land-based plane would be looking for a field.
Thus, it seems to me that only aircraft which are not meant to land on water can ditch, else it's either a forced landing or a crash. I have to admit, though, I'm now wondering if there are any successful incidents of a sea plane carrying out a forced landing on dry land.
Going back to the topic at hand, more obvious is that to ditch an aircraft, it must be an intentional water landing. Despite my sarcastic comment above, I think it is clear that a runway overrun into water should not be included in a list of successful ditchings. I don't think that "control of the aircraft" is a good way of defining this. An aircraft which inadvertently impacts the water is not ditching, it is crashing. So that includes, for example, Aeroperú 603 and Air France 447, where the flight crew effectively had control of the aircraft but inadvertently flew into the water. I don't think anyone would think of those as unsuccessful ditchings.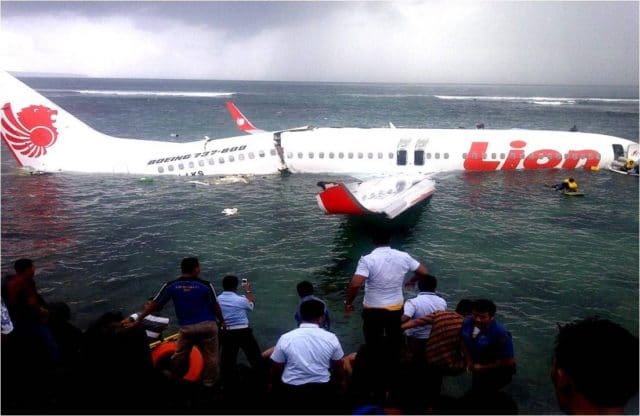 How deep is the water?
This is one I hadn't thought about until I started looking at specific incidents.
Wikipedia's list at one point included a Yak-40 incident in June 1976 (in Russian) as a ditching but the aircraft actually landed on a flood-meadow, and, according to one commenter, it was actually quite dry at the time.
In Why Planes Crash Casefiles: 2002 I wrote about the ditching of Garuda flight 421, which landed on the Bengawan Solo River in Indonesia. But in retrospect, the aircraft sank only a few feet before coming to rest on the muddy riverbed.
Similarly, some of the above lists include Angara Airlines flight 9007, an Antonov An-24 passenger flight which suffered an engine fire during a domestic flight. The crew made a decision to ditch in the Ob River and although the flight crew were killed on impact, 30 of the remaining 35 on board were rescued. But the footage of the accident show people standing in the shallow water next to the aircraft.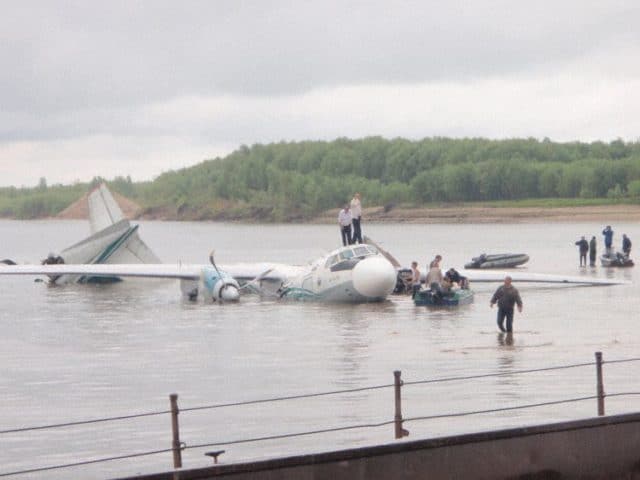 I wouldn't dare say that water landings on a river shouldn't count as ditching but it does seem reasonable to define the water as being deep enough that the survivors can't walk to shore.
There's another successful "ditching" which bothers me: Japan Airlines flight 2, which landed in the San Francisco Bay in 1968. It was a jet and no one was seriously injured, let alone killed, when the aircraft landed in the Bay. In fact, the aircraft, a DC-8, was back in service within a year! However, it fails on the criterion of 'intentional': it was an overcast and foggy day and the flight crew did not mean to land in the water. They meant to land on the runway at San Francisco and became disoriented, attempting to land the plane two and a half miles early. So although the NTSB called it 'the first successful ditching of a jetliner', the fact is, the flight crew didn't intend to land in the bay which makes it more correctly an inadvertent water landing.
(Supposedly, when the captain was asked how it happened, he replied, "As you Americans say, I fucked up.")
Going back to the Economist claim that there's never been a successful ditching, I've concluded that actually, the first successful commercial ditching was in 1956: Pan Am flight 6.
Although the airline referred to it as a clipper named Sovereign of the Skies, the aircraft was not one of Pan Am's flying boats but a Boeing 377 Stratocruiser meant to land on runways. The Boeing 377 is referred to as a "large body" but with beds in a 2 by 2 configuration, I think it would qualify as a wide body if passengers were packed in as tightly as they are today.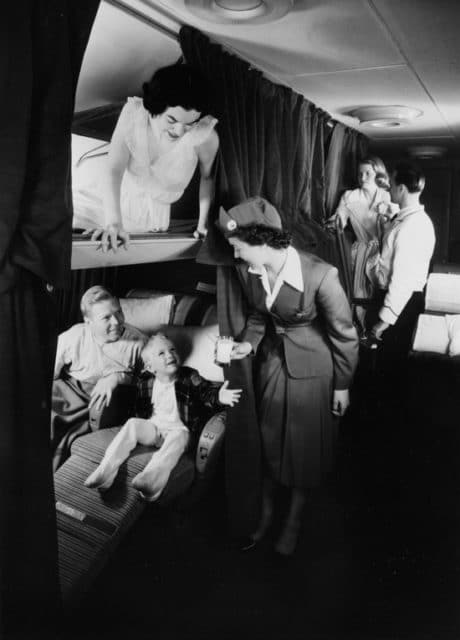 More importantly, the flight crew intentionally ditched the aircraft and it was undoubtedly successful: everyone on board was rescued.
Flying from Honolulu to San Francisco during its around-the-world tour, the Sovereign of the Skies suffered an overspeeding propeller and an engine failure. The flight crew declared an emergency, making contact with the US Coast Guard cutter Pontchartrain. Then, using the remaining three piston engines, they circled until daybreak until they could ditch next to the cutter. The aircraft and rescue were filmed from the Pontchartrain and it's amazing to watch:
I did find one media reference to this as the first ditching in Traveller:
When aircraft disappear, more than two-thirds of the time they are flying over water, said James Stabile, the vice president of Aeronautical Data Systems, which developed a program that lets pilots know what ships are below them. And in the handful of cases in which an airliner landed in the water and no one died – like Flight 6 and US Airways Flight 1549 in the Hudson in 2009 – boats were on the scene immediately.
So now the real question is: how many were there in between?