Drone Killer
When I'm not obsessing about aviation, I write speculative fiction, including science fiction featuring near-future technology. So you can imagine I was pretty excited when I saw a headline last week that the Oceanside Police Department in California has recently acquired a Drone Killer. I had visions of The Terminator but it turns out that although these Drone Killers look like a gun, they don't do any actual damage to the drones.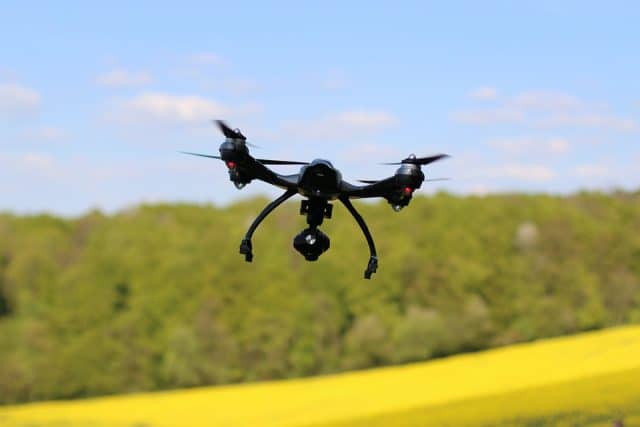 Technically, they are referred to as Unmanned Aircraft Systems. The drone killer is officially Counter-UAS technology, a serious matter in both civilian and military terms. One US Army official complained that the US has no control of the airspace below 3,500 feet above Syria and Iraq because there are so many drones operating in the area. There's a number of already common criminal uses, including, drones smuggling contraband into prisons and drugs across borders. And, as we know, near misses between drones and commercial aircraft have highlighted a real danger in busy airports around the world.
The big problem we have is that modern air defence systems are generally ineffective against unmanned aircraft systems. Anti-aircraft weapons don't register the small, low-flying drones and, even if they did, the cost of an anti-aircraft missile greatly exceeds the cost of a commercially available drone. Drones aren't required to carry transponders, so they are invisible to air traffic control systems using secondary radar. The first report we often have of a drone operating around an airport is the report from the flight crew who have just experienced a near-miss.
So it's no surprise that a lot of research and money is being spent on counter-UAS technology. There are two separate functions that are required to combat unauthorised drones. The first is to detect and track the drone and the second is interdiction: intercepting the drone and disrupting or destroying it.
Detection and tracking can be done by primary radar, using algorithms to distinguish between drones and birds or bats. More common, especially for civilian use, is to simply scan the popular frequencies used for drone operation. Military operations also use electro-optical (visual recognition), infrared (detecting the heat signature) and acoustic (tracking the unique sounds produced by drones) or some combination of the three.
Interdiction isn't as simple as attacking the drone. Although the thought of shooting a malicious drone out of the sky may bring some satisfaction, realistically a fast-moving drone crashing towards the ground brings its own hazards, especially over crowds. Methods of interdiction in use today can be as simple as nets to entangle the drone or as complicated as hijacking the drone's communications link by spoofing the protocol. One popular system is to jam the radio frequency link between the drone and its operator. But by far the coolest looking interdiction technique are trained eagles.
This Dutch project was cancelled a few months ago, as the eagles were more difficult to control than anticipated, although there is still a programme in place in Switzerland. Fortem Technologies has a similar solution based on a drone which hunts other drones: it patrols a set airspace and captures any drone that enter its territory, dragging it away to a safe area where it can be let go or discarded. Presumably, these are easier to control than the raptors, who are probably miffed that there isn't even a morsel of flesh on the prey they have just captured.
The challenge is to find cost-effective measures that can deal with a wide range of different drones to cover a large area with as few false reports as possible. In addition, many areas need to distinguish between legitimate drone use and rogue drones operating unauthorised.
Many airports already use ground-based counter-UAS technology, sometimes referred to as electronic fences, which are designed to protect areas and facilities. Denver Airport, for example, has recently installed an AirFence which alerts Air Traffic Control of drones within a six-mile radius If a drone continues into protected airspace, the AirFence attempts to shut down its radio frequency. But this technology is large and stationary – it can't be moved quickly and it may have blind spots. It isn't much use for protecting a moving target, like a convoy, or for temporary hotspots where a drone can cause havoc such as public events.
Which brings us to the IXI DroneKiller: a hand-held counter-UAS system meant for manual use.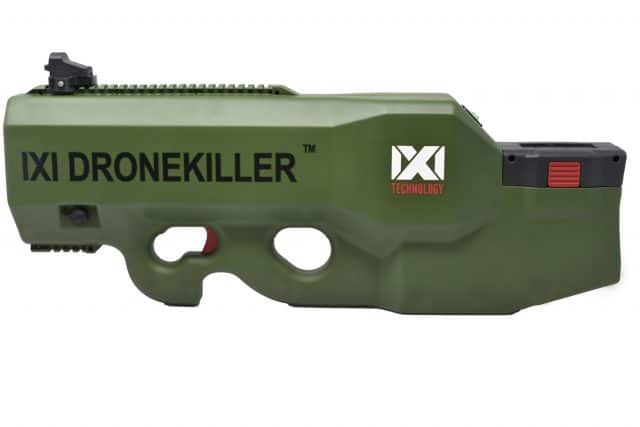 It looks like a kid's futuristic gun, sort of big and plasticy. The manufacturer, a technology company called IXI Technology, describes it as rugged and security personnel-proof with easy-to-use controls. It's 61 cm (24 inches) long and weighs 3.5 kilos (7½ pounds) – less than an adult cat or one and a half times the weight of a Chihuahua. OK, that might not be on the official specifications but it makes it clear: the Drone Killer is easily carried around on your person. The unit is so simple, you can train someone to use it in less than a minute.
But that's where the similarities to a children's toy stops.
You point it like a rifle and fire. The Drone Killer generates radio-frequency output in large amounts to disrupt the command and control link between the UAS and the operator. What happens next depends on how the system is programmed to function once it has lost its connections.
Many drones hover in place and then descend slowly to land. Others return 'home' – coordinates set by the operator or the location where the UAS was launched from. If the drone lands on the spot, you can simply pick up the drone and disable it. For drones that return to their launch point, it is often possible to track down the rogue operators, who with any luck are still staring at their controls wondering why the drones have stopped doing as they are told. Some drones can be automated to follow a set course, for example for filming, and thus don't require a connection to the operator. In this case, the Drone Killer can interfere with the drones satellite link for GPS, which again will cause most drones to hover in place or land.
The Drone Killer fires in a 30° cone and it takes less than three seconds to disable most UAVs within its range of half a mile, or almost 2,500 feet. It can shoot down disrupt UAVs for up to four hours. You can also set the Drone Killer to sensor mode, changing the gun into a radio frequency scanner which will alert you of drone operation radio frequencies over a two mile radius for up to eight hours. Because it is powered with rechargeable Li-ion batteries, the unit is easily rechargeable using your car's 12-volt power point.
It's easy to see why the police might be interested in such a unit, allowing for a direct response against an authorised drone operating in their area.
The police use drones themselves as well, of course, mainly for surveillance ranging from criminal investigations to search and rescue missions. A drone can cover a wide area quickly. Some examples of drones supporting police work include keeping up with a robber fleeing from the scene as well as track down a missing Alzheimer's patient who couldn't find the way back home. But with consumer drone ownership skyrocketing (as of January 2018, over one million drone users were registered with the Federal Aviation Administration), it's no surprise that police also want a way to fight back when disruptive drones are flying over their heads just out of reach. In Oceanside, they are particularly hoping to avoid last year's fiasco during a major fire of almost 5,000 acres, where they had to cease all aerial fire fighting operations for an hour in order to avoid collision with a drone operating in the area to film the damage.
Because the gun only has a range of about 2,500 feet, it wouldn't help much for airport near-misses unless we outfitted the flight crew with Drone Killers that could be fired out the windows. As they are currently only certified for use in the US and even then only for Military and Government Agency personnel and, more importantly, cost $30,000 each, though, it seems unlikely that this will happen.
I know a few pilots who sure would like the chance, though! If you are one of them, you can find out more about the Drone Killer on the IXI website.