ATC behind the scenes: VFR into IMC
One of the biggest safety hazards in general aviation is pilots inadvertently flying into instrument meteorological conditions (IMC) and losing visibility in the cloud. A private pilot who has not undergone special training for using instruments flies VFR (Visual Flight Rules), looking outside the aircraft. If the aircraft flies into cloud, the pilot loses visual context and struggles to keep control of the aircraft. In 2006, Flight Safety Australia highlighted the issue with the results of an in-depth study called 178 Seconds to Live, where 178 seconds is the average time that 20 VFR pilots on a simulator lasted before suffering from spatial disorientation and beginning to oscillate dangerously or entering a graveyard spiral. All twenty pilots who did the simulation lost control of the aircraft and would have not have survived the flight in reality.
Every year in the US, NATCA (National Air Traffic Controllers Association) holds the Archie League Medal of Safety Awards, in which air traffic controllers who have displayed extraordinary skill in critical situations are honoured. Last year, because of the pandemic, the awards were put off and they are now scheduled to take place in August (with the 17th annual awards following directly on from that in September). This means that I have to be quick if I want to report on the 16th Annual Archie League Medal of Safety awards before they are last year's news!
Although readers of Fear of Landing will be well aware of the risks of flying into instrument conditions, this case, for which Randy Wilkins and Chris Clavin at the Fort Worth Center won the award for the Southwest Region, gives an interesting look at VFR flight into IMC as experienced behind the scenes at Air Traffic Control.
Randy Wilkins is clearly one of us: he reads air safety investigations in his spare time and has gone through all the situations celebrated in previous Archie Awards. He also watches YouTube pilot videos dealing with VFR incidents and says that reading and watching these incidents has helped him understand the importance of the controller staying calm and focused.
You watch a video and think, 'well, what would I do? Would I know to say that? Would I know to think about this?' So I really fall back on those replays. If I was a pilot, I would think, 'if that was me, what would I want to know, and what would I want somebody to say to me before I did this?' The worst thing you hear about is people getting disoriented and flipped upside-down. The likelihood of getting disoriented in clouds if you're not used to it is pretty high.
At the Fort Worth Center, they monitor the civilian emergency frequency, 121.5 in case of any distress calls. The frequency is also known as Guard as aircraft are asked to continuously "guard" the channel, listening out for requests for help. This is also the channel that the military would use if intercepting an aircraft and can be used by controllers to speak to aircraft inadvertantly entering their airspace (and thus not speaking to the correct control centre).
On that day, the VFR pilot of a 53-year-old Cessna 150H registration R23258 was flying at the edge of the Kansas City Center airspace, between Oklahoma City approach control and Tulsa approach control. He flew into bad weather and found himself in instrument conditions.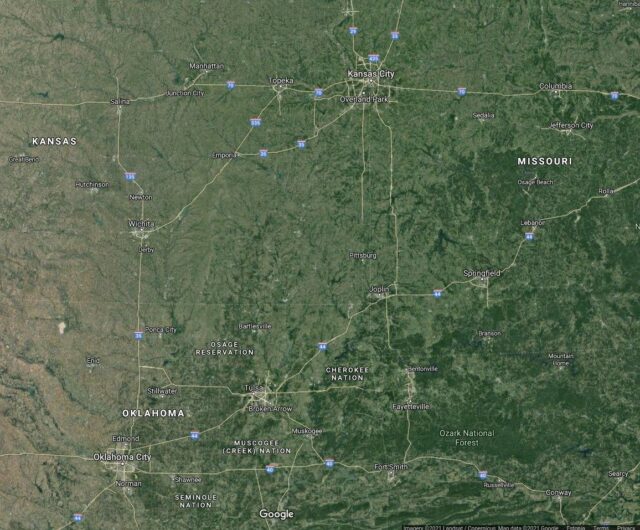 He was not trained for this: VFR pilots use visual contact with the ground and the horizon to judge their attitude rather than relying on the instruments. He couldn't see anything but cloud and wasn't sure where he was. Not knowing who to talk to, the pilot used the emergency frequency to report his situation. A Southwest Airlines pilot immediately responded to try to help the pilot work out his location.
The controller at Forth Worth, Randy Wilkins, heard them speaking and asked the pilot to contact him on one of the Fort Worth frequencies. He was able to identify the aircraft on radar and marked it with the letters EMRG, so any other controller who saw the aircraft on radar would know that the pilot was experiencing an emergency.
The pilot was struggling to maintain his altitude and didn't have enough power to climb well. The pilot quickly became frustrated and began to fly in circles, not sure where to go or what to do. Wilkins had his hands full trying to keep the pilot calm; both knew that the odds for a VFR pilot in instrument conditions wasn't good.
Another controller at Fort Worth, Chris Clavin, had also overheard the call on the emergency frequency. He was near the end of his shift and was able to sit down with Randy Wilkins to support him in dealing with the emergency. The most useful thing he could do was find solid information that Wilkins could pass on to the pilot. He initially tried to find out if there were any airports nearby in clear weather so that the pilot could fly in visually.
While Randy's dealing with talking to the pilot, I was just trying to get the most up to date weather information that I could between Stillwater, Kansas City Center, Oklahoma City Approach, and Tulsa Approach to see if they had any guys going VFR in the airports around there.

I was just trying to make sure that Randy didn't have to do any coordination. It was my job to make sure he could focus on the pilot and I'll take care of all the other stuff.
However, the weather wasn't clear until west of Oklahoma City and the pilot only had a quarter of a tank of fuel left. Wilkins did his best to keep the pilot flying safely, reminding him not to look out the window but at his instruments and that he needed to focus on keeping his wings level and his airspeed up. He later said he could see that the pilot was rapidly getting the hang of it.
You could see him going through the process of learning how to fly, either on his instruments or however he was doing it. You could see him getting better and better at taking control of his aircraft. That might have saved his life – the 10 minutes he had to get used to flying in a manner like that, rather than saying, 'I've gotta get through the clouds now.' That's how it looked to me.
Clavin found that Chandler Municipal Airport in Oklahoma had a cloud ceiling of 900 feet — not great for visual flight but better than any of the other airports within range. As the pilot made his way to Chandler, he descended through 2,500 feet and the controllers lost radio communications. All they could do was sit and wait for a phone call to tell them that the pilot had landed safely. Well actually, as Clavin points out, all they could do was sit and wait and keep working.
You don't want to think the worst, but there's other things going on in the sector that we had to take care of. It felt like 20 years before we finally got the update that he was on the ground.
The pilot landed safely at Chandler Municipal Airport. You can listen to the original radio calls and an interview with the controllers on the NATCA Podcast:
Both Wilkins and Clavin were grateful to have been chosen for the Archie League Medal. Wilkins sees it as a chance to pay back the training he has received from previous winners.
To be categorized like that is an honor, and I really hope that people can take it and learn something from it, because that's really what this is all about. It's about honoring the controllers that did a good job, but I try to use it as a training tool to say, 'here's what happened and this is what you can do if you get into this situation.' That's what I really hope comes out of it.
As we usually look at crashes and flights gone wrong, I found it very interesting to follow the VFR flight to a happy ending and especially the chance to hear about what the scenario is like from the point of view of Air Traffic Control.