Impromptu Airshow
On the 26th of August 2019, a glider pilot posted a video of him flying his high performance glider at the Aeroplanes Trains and Automobiles event held two days earlier in Spanish Fork, Utah.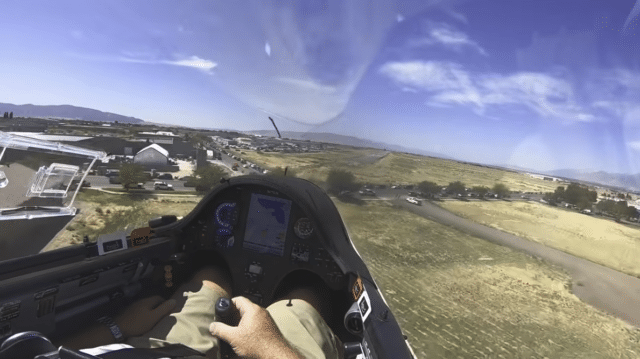 The glider was a Schleicher ASW-27, a 15-metre sailplane certified in 1997. Designed by Gerhard Waibel, a famous German sailplane designer, the glider has a super-light structure made from a complex composite of carbon, aramid and polyethylene fibre, which allows it to carry a water ballast system to control the wing loadings. The glider flies at 70 km/h (43 mph, 38 knots) with no ballast and full flaps and has a "never exceed speed" of 285 km/h (177 mph or 154 knots).
Bruno Vassel is a YouTube sensation with over 100,000 subscribers, with many great videos of gliding around the US in his ASW-27, including honest analyses of mistakes he has made. He attended the air show at Spanish Fork Utah and was showing off his glider on the ramp. Then apparently, the airshow management asked if he would do a glider demo flight for the crowd.
He was flattered to have been asked and started thinking about what he could do to show off the abilities of the ASW-27 glider.
I do loops all the time and I have been known to do a few low passes so why not put them together and show everyone how much energy and potential a glider has with just a few thousand feet to work with! I towed to 3k' above the ground and the video shows the rest. What a random and interesting experience! FYI – the owner's manual for the 27 has a page specifically on how to do proper loops. My entry speed was at 115 knots indicated and I was pulling 3.5 g's. I think I pulled them off well enough. The wings didn't come off. While that was fun and all, I think I will be leaving the airshow stuff to the guys who know what they are doing. Last 2 things: I sure wish the helicopter ride business would have just waited so I could finish the routine without having to worry about hitting them taking off or landing while I was swooping. And yes, I saw the segmented circle and flew over it. Did you even notice it? That would have been super bad hitting its pole at 185 mph!
Bruno called it "a random and interesting experience" and described how he did a series of loops and low passes from a 3,000 foot tow. Here's the nine-minute video that he uploaded after the event:
The video had over 200,000 views. At least one of those viewers reported the flight to the FAA.
The FAA was suitably concerned about the idea of an untrained pilot doing aerobatics over a crowd at an airshow. Bruno removed the video from YouTube but of course it was much too late.
FAR 91.303 defines aerobatic flight as:
an intentional maneuver involving an abrupt change in an aircraft's attitude, an abnormal attitude, or abnormal acceleration, not necessary for normal flight.
There are a number of regulations around aerobatic flights and air shows in order to reduce the risk both to pilots and those on the ground, including people not attending the airshow.
Bruno had thought that he was taking the necessary precautions by not flying over the crowd but he repeatedly flew low passes near other buildings. He also says that his lowest loop was 1,900 feet above ground level, although from the video, I have to admit it looked a bit lower than that.
The ASW-27 is type certified for "semi-aerobatics" and the manual that Bruno mentions does say that the some simple aerobatic manoeuvres are permitted, including positive (inside) looping, lazy eights, chandelle and stall turns. The manual also states that it is imperative that aerobatic manoeuvres are only performed by qualified pilots who have received proper training.
Bruno had not had any aerobatic training nor any experience with airshows. Obviously he was not an approved airshow performer.
He soon learned that "approval from the airboss" and precautions based on having read the manual that came with the glider were not enough, even though the glider is type-certified for semi-aerobatics. He put the video back up, saying that the FAA wanted to make an example of him and so by posting the video, he was helping to educate pilots.
He received a seven month suspension of his licence.
To his credit, Bruno updated the video description taking full responsibility for breaking regulations and explaining the actions taken against him.
I hope this will help other pilots to not have to go through what I have over the last ten months.
However, a few weeks ago, he posted to his YouTube channel again, excited that he had his pilot's licence back.
I'm disappointed to discover that he appears to have decided that the FAA action was unreasonable.
I fought the good fight spending many thousands of dollars because I really believe the suspension was not justified, but it was a flea fighting an angry gorilla situation and they smacked me hard.

What's funny is during the "trial" for my airshow, one of the FAA guys arguing against me asked why I didn't just call the FSBO and ask if I could fly the performance. My response was, "Because it was on Saturday and you were closed." I thought it was really funny but none of them laughed.
Personally, I thought he was very lucky not to have lost his licence completely!
In the comments of the new video, a fan asked if, now that his licence had been reinstated, he would consider holding a raffle to take one of his YouTube subscribers for a flight.
He responded:
Great idea! I love to give rides in two seat gliders. Something to think about.
This is followed by another commenter pointing out that this, too, would be attracting unwanted FAA attention, with a consideration as to whether he was acting as a pilot-for-hire without a commercial licence. Well, quite.
One thing that bothered me was that there was no further mention of the airshow management and the "airboss". They surely must have known that it was against the law to ask a pilot with no aerobatic experience to put on a display on the day of the airshow. Not to mention the fact that, as nothing was rehearsed, Bruno appears to have been dodging helicopters during his flight display. I was unable to find any comment on this, although I noticed that the official video does not show the glider flight and the only comment to it, asking if there was any video of the glider flying display, has gone unanswered. The event has since been renamed to "Wings and Wheels".