Shaking All Over: AirAsia flight D7237
On the 25th of June 2017, Air Asia flight D7237, an Airbus A330 registration 9M-XXE, suffered an in-flight engine fault ninety minutes into a scheduled flight from Perth to Kulala Lumpur. There was a loud sudden noise and then the aircraft began shuddering violently.
The pilot spoke to Berita Harian after the incident and the interview was translated by Free Malaysia Today.
AirAsia flight D7237: Pilot says he did nothing wrong
"When the aircraft was at a normal cruising mode, moving between 38,000 and 40,000 feet, we heard a loud sound like something hitting a metal object.

"I thought we had hit another aircraft, because our plane was swaying left and right.
Passengers said that they saw metal flying out of the engine. They took photographs and videos of the event.
"It was literally like you were sitting on top of a washing machine. It was essentially like the engine seized up I think, that's what they told us anyway."
The flight crew declared an emergency and turned back to Perth.
"After coming down to 25,000 feet level and continuing our descent, the plane suffered a sudden jolt. My co-pilot and I assessed the situation, looking at the flight's positioning while considering potential scenarios."
The pilot made a cabin announcement in which he asked passengers to pray and told them, "Our survival depends on your cooperation."
Needless to say, there was much panicking in the cabin as a result. Passengers were apparently pulling life jackets out from under their seats while others attempted to send messages to their loved ones to tell them of their impending death.
He stood by his announcement to passengers in the face of the danger the flight was in, where he was reported to have asked them to pray, and adding that he too was praying the flight would land safely in Perth airport.
"I made that announcement due to my belief in the Almighty.
"I also prayed and I felt it was not wrong to ask the passengers to do the same. I am thankful that we were able to land the aircraft safely in Perth."
The flight returned to Perth, the windmilling engine continuing to cause violent vibrations. They landed safely with all 359 passengers in good health, just over an hour later.
This photograph, posted to Reddit is said to show the missing fan blade from the engine: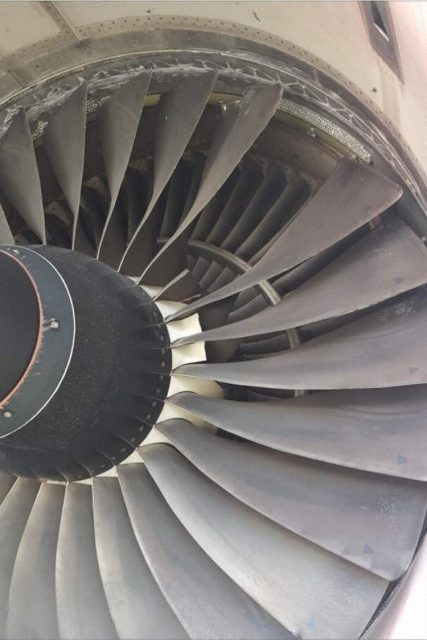 The passengers are reported to have received $20 vouchers from the airline.
The ATSB has an active investigation and expect a report within a few months.