Passenger In Control
Everyone is talking about the passenger who safely landed a Cessna 208 Caravan at Palm Beach International Airport after the pilot slumped over the controls, incapacitated.
The Cessna Caravan is a single-engine high-wing aircraft first produced in 1984. This one, registration N333LD, was recently listed as for sale on Aircraft.com, which gives us a bit of added detail.
PRICE REDUCED. Call for Details: Just in time for spring/summer float flying, Wipaire is happy to present this 2011 Executive equipped Cessna 208 amphibian, Garmin G1000 Suite w/ the GFC 700 Auto Pilot, Wipline 8000 amphibious floats, Big Sky Executive Interior by Capital, beautiful paint and interior, fresh annual inspection!
VASAviation was quick off the mark with a YouTube video so we can listen to the passenger interacting with ATC from the start of the emergency until landing.
It was about forty minutes from the first panicked call to ATC to the successful landing of the Cessna Caravan.
I have to admit, when I first listened to the radio calls from the passenger, I believed he must have had some piloting experience. He appeared to understand the request to squawk 7700 and I was pretty sure he clearly enunciated niner instead of nine.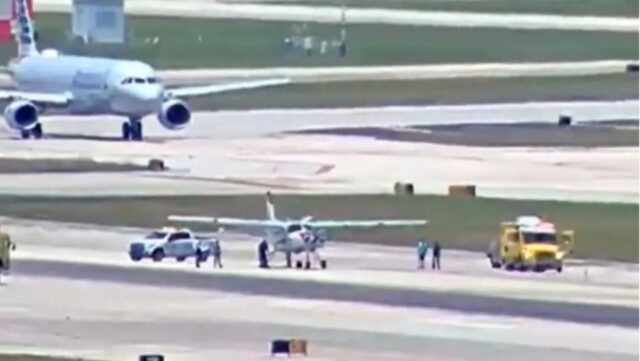 However, the FAA magazine Cleared for Takeoff has published an excellent article which confirms that neither passenger had any flying experience.
The passengers had no flying experience, and what unfolded thereafter was truly remarkable thanks to a team of air traffic controllers.

At that point, one of the passengers jumped into action. He pulled the aircraft out of the nosedive and called Fort Pierce Tower at Treasure Coast International Airport in Fort Pierce, Fla., to let them know the pilot was incapacitated, and that he had no flying experience.
Meanwhile, BBC radio presenter Oliver Wright started work on a story exploring how it might have happened in the UK …only to find himself put into the pilot's seat.
Wow. How would I cope in that situation? I expected the closest I would come to finding out would be by talking to pilots at the Phoenix Flight Training in Cumbernauld for BBC Radio Scotland.

But the instructors there had other plans.

When I arrived, they suggested we recreate that scenario – and send me up in the air. An instructor would be with me, but he would "play dead" and I would be guided in by another instructor in the tower.
It's a great read.
The West Palm Beach station WPBF 25 News managed a scoop with the exclusive video of the landing at Palm Beach International Airport. They've blocked their website in Europe but luckily the video has also been posted to YouTube:
Meanwhile, local media has confirmed that the pilot, by which I mean the licensed one, is still in hospital but stabilised.
I love a happy ending.
PS: I'm recovering from COVID so keep your mask on around Fear of Landing for the next week or so.