"N28V, I need your call sign, please."
This general aviation accident didn't happen on the 27th of April 2017.
The aircraft, a 1964 Mooney M20E registration N7828V, was at Rocky Mountain Metropolitan Airport at Broomfield, Colorado; it's still commonly referred to as Jeffco Airport (short for Jefferson County) although it changed its name in 2006. Jeffco is a large airport with an excellent position close to downtown Denver and no airlines, it is extremely popular with general aviation pilots: in 2018 there were 360 aircraft based there, with 70% of them single engine.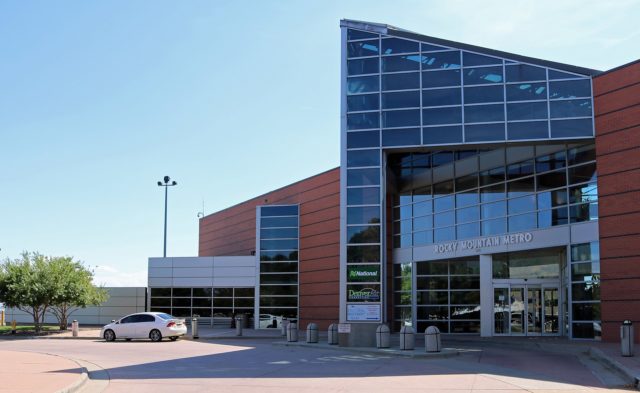 The pilot contacted Tower as he came out of the hangar, despite the fact that he said "ground". I've done that often enough, so he has my sympathy on that score.
N7828V: Metro ground, Mooney Seven Eight Two Eight … Victor, ah, coming out of the east T-hangars with information Quebec, umm, current to Three Eight Zero Right.
I don't normally include ums and ahs in my transcripts but I think it's worth noting the slowness with which he made his starting call. Much more interesting, though, is the reference to Three Eight Zero Right. The current information on the Automatic Terminal Information System, which gives airfield and runway information, is presumably Quebec but nothing after that makes sense.
Tower Controller: N7828V, Metro tower. Wind zero eight zero at one zero, which runway would you like?
N7828V: Three eight zero is fine.
Runways have up to two digits which signify the compass direction, where for example a runway heading due south (180°) is runway 18 and a runway heading due north is runway 36 (although technically it could be runway 00, it never is.).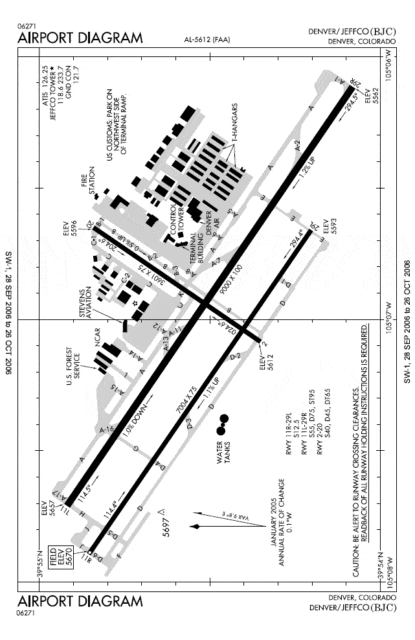 Rocky Mountain Metropolitan Airport has three asphalt runways.
Two of them are parallel with a direction of 120° and 300° so they are known as 12L/30R and 12R/30L (as left and right depend on which way you are travelling down the runway. The third is a crosswind runway 3/21 which was not in use that day.
There is no such thing as a runway 38 or even a runway 380, as a compass has only 360°.
Tower Controller: November Seven Eight…three eight? We don't have a three eight zero.
It's not clear whether the tower controller fluffed the Mooney's call sign (N7838) or if his brain just got stuck on the call for 380. Either way, he quickly recovered his professionalism, no doubt assuming the pilot had simply misspoken. It's a rare pilot who has never screwed up a radio call.
N7828V: [Runway] three zero is correct if…if at all possible.
Tower Controller: N28V, runway three zero right, taxi via Alpha.
N7828V : Taxi via Alpha, three eight zero.
The way he says three eight zero is unclear. It could almost be a call sign except, that's not his callsign. It's almost the correct number runway, except there's still no eight in the runway heading. And it certainly isn't taxiway Alpha, because that's just Alpha, taxiways don't get numbers, to ensure that they can't get confused with runways.
Tower Controller: N28V, it's runway three zero right. Taxi via Romeo to Alpha.
There are two runway 30s, after all, and it's important he taxi to the correct one. But beyond that, the tower controller is clearly becoming concerned.
N7828V: Romeo to Alpha, uh, Seven Two Eight Victor
Controllers often shorten someone's call sign (known as an abbreviated call sign) if there's no chance of confusion, as saying the full thing every time can be confusing. I've done something similar by using N28V to make it easier to read, even though the tower controller is actually saying November Two Eight Victor in every call.
When a call sign is abbreviated, a controller uses the prefix, in this case November for an N-reg (US) aircraft, plus the last three characters. It's not always that precise in real life, though. When I was flying N666EX, I was referred to as my full callsign (November Six Six Six Echo Xray) and sometimes a quick version of that (November Triple Six Echo Xray) and even when abbreviated, it was sometimes November Six Echo Xray and sometimes just November Echo Xray.
The important thing here is that, once a controller has abbreviated your call sign, you can use your full callsign or you can use the same abbreviation or you can vary it slightly by using the model in place of the prefix. The pilot did this on the very first call: Mooney Seven Eight Two Eight Victor. In my experience, it is common for pilots not to use either but simply to repeat the final characters of their call sign, for example Two Eight Victor.
What you can't do, as a pilot, is decide on your own that you are going to use an abbreviated call sign (it must be initiated by the controller, who knows the other traffic in his or her sector) and you definitely can't make up your own.
But, that's what this guy did. Seven Two Eight Victor is not a sequence that exists in his call sign and even if it were, he can't just decide to drop a random character in the middle.
Not to mention the fact that he still hasn't actually said which runway he is taxiing to. The tower controller patiently prompts the pilot directly with what he needs to say.
Tower Controller November Seven Eight Two Eight Victor, I need runway three zero right. Runway three zero right, taxi via Romeo to Alpha.
Note the controller reverting back to the full call sign here, something I suspect he didn't think about consciously but it says volumes.
The Mooney isn't the only aircraft at the airfield, of course. At that moment, another plane, a Citation which had just landed, called to say they were exiting the runway. The Mooney's pilot's next transmission was broadcast at the same time which meant that neither was comprehensible. All that could be heard was the pilot saying Two Eight Victor very carefully at the end.
Tower Controller: N28V, you got stepped on. Standby, hold your position please. Citation that just exited, say your call sign.
N339ES Sorry about that! Three Three Niner Echo Sierra.
The controller dealt with the Citation and turned his attention back to the Mooney.
Tower Controller N28V, I need runway three zero right and your call sign, please.
We're not messing around any more.
N7828V Three Niner Victor … or Two Eight Victor, uh, taxi via, uh, taa…taxi via alpha, Two Eight Victor.
What? He isn't even close. I should point out for the non-pilots that an aircraft's registration number is generally on the instrument panel as a small badge, specifically so if you blank out on it, you have it right there in front of you. All he needs to be able to do is read three characters.
Tower Controller : N28V, runway three zero right and your call sign please, and verify if have information Quebec.
The tower controller knows his callsign and he knows that the pilot has information Quebec. This is my favourite call of all time. I suspect he's hoping the pilot will back down and stop trying. But no, the pilot makes one more attempt to respond to the controller.
N7828V: Three eight… Three zero victor and two eight Victor, umm … plat.
OK, maybe he didn't say plat. Maybe he said back. What he didn't say was anything comprehensible.
Tower Controller N28V, hold your position, please.
Translation: You are not getting near my runway, buddy.
N7828V: Holding position, Two Eight Victor.
Oh, well done!
In the tower, the controller spoke to a colleague about what was happening. The second controller, in what seems to me to be an inexplicable fit of optimism, recommended that he ask if the pilot had an instructor on board.
Tower Controller: N28V, are you familiar with the airport or have an instructor on board?
N7828V: [heavy sigh] Two Eight Victor is somewhat familiar with the airport, over.
Tower Controller: N28V, roger. Hold your position.
N7828V: Holding position, Two Eight Victor.
Actually, though, the conversation had the desired effect. It gave the second controller time to get on the phone to airport operations personnel to tell them what was happening. They called the sheriff's office and then rushed out to the aircraft.
Tower Controller: N28V, uh, go ahead and shut down your engine. Airport wanted to talk to you real quick. They're almost out to you.
N7828V: [another sigh] Two Eight Victor.
At least he is getting his callsign right now.
The pilot taxied back to a hangar and got out to speak to the airport officers. When the sheriff arrived he immediately noted that the pilot's eyes were red and watery and he was having difficulty standing, even though he apparently thought he was competent to fly. When he spoke, his speech was slurred and there was no missing the smell of alcohol on his breath.
The sheriff attempted a field sobriety test and then gave up and arrested the man.
Back at the station, the pilot completed a breathalyser test which gave a result of a .20 BAC or the equivalent of 200mg per 100ml ethanol in his blood.
For context, in the US, federal law makes it illegal to drive a car with a BAC over .08. Some states have stricter rules but a BAC of .20 or over, such as the pilot had, is a criminal offence in most states. In Europe, generally the driving limit ranges from 20mg to 80mg per 100ml.
The federal blood alcohol limit for pilots is .04 BAC (half the level for drink driving in most states and much of Europe). The FAA further prohibits drinking any alcohol within eight hours of flying.
Both controllers were nominated for an Archie, the NATCA annual medal of safety award. You can listen to the radio exchange on this video.
The airport informed the owner of the Mooney that their hangar lease was terminated immediately. The aircraft was subsequently sold to a new private owner in Arizona, who had nothing to do with this crash-that-didn't-happen. That Mooney is lucky to be alive, that's all I can say.