Instructor Unconscious During Student Flight
This is a happy-ending story of an Australian student suddenly finding himself in command of the training aircraft. He had less than three hours flying experience and this was his first time in a Cessna 152, a single-engine light aircraft popular with flight schools for training. That day, his instructor took him flying in the local area to practise climbs for half an hour.
On the way back to Jandakot airfield, the instructor had a seizure and lost consciousness. The student immediately contacted Jandakot tower to declare an emergency.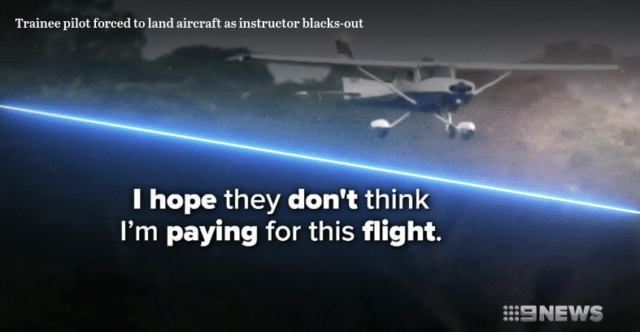 VAS Aviation has posted the audio files of the incident in two videos which are well worth a listen.
Part one:
Part two:
ATC bring in an instructor to help talk the student down. But it is noticeable that once the traffic is cleared and the student is visual with the airfield, the controller takes back over. I can't help but think that he is a pilot himself.
MM Aviation at Jandakot heard the situation on the radio and ran out to a hill to film the inbound aircraft. The video is a bit shaky but as the person behind MM Aviation pointed out, he hardly had the opportunity to get a tripod or prepare.
The Landing
The controller does an outstanding job supporting the student and helping him to keep calm. I love how proud he sounds at the end when the student successfully lands the 152.
The instructor on the aircraft discovered that he had a benign brain tumour which caused him to lose conciousness. WAtoday report that the tumour has been removed successfully but it is unclear if the instructor will be able to fly again.
I was looking at some of the photos I've taken from the air and getting a bit emotional looking at them realising that they might be the last ones that I ever take.
Meanwhile, the student is continuing his pilot training. I hope that the rest of his flying turns out to be somewhat less exciting.
The ATSB has not done an investigation but did publish an Occurrence Brief to share the incident. The conclusion echoes my thoughts:
At all times, communication between ATC and the student was concise, informative and positive.
But then, I'm a sucker for a happy ending.