ICON A5 mountain crash
On the 8th of May 2017, an ICON A5 aircraft crashed into Lake Berryessa, California, after attempting to turn away from rising terrain. The pilot was an engineer and test pilot for ICON aircraft and very experienced. He and his passenger were killed on impact.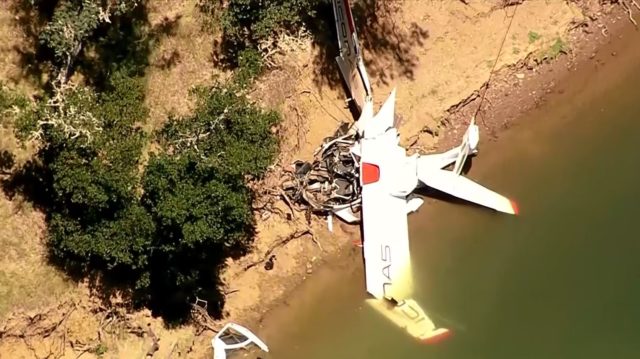 It's a relatively familiar mountain-flying story, an aircraft boxed in and unable to climb away from the rising terrain.
The NTSB final report was completed in just three months. What interested me was a witness account which showed, I think, how an accident like this looks from the outside, to someone not quite as obsessed with aviation as we are.
The National Transportation Safety Board determines the probable cause(s) of this accident to be:
The pilot's failure to maintain clearance from terrain while maneuvering at a low altitude.
Contributing to the accident was the pilot's mistaken entry into a canyon surrounded by steep rising terrain while at a low altitude for reasons that could not be determined.
The Icon A5 departed from runway 2 at Nut Tree Airport in Vacaville, California at about 9am that morning and flew north as it climbed to 3,700 feet GPS altitude. About 15 minutes after departure, the A5 started a descent and as it crossed the shore of Lake Berryessa near the Monticello Dam, it continued to descend to 450 feet (137 metres) GPS altitude.
GPS altitude is the geometric altitude above mean sea level, as opposed to pressure altitude which is a conversion of pressure to altitude based on changes from the average surface pressure at mean sea level. GPS altitude requires the GPS receiver antenna to have four working satellites in view, where one is overhead. GPS altitude is accurate to within ten to twenty metres (30-65 feet). It is more reliable than pressure altitude and probably at least as reliable than Joe, who saw the A5 that day.
Joe has a boat and he likes to go fishing. On that day, Joe and his friend Preston took the boat on a trailer to Pleasure Cove Marina for a day of fishing on the lake. They were just getting set up when a plane flew past, low enough for Joe to wave at the pilots and to see the pilots wave back.
I'll let Joe tell you about it, because honestly, I kinda love Joe.
I saw the plane approaching us from about 300 feet away at approximately 30-50 feet off the ground. As the plane passed I waved to the pilots and they waved back.
Lake Berryessa has a surface elevation of 443 feet and the aircraft's GPS elevation was around 450, so although it's within the margin for error, I suspect 30-50 feet off the ground is a bit generous.
Everything at that moment seemed normal. The plane had no smoke coming from it, the engine was running smoothly and it appeared as if they were just cruising the lake or coming into land the airplane.
The ICON A5 is a two-seater amphibious light sport aircraft which has only been in production for about five years. ICON Aircraft was located in Vacaville and the A5 was regularly seen in the area, which is probably why Joe thought it might be landing on the lake. Being able to see the pilot wave at you must have seemed a bit odd but Joe didn't dwell on that. The A5 flew past and the men got down to serious business.
We had just begun fishing… my friend Preston was baiting his line and I turned back to watch him when I heard the airplane's engine rev up and accelerate hard as he pitched the plane upward toward the right side of the Little Portuguese Canyon first hill, in what appeared to be an effort to climb out of the cove.
(I can almost imagine the NTSB investigator trying to get all the details. NO ONE CARES ABOUT PRESTON'S BAIT, JOE.)
I continued to watch the airplane as it reached approximately 100 feet above the ground and all of a sudden turned left (west). The airplane continued left and began to quickly descend towards the ground as if he was trying to make a U-turn in the air. I lost visual as they flew behind the point in which our boat was sitting on the point of Little Portuguese Canyon. Within three seconds both Preston and I heard a very loud crash and we instantly knew the plane had gone down.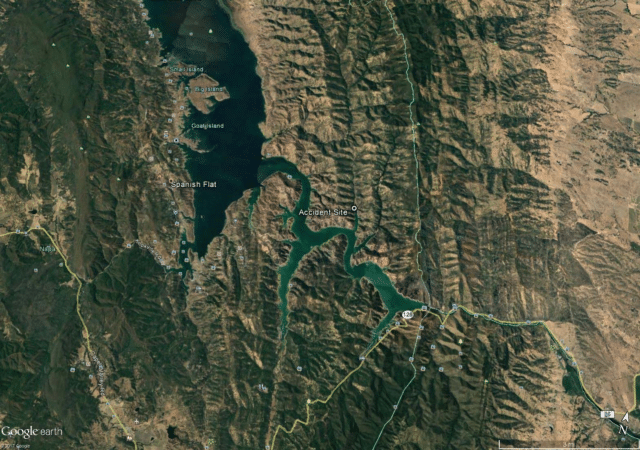 Here's a shot from Google Maps showing the accident site. You can see Little Portuguese Canyon north of the accident site: it narrows very quickly and is surrounded by high terrain. It's definitely not somewhere you want to fly into and especially not at 30-50 feet above the lake while waving at fishermen.
The flight data backs up Joe's impression: the A5 entered the canyon and then increased power. The aircraft began to climb as it started a left turn to the west, reaching an altitude of 506 feet GPS altitude, which was about a hundred feet above the water, before beginning to descend. It crashed into terrain travelling at 66 knots indicated airspeed at a GPS altitude of 470 feet.
The rising terrain around Little Portuguese Canyon ranges from 780 to 1,420 feet above mean sea level. At a peak GPS altitude of 506 feet above mean sea level, they never had a chance.
We quickly reeled up our rods and drove the boat over to them as fast as we could as we approached the airplane on the left side embankment of Little Portuguese Canyon.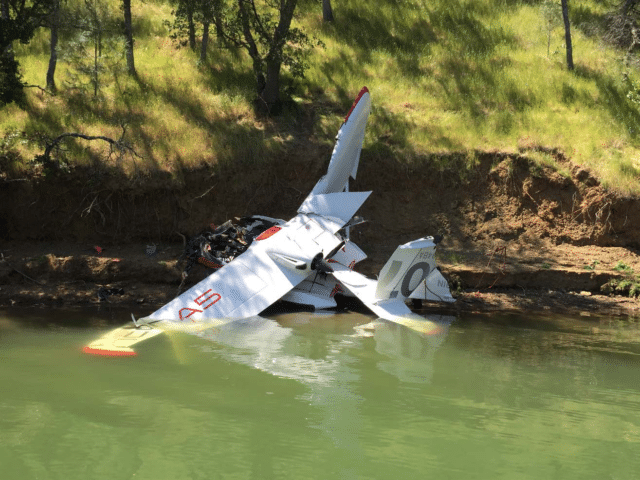 It's pretty clear that there was nothing to be done but they called out "Are you okay? We're here to help you," and waited for a response. Preston volunteered to climb over and look in the cockpit, telling Joe to keep a safe distance. Once there, Preston confirmed that they were crushed into the cockpit and more worryingly, that he could smell gasoline. He jumped back into the boat and they raced back to find help. Preston tried calling 911 while Joe phoned the marina but they had no coverage and couldn't get through.
About halfway back, Preston finally managed to connect to 911 but was struggling to hear the dispatcher. Joe got through to an answering machine at the marina.
At approximately 0924 hours according to my cellphone log, I called Pleasure Cove Marina and the phone rang and went to an answering machine in which I started to leave a message stating "We have an Emergency, a plane has crashed with two men down and they need help!" A woman picked up the phone and said what happened, where are you at? I informed her of the situation and told her we were on the way to her Marina and needed all the help we could get …

She told me to call 911, I told her no, you call 911 as our reception is bad and Preston was having problems hearing the dispatcher on his phone. She said hold on don't hang up and said she was calling from a different phone.
The accident site was not reachable by road and a boat was quickly manned to follow the fishermen to the site. The final report doesn't include details of the attempted rescue but it is clear that the two in the aircraft never survived the initial impact.
Joe and Preston led the marina workers to the beach where the plane had crashed.
Once the Pleasure Cove Marina workers arrived to the beach they approached the two men and saw that they were not moving or responding to them. They got back on their boat and began to wait in the middle of the cove for the authorities to arrive. We waited with them for approximately ten minutes. The Pleasure Cove Marina workers told us we could leave as we did not have to watch this, we asked them if they were sure and they said yes, so we left.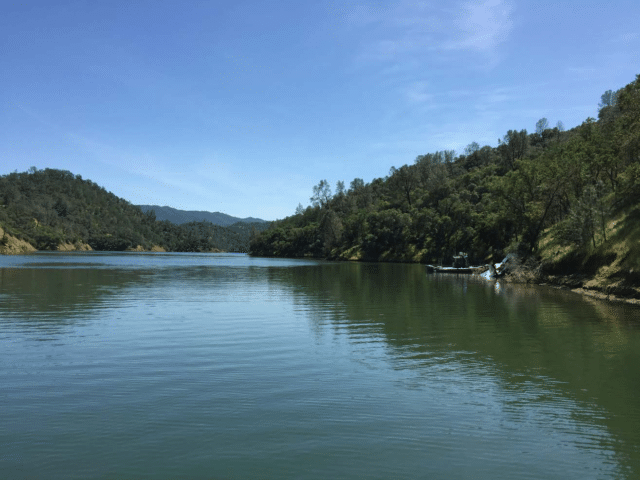 They didn't leave the lake, mind you. I presume they went back to fishing.
Later that day, as we came back to the dock and loaded the boat on a trailer a Napa County Sheriff asked us if we saw a plane crash today and we replied yes. Sheriff asked us for our information and if we could stay to answer questions and I said sure, anything to help you as I approached his vehicle. Sheriff contacted someone out at the scene and asked if he wanted us to wait and he replied no I am finishing up here and will call them later. We drove home and once I got home at approximately 2013 hours I spoke to you (Josh from NTSB) and told you the very sad story of what we observed earlier that day.
I don't know if they caught any fish but Joe finished his report by drawing a picture of what happened. It is adorable but, more importantly, shows just how easy it could have been to fly into the wrong canyon, missing that left hand turn that would have taken them to the open area of the lake.
It is tragic and I hope I don't come across as dismissive. But there was something charming about Joe's story of going fishing on the lake that day that made me want to share it. It helps me to remember that there are real people involved on a number of different levels.
You can read the final report as NTSB reference WPR17FA101; it's only eight pages.