Hurricane Recovers Debris from Aircraft Lost in 1958
I have been working on a collection of aviation mysteries Without a Trace and so, of course, I was immediately interested when I saw that debris from a plane crash had been found sixty years after an aircraft had disappeared.
Lieutenant William Thomas Barry Troy enlisted in the Royal Canada Navy in 1947, when he was 19. He served in 871 Squadron. This 'Heavier-than-air Fighter Air Squadron' was formed in 1951 and served as one of the Royal Canadian Navy's Operational Fighter squadrons flying from air carriers. Based in Shearwater, Nova Scotia, they flew Hawker Sea Furies and McDonnell Banshees from Majestic-class aircraft carriers. In 1957, HMCS Bonaventure, the third and last aircraft carrier to serve Canada's military, came into service.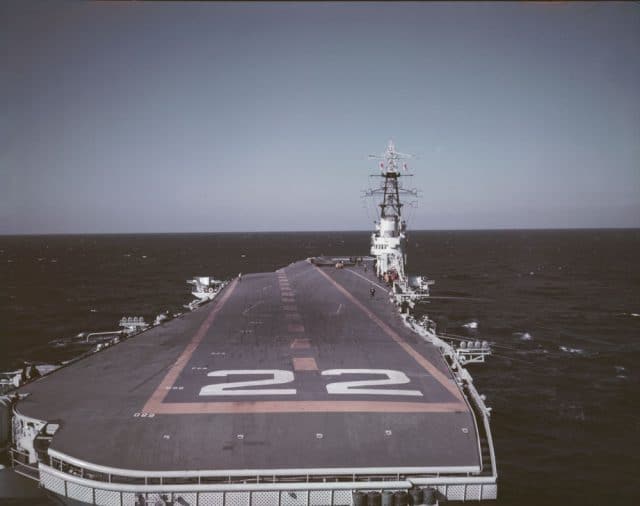 HMCS Bonaventure: Canada's Last Aircraft Carrier
Affectionately known as the "Bonnie", she carried a force of about 34 McDonnell Douglas F2H-3 Banshee jet fighters, Grumman CS2F Tracker ASW aircraft (built by de Havilland in Toronto), and Sikorsky HO4S helicopters. Even with the refit, landing a Banshee on the Bonaventure's relatively short flight deck was pushing the envelope. A number of American Banshee pilots actually refused to try landing on the Bonaventure's short flight deck. The wide-winged Trackers also proved to be a tight fit. Despite this, and because of the hard work and dedication of her crew (numbering 1,320 in all), the Bonaventure was able by 1958 to conduct around-the-clock sustained operations, keeping four Trackers and two HO4S's in the air at all times, saturating an area of 200 square nautical miles with anti-submarine warfare (ASW) aircraft.
Now maybe everyone but me already knew this, but I wondered about the numbers. On a runway this would be the heading of the runway, so 22 would point towards the southwest heading of 220° but that would be ludicrous on an aircraft carrier, who must logically always be sailing into the wind for the best performance for the planes, especially one with too short a flight deck. I discovered that instead, the number refers to the carrier's hull number, in order to ensure that the aircraft don't land on the wrong ship.
This is apparently the result if you do not heed the numbers and land on the wrong aircraft carrier: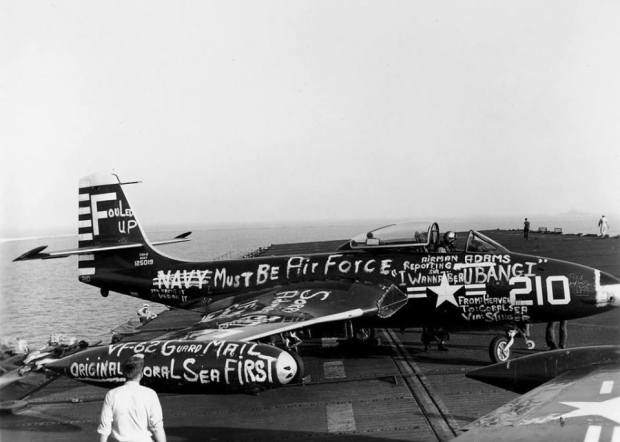 The secondary benefit of scouring the Internet looking for random bits of information is that one stumbles across classics like this video of the HCS Bonaventure flight operations in 1959.
Getting back to the point, Lieutenant Troy served on the 871 Squadron which was carried by the Bonaventure. His aircraft was a McDonnell F2H-3 Banshee, a single-seater jet fighter manufactured from 1948 to 1953 which had wings that folded in order to save space on aircraft carriers. The Banshee was the Royal Canadian Navy's only jet fighter class.
On the 25th of February in 1958, Lt Troy departed Shearwater as a part of a 4-aircraft formation which was flying to Jacksonville, Florida to join the Bonaventure. Shearwater was the Royal Canadian Navy's base until 1968 and is still the hub of Royal Canadian Air Force's naval aviation. The weather was bad and the four aircraft are described as having disappeared into a "dense fog".
At some point, his aircraft disappeared from the formation. He never arrived at Jacksonville and no one knew quite where or how he'd been lost. The U.S. Navy reported that they had encountered floating debris from the aircraft: the pilot's helmet and a wheel from the Banshee. Nothing else was ever found and there was no way to know what had happened.
From the April 1958 issue of the Royal Canada Navy magazine The Crowsnest:
Lt. W. T. Troy, 29, of Campbellton, N.B., was on a flight from Shearwater to join the Bonaventure off Florida when his aircraft was reported overdue. it was considered the aircraft crashed near Mayport Beach, Florida.
I should note that the route being flown doesn't seem clear-cut.
According to Banshees of the Royal Canadian Navy by Carl Mills, Lieutenant Troy departed from US Naval Station Mayport in Jacksonville, as opposed to flying there from Shearwater, Nova Scotia as per the RCN magazine.
During joint exercises with the U.S. Navy at Naval Station Mayport, Duval County, Florida, a flight of four Royal Canadian Navy McDonnell F2H-3 Banshee fighters performs a formation takeoff but immediately flies into a dense fog bank; the rearmost aircraft, BuNo 126428 of VF-871, drops out of formation and vanishes. The airplane's nosewheel and pilot Lt. Barry Troy's helmet are later found floating in the ocean nearby, but no other signs of the missing aircraft or pilot are ever found.
Meanwhile, New Brunswick CBC news says that the aircraft had departed from the Bonaventure to fly to the US Naval Station.
Six decades ago, 29-year-old Lt. William Thomas Barry Troy disappeared, almost without a trace, along the Florida coast. A native of New Brunswick, Troy was flying an F2H3-Banshee fighter jet for the Royal Canadian Navy on Feb. 25, 1958, and had taken off from an aircraft carrier in a dense fog — headed to a naval station in Mayport, Fla., according to the Canadian government.
In any event, he was believed lost near Jacksonville and in Canadian Navy records he is listed as 'buried at sea'.
But now there's an update! Park ranger Zack Johnson at Hanna Park in Jacksonville, Florida, was driving along the coast when he noticed something odd. Hurricane Irma had passed over the northeastern Florida coast just a few days before. "We happened to find this ball of stuff on the high water line. I know I drove past it at least five times. Other rangers say they drove past it, too," he told the local news station news4jax.
Along with some small pieces of metal and other debris, Johnson discovered the remains of a parachute and a parachute harness which had "LT (P) TROY" embroidered upon it.
59 years after military crash off Mayport, debris washes ashore
It looks like the parachute was never deployed when it went in the water. I believe it sat with the wreckage for a while before being washed loose. The speculation is that it was probably deposited in the dunes during (Hurricane) Dora, and sat there in the sand since then, until being uncovered by the erosion of the last storm.
Johnson also says he found what he thinks might be a piece of the aircraft and that he's hopeful that he might be able to find the wreckage off the coast of Hanna Park.
His brother, Dick Troy, was 21 when Lt Troy was lost. He did a press interview which has been posted to YouTube.
We really didn't get a lot of information, so we were kind of in the dark all these years. There was sort of never any finality to this story.
This is the heartbreaking aftermath of my beloved aviation mysteries, which I often forget. I hope that the rest of the wreckage may come to light and shed some light on what happened, so that Lt Troy's siblings can feel they've received the answers that they have been waiting for all these years.