Hitting the Wall
In the early hours of the morning, an Air India aircraft struck the airport perimeter wall at Tiruchirappalli International Airport in Tamil Nadu, India.
Tiruchirappalli International Airport, commonly referred to as 'Trichy', has a 2,480-meter asphalt runway (8,136 feet) which is planned to be extended. The runway is 9/27 and the wall in question is on the west perimeter of the airport, so no prizes for guessing the direction of the take-off.
I normally would wait for the investigation to have time to release at least a preliminary report but these photographs are too unbelievable to share.
Air India Express flight 611, a Boeing 737-800, departed Tiruchirappalli for a scheduled flight to Dubai with 130 passengers and six crew on board.
Airport staff reported that the Boeing 737 might have come in contact with the airport perimeter wall. ATC contacted the flight crew to warn them that they may have come in contact with the airport perimeter wall. The captain responded that the aircraft systems were operating normally and that they were not aware of any damage.
Here's a photograph of the west side airport perimeter wall, taken while the aircraft was still in the air:
Tiruchy, Tamil Nadu. Air India Express flight to Dubai hit the boundary wall of the Tiruchy International Airport during its take off from Tiruchy. No casualties reported so https://t.co/sbL0BxNyOf Ashok Kumar pic.twitter.com/5jn7LI0XJ4

— ASHOK KUMAR (@ashokkumar_TNIE) October 12, 2018
And here's a second photograph, taken when the Tamil Nadu minister visited the site: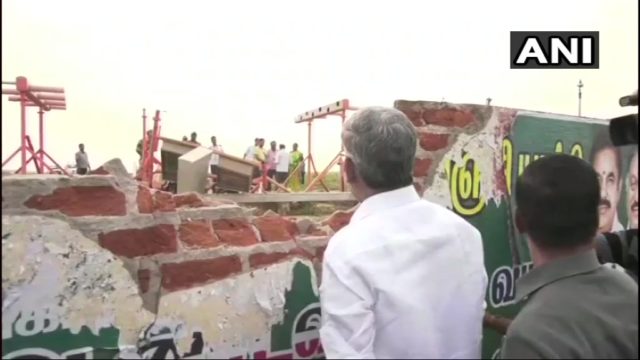 The wheel of the aircraft struck the top of the wall and also took out an ILS antenna, based on this NOTAM (Notice to Airmen):
A2770/18 NOTAMR A2769/18 Q) VOMF/QISXX/IV/NBO/A/000/999/ A) VOTR B) 1810120023 C) 1901121000 EST E) ILS RWY 27 NOT AVBL DUE LLZ ANTENNA BROKEN BY ACFT HIT
The aircraft diverted to Mumbai as a precautionary measure where it landed at 5:35 local time, four hours after departure. The aircraft landed safely and taxied to the parking stand for inspection. And sure enough, there they found a piece of fence in the wheel and damage to the underside of the aircraft.
Here's a photograph of the fuselage, taken once they were safely on the ground at Mumbai: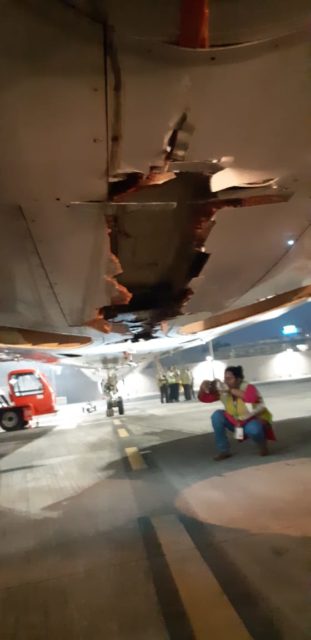 And Twitter user Tarun Shukla has posted more photographs here:
Air India Trichy pics coming in. Severe Boeing 737 damage pic.twitter.com/SJVGLiEQvx

— Tarun Shukla (@shukla_tarun) October 12, 2018
Air India reports that the two pilots have been derostered pending investigation, while a fresh aircraft and relief crew were dispatched to Mumbai to take the passengers to their intended destination of Dubai. Air India has set up an internal inquiry, stating so far only that it is not yet clear whether this was a technical snag or pilot error.
​
Directorate General of Civil Aviation (DGCA) has ordered a high-level probe.
Media references: