BA Boeing 787-8 nosewheel collapse at Heathrow
Early this morning at Heathrow Airport, a British Airways aircraft was reported to have suffered a nose wheel collapse.
Aviation Geek and Plane Spotter M Zulqarnain B quickly posted photographs of the incident.
It doesn't look good.
The aircraft, a Boeing 787-8 Dreamliner registered G-ZBJB converted from a passenger aircraft to cargo transport, flew into Heathrow from Moscow on Wednesday as British Airways flight 881.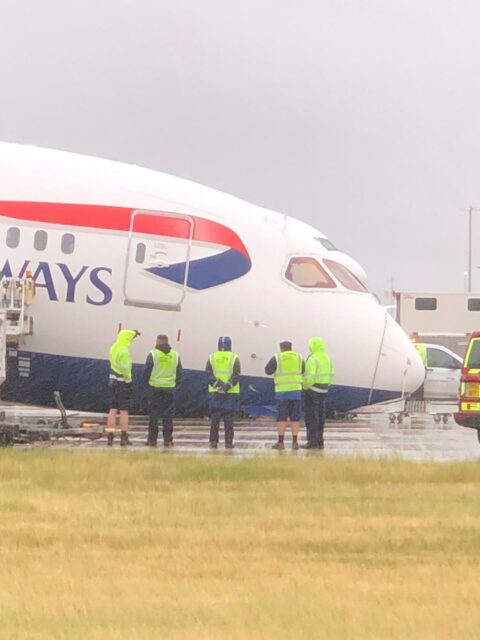 British Airways have already confirmed that no one was injured. The collapse happened while the aircraft was being loaded for a flight to Frankfurt, Germany. Some flight crew were reported to be on board for pre-flight preparations.
The aircraft was parked on stand 583, which JACDEC cites as between Terminal 5C and 3:
According to local airport sources, the incident took place on stand 583, btwn Terminal 5C and 3. pic.twitter.com/KgBg4pys08

— JACDEC (@JacdecNew) June 18, 2021
Heathrow's fire service was the first to respond and a video being passed around on WhatsApp and Twitter with no attribution shows emergency services staring balefully at the aircraft.
Among calls for speed tape and promises that "it'll buff right out," serious guesses as to the cause range from a broken pin to loss of hydraulic pressure to misloading of the aircraft. Vlogger MenTourPilot says that "sources claim" it was a pin mistakenly inserted in a wrong hole during a solenoid change but he has not been able to confirm this.
According to SurreyLive, the Metropolitan Police were also on the scene.
Mysteriously, the Met Police will not answer a question on why its officers were called to Heathrow and has referred us to BA.
The UK Air Accidents Investigation Branch (AAIB) confirmed this afternoon that they have sent a team to London Heathrow Airport in regards to an incident involving an aircraft that suffered a nose landing gear collapse while being loaded with cargo. So far, however, the only information they have released is how the investigative process works.
In the meantime, we can have some fun guessing as to what happened.
I remember living in fear that I might accidentally raise the gear on the Saratoga while on the ground but the AOG (aircraft on ground) weight sensors would stop even the most confused personnel from doing this in a Boeing. The squat switch, as it is called, can fail, however, a sensor failure would default to ON as in on the ground. However, there was a case about ten years ago when an American Airlines Boeing 767-300 nose gear retracted in a hangar during maintenance.
The plane had recently been taken on a test flight following some heavy maintenance. During the flight, a "hydraulic driven generator" failed, leading repair crews to return to the plane after it landed. At some point, the landing gear lever was moved to the "up" position, apparently without any pins having been placed in the landing gear to prevent it from moving.
Many people have commented on how lucky it was that this didn't happen on landing; however, the chances of the aircraft being able to taxi and take off with this fault seem relatively low.
I'm hopeful we'll find out what actually happened soon!