Super DC-3 Emergency Landing
We so often focus on human error when it comes to aviation. This week, let's focus on a case where everyone pulled together in a crisis to ensure a safe landing of a Super DC-3 that had suffered a power out on take-off.
In the world of aviation, discussions often revolve around human error. Today, let's focus on a remarkable case where teamwork and quick thinking led to a classic aircraft's safe landing during a critical situation.
The Douglas R4D-8, better known as the Super DC-3, was one of the first airliners able to profitably run a passenger service. The DC-3 was originally developed for American Airlines, who wanted a sleeper aircraft based on the DC-2. The Super-DC-3 was a redesigned DC-3 but is also used to refer to a hundred R4Ds developed as Navy Aircraft, which were converted by Douglas to the Super DC-3 standard and fitted with more powerful engines.
This was one of those converted aircraft. It started as a USAAF aircraft in 1943 and was rebuilt as an R4D-8 for the US Navy in 1952. The aircraft entered the civilian register in 1983 and was purchased by TransNorthern (MES) in 2007 where it received the registration N28TN.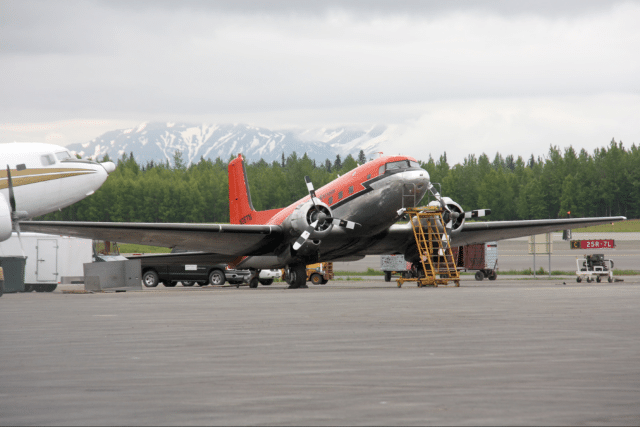 TransNorthern Aviation operates charter passenger and cargo flights out of Ted Stevens Anchorage International Airport, built in 1951 and about five miles from downtown Anchorage.
Wikipedia lists eight "surviving aircraft" on the Douglas R4D-8 page. Of those, five are on display, one is in storage, and only two are listed as airworthy, one in Cochabamba, Bolivia and N28TN in Anchorage.
On the 8th of December 2021, N28TN was flying as TransNational 123, a local cargo flight departing from Anchorage International for a ninety-minute flight south-south-east to Kodiak Island. Two flight crew were on board, and the aircraft was loaded with cargo. The flight seemed to depart normally from runway 07 left; however, as the aircraft climbed away from the runway, the right engine failed.
TransNorthern 123: Tower, Two Eight Tango November, we just lost our right engine. We need to come back for a landing.
Anchorage Tower: Roger, enter right downwind for runway seven left.
Merrill Field is a general aviation field established in Anchorage in 1930, at the edge of a small town with 2,277 residents. It has somehow managed to cling onto its position as Anchorage grew around it. The airfield is now in downtown Anchorage (population 288,000 in 2021), bordering the airspace of Anchorage International Airport, Lake Hood Seaplane Base and Elmendorf Air Force Base. Staff at the airfield describe it as "finely controlled daily chaos."
As TransNorthern 123 flight crew were dealing with their failed engine, Merrill Field was still recovering from a snowstorm the day before. Airport operations were reduced to the smaller crosswind runway 34 until they finished clearing the snow.
Merrill Tower: Are you done with the south as well?
Snowplow 4: Actually, the south side's done, so I'll be on the north side at this point.
An experienced controller working Local Control at Merrill noticed the Super DC-3 flying low over Anchorage. He saw that it wasn't climbing and realised that the aircraft might need an emergency landing. He knew one of the pilots that flew the DC-3: the pilot was a regular at Merrill field and used to flying in and out of the airfield.
Merrill is restricted to aircraft weighing 12,500 pounds (5,670 kilos) or less. An empty DC-3 weighs 16,864 pounds (7,640 kilos) with a maximum take-off weight of 29,000 pounds (13,155 kilos), over twice the weight of the largest aircraft allowed into Merrill. But there might not be a choice. Local Control called the snow removal vehicles and told them to clear the runway.
Local Control: Airport four, exit runway Two Five. I have an emergency aircraft. I don't know if they'll need our airport or not.
Snowplow Four: Airport four, we copy.
TransNorthern 123: Tower, we want a left turn, left turn, circling back to runway 7.
Anchorage Tower: Left turn approved.
Anchorage Tower called Merrill Field and told the Controller-in-Charge that TransNorthern 123 was having difficulties.
Anchorage Tower (to Merrill Tower): TransNorthern One Twenty-three has an engine out. Circling back to Anchorage.
Merrill Tower: Roger that.
The controller immediately offered Merrill's runways. Then he called the Anchorage Fire Department to warn that they might be needed.
Note the controllers at Anchorage and Merrill are half a step ahead of the situation as it unfolds.
TransNorthern 123: Tower, we're going to be entering Merrill's airspace here, continuing along the north trying to increase climb rate.
Anchorage Tower TransNorthern One Twenty-three, it's approved into Merrill's airspace and the Lake Hood segment. There's no traffic at Merrill and they have one guy in the Lake Hood. We'll advise him.
The DC-3 managed to reach 900 feet but couldn't climb any further. Low and slow, the flight crew realised they were running out of options. They declared an emergency.
TransNorthern 123: Tower, One Twenty-three, Mayday! We're putting it down at Merrill, runway 7 at Merrill. Runway 7 at Merrill. TransNorthern 123 is landing.
Anchorage Tower (to Merrill): TransNorthern One Twenty-three is coming down runway seven at your airport.
Merrill Tower: He's coming to us to land. Like I said, he's approved.
TransNorthern 123: Mayday, mayday! Landing seven at Merrill, landing seven at Merrill.
Anchorage Tower: TransNorthern One Twenty-three, Merrill knows. They got the traffic cleared for you.
The flight crew approached the small general aviation airfield. They kept the wheels up, needing every bit of lift available to them to make it to the runway.
Merrill Tower: Airport Four; I do have an aircraft landing runway 7 at this time.
Snowplow 4: Say again?
The DC-3 clipped the top of the trees on the approach to the runway, coming in fast and low. If the undercarriage had been extended, this could have been the end of the flight.
The controller working Local Control scanned the field and saw a snow removal vehicle on the edge of the runway, directly in the way of the wings of the inbound aircraft.
Local Control: Airport Four, use caution. There's an aircraft right behind you. Move, move, move!
Snowplow Four moved forward just in time.
The Super DC-3 landed on its belly, skidding at high speed straight through where the snow removal vehicle had been. The driver of the vehicle said that the controller had saved his life.
The following video collects the footage taken of the aircraft that day with excerpts from the radio:
Alaska's News Source spoke to the man at Merrill Field who shot the video of the DC-3 as it hit the runway. "I've never really seen this before here. We don't get too many DC-3′s coming through Merrill Field. And, especially not in emergency situations….I heard it off in the distance, but I couldn't see it," he said, "because it was flying super low. I didn't see it until it was pretty much right on runway 7 here. And I noticed it was only running on one engine, it's landing gear was up, and he just barely made the runway – kind of hit the snow bank and kind of hurtled to a stop on the runway."
The two controllers were awarded NATCA's Archie Award for their region for their fast thinking that day.
Brent and Nathan displayed an outstanding amount of situational awareness that day. They not only worked their own complex operation that day, but they also maintained great awareness of what was happening outside of their airspace. Brent and Nathan were able to take a difficult and quickly evolving situation and turn it into the best possible outcome for both the pilots of TransNorthern 123 and the ground ops crew at MRI.
The controller-in-charge spoke after watching the flight video overlaid with the transcript.
That's more intense, watching it that way than in the tower. That was something else. Chills, either way…
He said that TransNorthern called Merrill's control tower within minutes after the Super DC-3 had landed.
I was able to tell them, 'They made it'. That was the best moment for me, that day.
Merrill Field closed for over six hours while a crane was organised to lift the aircraft off of the runway. There is no mention on the NTSB aviation database, but the FAA registry still shows the aircraft as valid. I know it's unlikely but I can't help but hope that there's still a chance N28TN will fly again.