A Plague of Locusts
On the 9th of January 2020, Ethiopian Airlines flight 363 was on approach to Dire Dawa Airport. The aircraft was a Boeing B737-700 (registration ET-ALN) on a 30-minute domestic passenger flight from Djibouti to Dire Dawa in Ethiopia.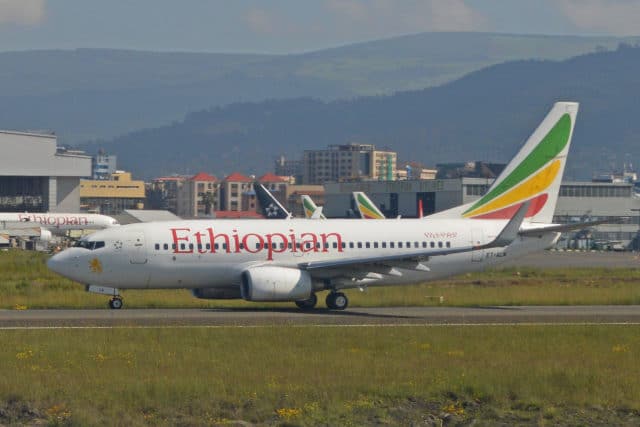 It should have been routine; however January 2020 was the start of what has turned out to be the worst locust infestation in the region in twenty-five years, destroying crops and bankrupting farming communities. The swarming grasshoppers started in Yemen where the civil war made it impossible to control the breeding and them at the source. The combination of extremely large swarms, unusually heavy rains and COVID-19 disruptions has led to a crisis across East Africa.
In the Guardian, How war threatens Ethiopia's struggle against worst locust swarm in 25 years gives more details of the insect invasion and the political ramifications. But for the moment, I'd like to return to January, when the struggle against the pests was just beginning.
The Boeing 737 was descending on a normal approach to runway 15 when it passed through a large swarm of locusts which completely obscured the flight crew's view of the runway. The captain later described the impact of the locusts as like rain. The flight crew attempted to use the wipers to clear the windscreen; however the wipers had no effect.
They immediately went around and climbed to 8,500 feet where the captain depressurised the 737 so that he could open the side window and reach out to attempt to clear at least part of the windscreen by hand.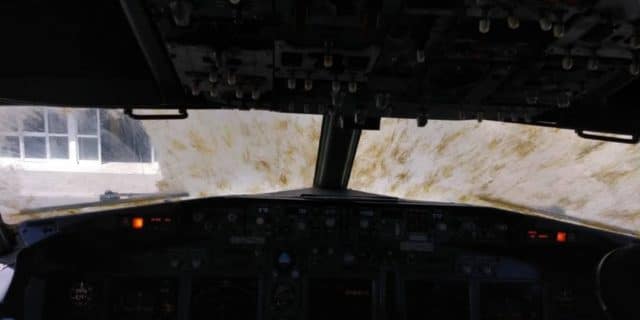 As they approached a second time, they once again ran into the swarm and again found that they could not see through the windscreen at all. The crew broke off the approach and climbed away. This time they admitted defeat and diverted to Addis Ababa, where they landed without incident half an hour later.
The Boeing 737-700 suffered no damage other than being in dire need of a very long hot bath. Just under twelve hours later, the aircraft was back in service.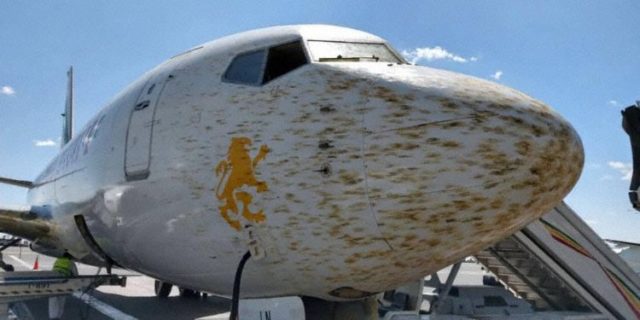 A few days later, a De Havilland DHC-2 Beaver crashed while spraying pesticide against what was apparently the same swarm of locusts, which had moved into the south of Pakistan. The Department of Plant Protection have been fighting the insects ravaging crops all over Pakistan with "veteran" DHC-2 Beavers which have been modified to carry pesticide.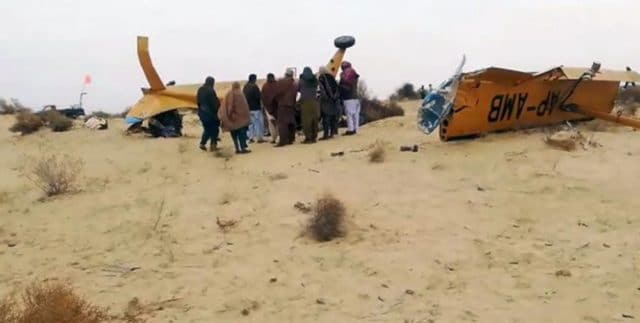 The crew, a pilot and a flight engineer, appear to have suffered a technical fault at low level, causing the aircraft to go out of control. It crashed into the sandy ridge, killing both crew members. The investigation is still in progress.